Adventure Tours
Local adventure company Backcountry Bliss is based in Port Douglas and offers all sorts of tours from snorkeling in Mossman Gorge to seakayaking to Snapper Island, jungle surfing, mountain biking etc. Check out their range of tours...
Beach
One of the highlights of Port Douglas is Four Mile Beach. A very long stretch of beach that looks spectacular from the lookout. There is a stingernet in the summertime to keep those nasty box jelly fish away from you, and there are lifesavers on duty anytime of year at the northern end of the beach.
Cane toad races
| | |
| --- | --- |
| The Iron Bar in Port Douglas | Cane Toad Racing |
The Iron Bar runs cane toad races at 19.30 daily and is easy to find in the main street towards the harbour end.
Don't know what cane toad racing is? Click here for more info on cane toad racing
Cape Tribulation / Daintree
Cape Tribulation is simply a MUST SEE on your north Queensland holiday, and you should allow at least a few days for this. Too many people go there only on a daytrip and later say; if only I'd known.
Cape Tribulation is located in the Daintree National Park, the oldest rainforest in the world, estimated to be 130 million years old! It os also one of the very few places in the worlds where the rainforest runs right down to the sea, hence the advertising slogan 'where the rainforest meets the reef'.
Although the tourdesk in Port Douglas may tell 'you can see it all on a daytrip because there's nothing there' be assured there is enough to do to spend a few days there, and there is a great range of Cape Tribulation accommodation places right inside the rainforest. The road to Cape Tribulation is sealed all the way, although some outdated guide books still tell you it is a dirtroad. All cars from RentNewCars.com.au can be taken there without a problem.
To help you plan your holidays in Cape Tribulation check out these links for accommodation, tours and how to get there.
Note that Daintree Village is not "the village in the rainforest" as some travelguides will tell you, the rainforest around this town was cut down well over a century ago, and now cows graze the green fields. To see the Daintree rainforest you will have to cross the Daintree river to go to Cape Tribulation, so book some Accommodation in the Daintree before you leave Port Douglas.

Ferry across the Daintree river
If your time is really too limited for a stay at Cape Tribulation check out the daytour below, it is still better than not seeing this amazing place at all and it may encourage you to return in the future.
Cape Tribulation in a day


Cape Tribulation
© Billy Tea Bush Safaris

Your naturalist guide will meet you at your accommodation and after introductions all around we drive north along the scenic route to Mossman. Lush farmland contrasts with seascape as we approach the majestic Daintree River. Time for a short morning tea break then its 'all aboard' for an informative river cruise. Relax and enjoy the splendour only the Daintree can offer as you learn of Estuarine Crocodiles, mangrove forests and wildlife, this is nature at its best!
We then ascend the Alexandra range, pause for a panoramic view of the World Heritage Tropical Rainforest merging with the Coral Sea. A delicious BBQ with home made salads, tropical fruit and Australian wine is prepared whilst you take the opportunity to swim in a tranquil freshwater stream. Our tour does a little more. It takes you beyond Cape Tribulation along the 4WD only 'Bloomfield Track', allows time for a swim in the Coral Sea at Cape Tribulation (seasonal) where the "Rainforest meets the Reef". A short afternoon refreshment stop where you can pat a Kangaroo, scratch a Cockatoo, have a cold beer or sip a cup of the local tea, we then begin our homeward journey somewhat wiser for our 'Rainforest Experience". More info....
More Daintree day tours from Cairns and Port Douglas can be found on Daintree-holidays.com.au, an excellent site with tourist information for the Daintree, maps, and a wide range of Daintree accommodation and tours
Cape York Adventure
8 Day Port Douglas to Cape York Adventure - Cape York is one of the last remaining wilderness areas in the world and this awesome adventure will show you all the highlights of it in an eight day journey, such as the Daintree National Park, Cape Tribulation, Bloomfield Track, Cooktown, Cedar Bay, Lions Den Pub, Iron Range National Park, Punsand Bay and Thursday Island. Travel one way by road and the other way by plane along the spectacular Queensland coast line.
More info and reservations....
Crocodiles
At Hartleys Creek Crocodile Adventures, a short drive from Port Douglas, you can see crocodiles, koalas, cassowaries etc.
Note that crocodiles are all around north Queensland, including the inlet where the markets are held, but they manage to hide themselves very well.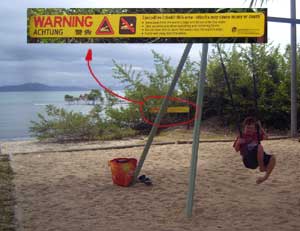 The children's playground near the markets in Port Douglas
Daintree station
Daintree Station, situated in the beautiful Whyanbeel Valley with the Daintree Rainforest in arms reach and just a short drive from Port Douglas. Daintree Station offers something for the whole family, with activities including ATV Quads adventures, Horse ride trails, Zorb ball action and our award winning Stockmans Lunch Musters. Whether you are looking for an adventurous quad ride through the rainforest or a personalised horse trail ride, we cater for all experience levels and our team will ensure you enjoy your experience with us. More info....
Eating and drinking in Port Douglas
Port Douglas has a huge choice of places to eat and drink, and with most of them along the main street of Macrossan Street it is easy to go for a walk and check them all out. Some more places can be found at the Port Douglas Marina, a short stroll from the town centre. Although there are plenty of good dining experiences in Port Douglas there is one that stands out;

Flames Dinner
© Flames of the Forest
Flames of the Forest is not right in Port Douglas but a transfer bus will take you to this forest where you can experience the indigenous culture, customs and unique Australian cuisine. An incomparable evening of event theatre which brings to light & life the stories and secrets of this ancient place. More info and reservations....
| | | |
| --- | --- | --- |
| Port Douglas Marina | The Courthouse Hotel in Port Douglas | The Iron Bar in Port Douglas |
The Iron Bar is a very popular place for a drink or a meal in Port Douglas. The interior is entirely made up of rough timber, rusty roofing iron etc. but this all adds to the character. This place also runs cane toad races several times a week and serves Canetoad Lager, a tasty boutique beer. This place is easy to find in the main street towards the harbour end.
The Port Douglas Courthouse Hotel has been a favourite watering hole for many years, it is easily found at the end of the main street at the harbour end, just across the street from Anzaz Park where the Sunday markets are held. Many nights there is live music at this pub, the Sunday sessions are lively and they do some well priced meals here too.
Rainforest Habitat does a good brekky, known as 'Breakfast With The Birds'. A big buffet of tropical fruits and all the other breakfast goodies set under a large sail on which all shapes of birds walk around, together with the rising sun providing a very artistic shadow play. Lots of other birds fly around within the breakfast area so guard your breakfast closely as the birds know how to help themselves. This award winning wildlife park is easy to find on the corner of the town's entrance road and the Cook Highway, and easy to get to on the local bus. And after brekky you can see koalas, cassowaries, crocodiles and plenty of other animals all in one day!
Fishing
There are several fishing charter boats based in Port Douglas, and you can even hire your own dinghy to try your luck on Dickson Inlet.
Contact Norseman fishing charters via email
Rent a boat on the inlet from Port Douglas Boathire, phone 40996277
Flying
Never flown in a micro light before? Here's your chance, Adventure Microlights will take you up in the air and as it is an instructional flight you will be able to take the controls and do some flying too!
Or sit back and let someone else do the flying! Skysafari does helicopter flights to where ever you would like to go!
Golf
If you are into golf you have come to the right place, Port Douglas has an excellent golf course at the Mirage Resort, and another one at the Sea Temple.
Hot air ballooning
Jungle Surfing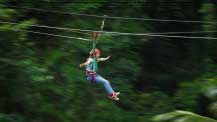 Jungle Surfing is the newest way to see the rainforest, in the canopy high up in the trees !
Get picked up from your Port Douglas accommodation and taken up to Cape Tribulation for this unforgettable experience,
click here for more info and online bookings....
Kuranda train and Skyrail
Kuranda train and Skyrail

Make your visit to Kuranda a memorable one from door to door. Our luxury coach will collect you from your Port Douglas accommodation for a leisurely journey to Freshwater Station to join the Kuranda Scenic Train. Enjoy the spectacular views as you climb towards Kuranda.
On arrival at the 'Village in the Rainforest' you have approximately 5 hours to explore the many unique attractions of the village. Take a Rainforest cruise, visit colorful Birdworld, explore the unique arts and crafts boutique or stroll around the famous Kuranda markets (market days only). Enjoy a leisurely lunch at any one of a number of delightful cafes/restaurants. Your Kuranda day is made complete with a return journey on the world's most beautiful rainforest experience - Skyrail. Take the time to visit the CSIRO Interpretive Centre and enjoy a stroll along the boardwalk at Red Peak. On arrival at Caravonica our luxury coach will be waiting to take you back to Port Douglas.
More info....
Low Isles
Go on a reef trip to Low Isles from Port Douglas with Wave Dancer
Wave Dancer


Wavedancer
© Quicksilver

Quicksilver's 30 meter luxury sailing catamaran, 'Wavedancer', offers the excitement of big ship sailing combined with the ultimate in comfort. Let the crew pamper you in the luxurious air-conditioned lounge with its fully licensed bar, or soak up the sun and sea air under the sails on our expansive deck. 'Wavedancer' is a memorable experience from the moment you step aboard. They will take you to Low Isles which is situated 15 kilometers north-east of Port Douglas. Low Isles is a 4 acre coral cay surrounded by 55 acres of reef. The corals are very close to the island, which makes snorkeling an enjoyable experience. The two small islands are separate with one common reef. The larger of the two, Woody Island, is uninhabited except for a large bird population. The smaller of the Low Isles is a coral cay with a lighthouse that has been operating since 1878.
More info....
Markets
Every Sunday markets are held in Anzac Park at the end of the main street. They start early and start winding up soon after midday. There is a great range of local arts and crafts for sale and fresh fruit and vegetables.
Not much in the way of food anymore, a few years ago some bright spark at the local council decided that cooking of food was no longer allowed at the markets, though they can still sell food that was pre-cooked elsewhere.
Of course it is more dangerous to eat food that was cooked yesterday than fresh on the spot but that's local council logic...
Massage
Looking for a massage in Port Douglas? Treat yourself to a massage at Delphina's Healing Arts in the picturesque town of Mossman, only a short drive from Port Douglas near Mossman Gorge, on the way to Cape Tribulation.
Mossman Gorge
Mossman Gorge is a very scenic place where the Mossman river cuts through some beautiful rainforest. It is a short drive of about 20km. north of Port Douglas, but avoid the middle of the day to visit this place as it tends to get quite busy. Best times are early in the day or late afternoon. You can also swim in the river but be aware of strong currents if it has rained and the river flows strongly, people have drowned here. You might also be surprised how cold the water is, although this area is called tropical north Queensland.
On foot
Explore the town on foot. Flagstaff Hill is a good hike to get the heart pumping, and offers a great view over Four Mile Beach and the town.
Rainforest Habitat
If you would like to see koalas, cassowaries, crocodiles and plenty of other animals all in one day, head for the Rainforest Habitat. This award winning wildlife park is easy to find on the corner of the town's entrance road and the Cook Highway, and easy to get to on the local bus. They also do an excellent brekky, known as 'Breakfast With The Birds'. A big buffet of tropical fruits and all the other breakfast goodies set under a large sail on which all shapes of birds walk around, together with the rising sun providing a very artistic shadow play. Lots of other birds fly around within the breakfast area so guard your breakfast closely as the birds know how to help themselves.
Train ride
You can ride the Ballyhooley train from Port Douglas to Mossman along the tracks used by the sugar cane trains.
Sailing
Several sailing boats are based in Port Douglas that can take you out, either on full daytrips, half day trips or a sunset cruise with drinks on board. Trips may go out all the way to the Great Barrier Reef or to the closer Low Isles.
Snorkelling and scuba diving the Great Barrier Reef
Silversonic dive and snorkel


Silversonic is a luxury 29 meter catamaran with full bar facilities, fresh water showers, change rooms and spacious deck areas. Morning and afternoon tea are served as well as a hot and cold tropical buffet lunch and the spacious deck areas are ideal for sharing a cold drink and tales of your days adventure. Certified divers can enjoy up to three dives at two different sites during the day. There is a multitude of marine life at Agincourt Reef, from tiny iridescent fish seeking shelter in their coral homes to massive giant clams weighing up to 200 kilograms (440 pounds). Perhaps you will see a small harmless reef shark or a boulder coral hundreds of years old. The Silversonic crew with 25 years of combined experience will show you the best there is to see.
More info....
Ocean Spirit

Upolu Cay is an uninhabited coral cay lying about 18 nautical miles off the coast. Dugongs are often seen raising their calves throughout the year in the protected waters around the cay.
Set sail aboard a luxury catamaran with Ocean Spirit Cruises for Upolu Cay - a small uninhabited sand island on the outer Great Barrier Reef just short of Michaelmas Cay. View the brilliant coral and sea-life in the glass bottom boat or try a snorkel or a dive. Enjoy a hot and cold buffet lunch and relax with the friendly crew. Enjoy champagne and entertainment on the homeward sail back to Cairns. You also have the opportunity to visit Oyster Reef as you sail out to beautiful Upolu Cay. Oyster Reef is teeming with marine life and offers some of the best coral viewing on the Great Barrier Reef. For those interested in exploring the coral reef by diving on their day out to the Great Barrier Reef, Ocean Spirit also offers introductory dives for the novice and certified dives for experienced divers.
More info....
Quicksilver

Join Quicksilver's friendly crew as they take you to Agincourt Reef located at the very edge of Australia's Continental Shelf, to an underwater world that is a dazzling kaleidoscope of color and brilliance, where you can experience first hand the magic that is the Great Barrier Reef.
Situated on the very edge of the Great Barrier Reef, Agincourt Reef provides a sheltered anchorage for the Quicksilver vessel and the perfect spot for passengers to experience the new Ocean Walker helmet diving, snorkeling, scuba diving, or stay dry and explore the stunning reef from the comfort of a Quicksilver semi-sub, just one meter underwater and watch the fish feeding from Quicksilver's unique underwater viewing platform. Cruising at high speed to Agincourt Reef, 39 nautical miles (72 kilometers) from Port Douglas, these superb vessels give you the smoothest possible ride in all weather conditions.
More info....
Shopping

Shopping at the Marina
If you like shopping then Port Douglas is the place for you! Pictured above is the shopping centre at the Port Douglas Marina where you can shop in airconditioned comfort, and there is the whole main street full of clothing boutiques and arts and crafts shops.
White water rafting
White water rafting

BARRON RIVER TRIP (4 3/4 hours duration)
The Barron River Gorge is located just 20 minutes drive north of Cairns and lies along a traditional pathway used by the original indigenous Djabugay people. The spectacular Barron Falls, further upstream, are considered a sacred site. The famous Kuranda Railway and Skyrail Cableway also traverse sections of the gorge. This heart thumping ride spears through The Barron Gorge National Park and the World Heritage-listed Wet Tropics. In the calmer sections you will get to enjoy the ethereal beauty of the worlds oldest rainforest and waterfalls from a unique waterline perspective. During the day you will also discover why the Barron's rapids have names such as 'Rooster Tail', 'Cheese Churn' and 'Hells Gate'.

TULLY RIVER TRIP (14 hours duration)
The drive to Tully, 140 kilometers south of Cairns, is a scenic journey through cloud-covered coastal mountains, clear rivers and streams, fields of sugar cane and exotic fruits. Rapids include the unforgettable 'Alarm Clock', 'Wet & Moisty', 'Stair Case' and the dramatic 'Theatre' - all before a riverside BBQ lunch opposite 'Ponytail Falls' where time is made to replenish your batteries before the afternoon's remaining rapids.
More info....
Wine tasting

A dozen different wines to taste
Not far from Port Douglas is the Shannonvale Winery, where they make quite a range of wines from tropical fruits. Orange, grapefruit, mango, lychee, jaboticaba, and lots more. The black sapote (chocolate pudding fruit) port is also a very nice drop. It is signposted from the Cook Highway, from Port Douglas head north towards Mossman and then turn left at the signs.