Beaches around Cape Tribulation
Cape Tribulation Beach

Myall Beach
Photos by Rob Lapaer, who runs Rainforest Hideaway B&B here
Cape Tribulation has many unspoilt beautiful beaches and you can spend days exploring them.
Click here for more inormation and photos of Cape Tribulation beaches
Birdwatching
The rainforests and coastline of the Daintree rainforest are home to some spectacular bird life, the cassowary probably being the most spectacular of all, and several of the local wildlife tours specialize in bird watching.
Chris Dahlberg - Crocodile and birdwatching tours on the Daintree River at dawn visiting various habitats. Established since July 1992 and led by Chris Dahlberg this tour averages 50 species which are displayed on the more information page. All tours are conducted by Chris Dahlberg.
Mangrove Adventures

Dan Irby is a wildlife expert and photographer and on the Daintree river he runs tours that will show you what an amazing place this is. His Daintree River cruises are very personal and informative for both the amateur and professional visitors all year round catering for small tour groups of 2-10 people Learn about the interaction and importance of the fascinating plants and animals found only in the Daintree River Mangrove ecosystem.

The main boat, "Nightwatchman" is 6 metres long with an open top and very comfortable 360 degree swivel seats. The swivel seats allow you to turn to see "the action" rather than sitting shoulder to shoulder on a bench seat. Nightwatchman's shallow draft allows a much closer approach to things of interest. Its wide beam also gives it great stability. Dan's tours depart from the Eco Lodge near Daintree Village More info and online bookings....

Don't miss the Easter Island Moai at Rainforest Hideaway
Also located on Camelot Close are the Easter Island Moai, at the start of the sculpture trail, find them at Rainforest Hideaway, signposted from the main road.
Bushwalking
It is possible to climb up to Mount Sorrow along the ridge line behind Cape Trib for a spectacular view. It is not an easy climb, and there can be leeches, but it is well worth the effort if you are an experienced walker. You start the walk near the National Park Office at the Cape. Make sure you tell your accommodation house where you are going. Plan to start early, carry water, and let someone know your plans, tourists have gone missing on this walk and never been found. More info...
Cane toad racing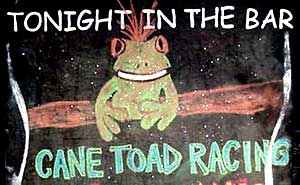 Once a week at PK's Jungle Village they used to hold the famous cane toad races, currently this is not happening anymore.
Crocodile spotting
Crocodile spotting is a popular activity around Cape Tribulation and many crocodiles live in the Daintree river and all other creeks in the area. The best time to see crocodiles is in the winter / dry season when the water is cold and they lie on the river banks to sun themselves. Be crocodile aware when you arrive in this area, many people stand right at the waters edge of the Daintree river or other creeks, even with their children. A crocodile can swim 20km/h under water without a ripple on the surface and burst out with enough speed and power to drag a horse or cow into the water so you or your children are an easy target. Keep away from the waters edge and get on a safe boat is the best advice.
Mangrove Adventures - Dan Irby is a wildlife expert and photographer and on the Daintree river he runs tours that will show you what an amazing place this is. His Daintree River cruises are very personal and informative for both the amateur and professional visitors all year round catering for small tour groups of 2-10 people Learn about the interaction and importance of the fascinating plants and animals found only in the Daintree River Mangrove ecosystem.
Solar Whisper is an electric wildlife cruise boat with the latest technology in whisper quiet electric outboard motors and their croc-cam can instantly replay any missed action of Daintree wildlife. The on-board digital video camera linked to a full size television screen for hard to see wildlife and action re-plays of the Daintree River. Trained and experienced guide with 'eagle eyes' to track down Crocodiles (spotted on most trips, especially low tide), Birds, Snakes, Frogs, etc. and interpret their part in the Mangrove & Rainforest Ecosystem.
Exotic Fruit Tasting
Cape Trib Farm

The Cape Tribulation Farm runs daily tours where you can learn about permaculture and exotic fruits from the Amazon, Borneo and Carribean, taste at least ten different fruits, most of which you never will have seen or heard of before.
More info and bookings....
Fishing

Fishing in the Cape Tribulation Daintree area is done mainly on the Daintree River and on the Great Barrier Reef, north of Cape Tribulation there is no fishing allowed and the rest of the area is divided in many different zones which you will have to familiarize yourself with. More info...
Four wheel drive safaris
Four Wheel Drive Safaris

D'Arcy of the Daintree Tours runs half day tours to Wujal Wujal and the beautiful Bloomfield Falls , and also full day tours to Cooktown
This tour will travel with a minimum of only two passengers so you may end up with a very personalized service, and there is a usual maximum of 5 passengers to Cooktown and 6 to Wujal.
More info and bookings
Great Barrier Reef
Scuba diving the Great Barrier Reef topped the list when early 2004 a survey was held in the UK and people were asked for their 'five things to do before you die'.
A visit to Cape Tribulation would just simply not be complete without a trip to this amazing eco system. While many (often pretty large) boats run out of Cairns and Port Douglas, Cape Tribulation has only two small operators, ensuring a great day and pristine coral, and with the reef being closer to the coast than anywhere else along the 2000 km. of reef your travel time is kept down, giving you more time on the reef.
Out on the reef you will see lots of brightly colored fish and corals, sting rays, giant clams, sea turtles, and even some harmless small reef sharks. Some days whales are spotted too that pass through the area on their way to breeding grounds.
The boat's crew will give you informative talks to help you understand and appreciate this eco system even better. Dependent on weather conditions and tides this trip will go to either Undine Reef or Mackay Reef.
Ocean Safari - to see the Great Barrier Reef from Cape Tribulation currently the only option is the Ocean Safari, it is a fast inflatable motorboat that gets out to the reef in only 25 minutes. Departure times around 08:00 in the morning and 13:00 in the afternoon.
Guided rainforest walks
There is a choice of guided walks, departing morning, afternoon or evening, lasting between 2 and 3.5 hours. Most of them do free pick-up and return to your accommodation. Walking the ancient jungle with a knowledgable local guide will give you a totally different insight into this amazing eco-system than walking by yourself. All these tours will pick you up for free from your accommodation in Cape Tribulation.
Jungle Adventures Nightwalks

Jungle Adventures Nightwalks are a novel way to check out the beautiful rainforest in Cape Tribulation. Most creatures within therainforest here are nocturnal so the walks can provide a great way to see nature at its best. We regularly see snakes, lizards, possums, spiders, bandicoots, insects and more. The walking tracks are graded easy to moderate for people with a medium level of fitness or above. You begin your night by being picked up and driven to our beautiful property in Cape Tribulation. From here our guides will gear you up with torches and ponchos (if necessary) and you head out into the forest. Our tracks follow natural tracks made by animals or water and lead you through a valley to our wet season creek and through amazing old growth rainforest. Our guides are highly qualified with degrees in Science (Zoology, Biology, Marine Biology and Botany) and years of experience both in the rainforest and on the reef, so we offer a tour that is unique, fun and educational all in one.
More info and online bookings....
Horse riding
Horse riding in Cape Tribulation is a good way to see how the Daintree rainforest meets the Great Barrier Reef, your horse ride will lead through both rainforest and along the beach. More info on Cape Tribulation Horse Rides...
Insect Museum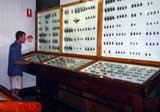 The Daintree is home to many different insects and you can see those and many others from around the world in the Daintree Entomological Museum.
Share in the fantastic world of beautiful butterflies and beetles.This collection took 30 years to assemble and houses the worlds rarest and most spectacular insects. See the worlds largest dragonflies, moths, butterflies and beetles and get personal with local insects live on display. Butterfly and beetle souvenirs on sale in the gallery, rainforest walks, fruit tasting and the Blue Hole riverside café. Opened 10am to 5pm daily.
Jungle Surfing
Jungle Surfing

Jungle Surfing Canopy Tours is a must-do, new and exciting way to view the tropical old growth rainforest in Cape Tribulation. Fly with the birds and glide through and above the rainforest canopy along a series of flying fox cables. Enjoy spectacular views over extensive rainforest canopy out to gleaming sand quays and reefs in the azure Coral Sea, all platforms are manned by highly trained climbing and abseiling masters.
There are 6 platforms and 5 flying fox runs in total. After a short walk into the forest you begin your journey through the trees. Travelling in comfort, hands free if you wish or even gliding in upside down... the choice is yours! Meet the challenge – become a Jungle Surfer! More info and bookings....
Massage
Looking for a massage in Cape Tribulation? Delphina is no longer at the Dragonfly but now does mobile massage and treatments in her Daintree studio. More info...
Mountain biking
Next to PK's Jungle Village , Cape Trib Pharmacy and some other resorts they hire out mountain bikes for you to explore the area and head up the Bloomfield Track.
Daintree River cruises
There are a number of boats specializing in cruises on the Daintree river, see the section Crocodile cruises above for more info and online bookings.
Sea kayaking
Photo by Cape Trib Paddle Trek
Yoga
Premashanti Meditation and Yoga Retreat
Walking
Besides guided walks with tour guides there is also a choice of self guided walks:
DUBIJI BOARDWALK - 1 hour round trip.
| | |
| --- | --- |
| The entrance to the Dubuji car park is signposted on the main road at Cape Tribulation. Park here and look for the entrance to the Dubuji Boardwalk (a 1.8 km interpretive boardwalk through the forest and mangroves). You can exit onto the beach and walk back via the mangrove boardwalk or go back through the car park. | |
MYALL BEACH TO CAPE TRIBULATION BEACH - One and a half hour round trip
Opposite the Take-away in the Cape Tribulation village, take the small gravel track follow it towards the beach. The boardwalk through the mangroves takes you out onto Myall Beach - turn left towards the Cape and walk for a kilometre until you come to a small creek. Check the tide times as the creek can be a little deep at times. Cross the creek. 200 metres passed the creek is a sign for Cape Trib beach. Follow this track into the forest and over the saddle of the Cape which will bring you to the Cape Trib beach car park and onto cape Trib beach. The lookout path is concreted and starts near the toilets. Return along the road or back the way you came.

CAPE TRIB SHOP AND SWIMMING HOLE - One and a half hour round trip
If you would like to go for a swim in a beautiful freshwater swimming hole, head south along the main road from the village at Cape Tribulation and follow the footpath for 1.5 km, turning right into the driveway at the Cape Trib Shop. Follow the signs to the waterhole over on your left. After a swim, go back to the main road, cross the road and take the track directly opposite. There is a padlocked gate which you can go around. Follow the path towards the beach - it goes past the old barge landing on Myall Creek which was the only method for bringing in supplies in the days before the road was built to Cape Tribulation. There are crocodiles in this creek - do not attempt to cross it. The track continues to the beach. Head north until you reach the Dubuji beach access and cut back to the main road here.This will bring you out in the Cape Tribulation village.
MARDJA BOTANICAL WALK - 30 minutes
Located 10 minutes drive to the south of Cape Tribulation. A boardwalk and concrete pathway leads you through high value rainforest with interpretive signs to Oliver Creek, where you can sit and watch out for crocodiles.Go early morning or late afternoon to avoid the tourist rush. You can hire a bicycle from your accommodation house to get there.
EMMAGEN BEACH AND CREEK - Five hours round trip from Cape Tribulation.
Follow the main road north for 8km through forest and past creeks (about 2 hours). Just before Emmagen Creek sign you will find a white gate on the left hand side of the road. Follow the path past this gate for about 800 metres and you will find a stunning freshwater swimming hole and a sandy beach. At low tide it is possible to walk back to Cape Trib along the beach from Emmagen Beach. To access Emmagen Beach, follow the track on the east side of the 400 metres south of Emmagen Creek, starting at a giant Strangler Fig tree. Take water and insect repellant and check tide times.
MT SORROW RIDGE WALK - 6 hours return

Happy hikers on top of Mount Sorrow looking out over Cape Tribulation
It is possible to climb up to the ridge line behind Cape Trib for a spectacular view. It is not an easy climb, and there can be leeches, but it is well worth the effort if you are an experienced walker. You start the walk from the main road, just after the sealed road stops. Make sure you tell your accommodation house where you are going. Plan to start early and carry water. Tourists have gone missing on this walk and never been found. In early 2007 a number of hikers were also chased and injured by a very territorial cassowary ( see our cassowary attacks page). More info on the Mount Sorrow trail

About Cape Tribulation - Accommodation - Tours & what to do - Transport & car hire - Photos - Map