About Darwin - Accommodation - Tours and what to do - Transport and car hire - Photos - Map
Tours and what to do in Darwin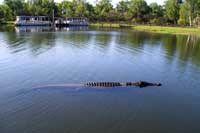 Darwin is surrounded by spectacular natural wonders like Kakadu, Litchfield, Katherine Gorge, Arnhem Land, and the Tiwi Islands, so needless to say there are some fantastic tours you can do from here.
The Northern Territory also has a high percentage of Aborigines in its population and this is a great place to see some Aboriginal culture and artwork, and in no other part of Australia will you find this many crocodiles to spot in the wild !

Search for a specific Australian tour or location on Viator.com, they are an international online tour booking service with a huge range of tours in Darwin and anywhere in Australia that you can browse and securely book online, avoid the queues!

Tours To Go is an Australian online tour specialist with a huge range of thousands of Australian tours, attractions, experiences and things to do from a wide range of tour operators and it puts them all at your finger tips in one user friendly website!

Search, compare and book online and enjoy instant confirmation! You can ask questions directly to the tour operators, create itineraries and generally build your holiday touring experience by selecting from Australia's best touring and experience options.
Aboriginal culture
Darwin is surrounded by Aboriginal reserves and islands so this is one of the best places to experience and learn about Aboriginal culture.

Aboriginal Rock Art
© Discovery Ecotours
Arnhem Land is a huge Aboriginal reserve, and normally difficult to access as entry permits are required, and they are not given to just anyone. This 3 day up-market camping safari takes teh worry out of things for you and combines some of the best of Kakadu National Park with the special experience of traveling in Aboriginal Arnhem Land.
The highlights of the trip include pristine World Heritage wetlands, wilderness teeming with wildlife and unparalleled Rock Art away from the more popular sites. Travel in comfortable 4WD vehicles, dine on superb fresh food by candlelight, complemented by good Australian wine, either under the stars or in the rustic restaurant of Davidson's exclusive safari camp near Mount Borradaile in Arnhem Land. More infoc on this tour....
You can also do it in two days, more info on this tour....
A shorter tour that does it all in one (long) day is also available; View Aboriginal rock art at the famous Ubirr artsite that is thousands of years old. Cruise the East Alligator River and by special permission, take a short walk into Arnhem Land. More info on this tour....


- Gulwiddi Tours runs trips varying from one day Litchfield to one week Arnhem Land and Kakadu - phone 1300 656071
- Peppi Tours runs two day camping tours to meet the Ngangikurrungur people - phone 1800 811633
- Tiwi Tours flies you out to Tiwi and Bathurst Island for one or two days - phone 1800 811633
All the highlights of the Top End
Top End highlights

This three day independent coach tour lets you experience the highlights of the Top End. Travel by luxury coach from Darwin to Kakadu, Katherine and Litchfield, before returning to Darwin. View ancient Aboriginal rock art, take scenic cruises and have the opportunity for swimming beneath tropical waterfalls.More info....
Annual events
If you happen to be in Darwin at the right time then you can catch some of their many annual events and festivals;
Arafura Games - Sports people from the Asia/Pacific region battle it out every two years in May but the 2003 games were cancelled to keep the SARS epidemic out of Australia.
Barefoot mudcrab tying competitions - held every year, contestants have to tie up as many mudcrabs as possible in a certain time, and the fact that they are barefoot makes it all the more exciting!

Darwin Beercan Regatta
Beer Can Regatta - The Beer Can Regatta is usually held in July / August , and has now diversified into lots of games and watersports, and you can now even use softdrink cans to build your boat!
The 34th Annual Beer Can Regatta will be held at Mindil Beach (Gilruth Ave) on 13 Jul 2008. The all day event starts at 10am, the Mindil Beach Sunday Market will also be open and entry is by gold coin donation which will go to charity. If you are interested in building a boat from beer or softdrink cans, help for construction can be obtained by contacting the Convenor - email to convenor@beercanregatta.org.au
More pics....
Darwin to Bali yacht race - this used to be the Darwin to Ambon race but due to security concerns this has been changed. Some serious drinking and partying happens at the Darwin Sailing Club in the months leading up to the race that kicks off late July/early August. Many round the world sailors join this race so if you;re looking for a boat to crew on this is a good place to look.
Darwin Cup Carnival - Territorians love their horse racing and every year this event is held through July and August at the Fannie Bay race track.
Festival of Darwin - Held in August, arts and culture from Darwin's diverse population. More info....
Greek Glenti Festival - Darwin has a sizeable Greek population and once a year they celebrate their festival on the Esplanade with lots of good food and drinks.

All ready to hit the Hookers Ball
Hookers Ball - Once a year Darby's nightclub in Darwin used to organize the annual hookers ball where the main condition of entry was that you were dressed up as a hooker, we have just been informed by some Darwin residents that is is now held early December at the Discovery nighclub on Mitchell St. but we are still waiting for some photos.....
Humpty Doo Darwin Stubby Drinking Competition - not sure if this is still held either, contestants have to drink a Darwin Stubby, a beerbottle of two litres, as fast as they can in the town of Humpty Doo, on the highway on the way to Kakadu.
Rodeo and Country Music Concert - Every year in August.
Royal Darwin Show - Every July at the showgrounds in Winnellie.
Smoke-in - Held annually since 2002 in Darwin's Raintree Park but at varying times so for this year's date check the website of the Network Against Prohibition (NAPNT) who organizes this annual event to protest against the Labor government's drug-house laws and as an expression of human
rights. Activities include a free BBQ, music, speakers and an open-mike. Anyone who wants to have a say can do so.


The October 2002 smoke-in.
Aquascene
More than forty years ago someone started feeding fish at Doctor's Gully in Darwin city centre. It has grown into an institution where an amazing number of huge milkfish, mullet, batfish and catfish come for a feed at high tide here. This used to be a free activity until a politician bought it in the 1980s and now there is a $5.50 (child $3.50) charge, opening times depend on the tides.
Botanical Gardens
Darwin has an impressive botanical gardens which appears to have recovered well from the devastation of cyclone Tracy, there's even a Daintree-like section of rainforest where they keep the sprinklers going all the time.
Crocodiles
On the Adelaide River near Darwin you can see crocodiles jumping high showing off their attack skills.
This is not a circus trick they have been taught, they naturally do this to catch low flying birds.
Click here for more info or to book this tour...
Crocodylus Park
A wildlife park that is mainly centred around crocodiles but also has many other animals. You can see some really big salties here, handle a baby crocodile, and see feeding and croc jumping shows.
Cycling
A lot of Australia is not very bike friendly but Darwin has an excellent network of bicycle tracks. If you're from overseas be aware that Australia is the only country in the world where it is illegal to ride a bicycle without a helmet!
East Point

WWII gunturrets at East Point
A short drive from the city centre in the suburb of Fannie Bay is East Point, a nature reserve where you will find a war museum and some gun turrets left over from World War Two. Darwin actually was actually the only place in Australia to get seriously bombed, in february 1942 a Pearl Harbour style attack on Darwin by 188 Japanese planes killed 243 people and sunk numerous ships. They came back another 57 times over the next two years doing more damage. During the war many allied forces were based in the Top End but to be safe from Jap attacks they were spread out along the Stuart Highway where you can still see the old air strips going hundreds of kilometres inland.
Eating and drinking in Darwin
Darwin's city centre has lots of eateries and bars catering for the tourists, but if you venture out of the city centre where all the accommodation is centred you will find some great food at the markets that are held in various parts of Darwin. A lot of Asian immigrants live in Darwin and they cook the food just like back home and are always found at every market where they have their stalls.
The most well known of course is Mindil Beach markets on Thursday and Sunday nights in the dry season, but there are other markets with spectacular Asian food too, more info below.
Barbeques: Darwin is well endowed with barbeques, in many of the parks there are free gas barbeques, or barbies as the locals call them. Find one and have a real Aussie barbie!
| | | |
| --- | --- | --- |
| With its tropical climate Darwin is ideally suited to outdoor cafes and you will find them everywhere | A stubby is usually a beer bottle of 375ml. but in Darwin it is two litres! In the days when Darwin was the city with the highest beerconsumption per capita in the world this saved a lot of walking back and forth to the fridge. Nowadays only tourists buy the Darwin stubby as the two litres of beer will set you back about $20.- You'll have to buy and drink at least one to make your Darwin experience complete! | The Darwin Stubby: |
Cullen Bay : Located near the end of Smith St., on the way to Mindil Beach, this marina development has numerous cafes and restaurants and is a popular place to wine and dine on the waterfront. It is also the departure point for ferries across the harbour, scuba trips etc.
Markets : The most famous place to eat in Darwin is Mindil Beach where during the dry season there is a market every Thursday (and on a smaller scale Sunday) night. The markets have been a Darwin tradition for 18 years now and it is hard to believe now the organizer actually had a really hard time getting permission from the council to run this market! Thousands of people converge on this beach where they cruise the stalls full of craftwork, more than 200 craft and general ware stalls stock jewellery, art, adornments, trinkets, souvenirs, ceramics, clothes, music, didgeridoos, coffees and much more. But the most popular is the foodstalls where you will find food from just about every country you can think of, while the sun sets over the sea not far from Darwin's city centre, market-goers can tuck into spicy Asian dishes, traditional Greek, Italian, English or South American food, crocodile, buffalo and barramundi. Add to this Thai, Japanese, Mexican, Turkish, Indian, Swiss, Chinese and, of course, Aussie dishes and you won't go hungry.
When you have made your choice head down the beach with your food and esky full of cold beer and settle down to enjoy one of the magic sunsets that this place is famous for. And to top it off, buskers, tarot readers, masseurs/masseuses and a variety of local and travelling musicians provide the entertainment. The markets are within walking distance of the city centre so are easy to reach. A scaled-down version of the Thursday night markets is held on Sunday from 4pm to 9pm.
Markets on other days are held at Parap on Saturday mornings, and Nightcliff and Rapid Creek on Sunday mornings, they all have sensational Asian food that will beat a lot of restaurants.
One of the most popular venues for food and drink, the Mindil Beach markets
Pubs : Drinking has always been a very important part of life in Darwin, and up until the 1980s it used to be the town with the highest beerconsumption per capita in the world. The Victoria Hotel in the Smith St. Mall is one of the longest running establishments and has changed from a very rough place in the old days to a bar where backpackers party the night away, they also do meals here. The other two are also popular places for a drink and located conveniently close in Mitchell St. in the city centre where most of the backpacker hostels are.
| | | |
| --- | --- | --- |
| Victoria Hotel in the Smith St. Mall | Irish Pub Kitty O'Shea on Mitchell St. | The Blue Heeler on Mitchell St. |
Subway :Darwin also has a Subway branch, one of the few fastfood franchises where you can eat healthy.
Find them on Knuckey St. between the Smith. St. Mall and Mitchell St. There is another one in Nightcliff.
Wharf precinct : A good place for a meal and a drink while catching a few cool breezes on the waterfront, and a very good place to see some of Darwin's spectacular sunsets.
Fannie Bay Gaol Museum
Near the other museum this ex-jail has been in use from 1883 till 1979 and numerous people have been hanged here.
Harbour cruise

Marina in Cullen Bay
From the marina in Cullen Bay, an easy walk from Darwin city centre, you can catch the boat out to the harbour and across to Mandorah, the other side of the harbour, where the Mandorah Hotel will have a cold beer waiting for you.
Kakadu

Aboriginal rock art, flood plains, cliffs and escarpments, Kakadu has it all....
Kakadu National Park is one of the main natural wonders of Australia. Located 150km from Darwin, it is a huge national park, measuring 200km by 100km. Its landscape varies from dry scrub and rock with Aboriginal rock art to majestic waterfalls and wetlands with thousands of birds. Quite a variety of tours operate from Darwin to take you out there and show you this amazing place.
- Two days/one night is about the minimum to take in all the highlights but if your time is limited then this is a good option. More info....
- Three days/two nights allows you more time to take it all in and experience this awesome place. More info....
Kakadu in a (long) day


Kakadu National Park
© Australian Pacific Touring

Depart Darwin early this morning and enter the 20,000 square kilometer expanse of Kakadu National Park, home to more than one-third of the Top End's plant life and the temporary or permanent home to one-third of all Australian bird species. On arrival at Jabiru airport, (if you select this tour option), you will step aboard your small plane for a breathtaking scenic flight over the Arnhem Land escarpment. The aerial perspective gives you a greater appreciation of the size and geographic diversity of the park, from the sheer sandstone escarpment to the floodplains and their lush surrounds.
Back on terra firma, join a cruise on Kakadu's most famous wetland area, Yellow Water billabong, keeping a look out for crocodiles and a variety of birdlife. Following a buffet lunch, view ancient rock art at Nourlangie Rock. Return to Darwin late afternoon, stopping en route at Windows on the Wetlands for a glass of wine as you watch the sun set over the flood plains. More info....
3 Day Kakadu and Arnhem Land Safari


Arnham Land Aboriginal Rock Art
© Discovery Ecotours

This up-market camping safari combines some of the best of Kakadu National Park with the special experience of traveling in Aboriginal Arnhem Land.
The highlights of the trip include pristine World Heritage wetlands, wilderness teeming with wildlife and unparalleled Rock Art away from the more popular sites. Travel in comfortable 4WD vehicles, dine on superb fresh food by candlelight, complemented by good Australian wine, either under the stars or in the rustic restaurant of Davidson's exclusive safari camp near Mount Borradaile in Arnhem Land. More info....
4WD Kakadu Experience


Twin Falls
© NT Tourism Commission

Camp out in the World Heritage wilderness that is Kakadu National Park. Spend three days exploring this amazing landscape. Spot abundant birdlife and crocodiles in the wild. View ancient Aboriginal rock art from thousands of years ago. Swim in the crystal clear waters of Twin Falls and Jim Jim Falls. This is a 4WD adventure of a lifetime… More info....
Ubirr, Guluyambi Cruise and Arnhem Land


Kakadu Wetland
© Australian Pacific Touring

This two day independent coach tour lets you experience some of the highlights of Kakadu National Park. Travel by luxury coach from Darwin to Kakadu and overnight in Australia's largest national park, before returning to Darwin. Visit Ubirr Rock, cruise the East Alligator River and take a 4WD adventure tour into Aboriginal Arnhem Land. More info....
Yellow Waters, Art Sites and Arnhem Land


Yellow Waters Billabong
© Australian Pacific Touring

This two day independent coach tour lets you experience some of the highlights of Kakadu National Park. Travel by luxury coach from Darwin to Kakadu and overnight in Australia's largest national park, before returning to Darwin. View the ancient rock art at Nourlangie Rock, cruise the Yellow Waters and take a 4WD adventure tour into Aboriginal Arnhem Land. More info....
Katherine Gorge

Katherine Gorge / Nitmiluk National Park
© Australian Pacific Touring
Katherine Gorge, or Nitmiluk, is located about 300km. south of Darwin. The Katherine River cuts through the dry outback country and over the years it has carved a deep gorge. You can see this magnificent gorge on a daytour from Darwin that also includes a stop at the beautiful Edith Falls. More info...
Katherine Gorge river cruise


Katherine Gorge
© NT Tourism Commission

Make your own way along a pleasant 32 kilometer (20 miles) drive on a sealed road from the center of Katherine to the Nitmiluk (Katherine) Gorge. On arrival, your tour departs the Nitmiluk Centre for an unforgettable experience through the gorges in this environmental wonderland. Travel between sheer canyon walls and marvel at the spectacular scenery or just lean back and relax, letting the world go by.
On arrival at the Gorge, board the tour boat for your tour through the first 2 of the 13 gorges. A walk of approximately 800 metres each way is necessary, so it is recommended to wear good walking shoes. A well trained and knowledgeable guide will accompany you through the tour providing information on the extensive plant and wildlife in the gorges and other items of interest. Ancient Aboriginal paintings can be seen high on cliff walls and Johnstone River crocodiles may be sighted.
More info on two hour cruise....
Indo Pacific Marine
Located on Stokes Hill Wharf, this is a good aquarium where you can even see the deadly box jellyfish from a safe distance.
Litchfield Park

Wangi Falls
© Australian Pacific Touring
Litchfield Park is closer to Darwin than Kakadu and also smaller so you can do it in a day trip, another advantage is the fact that it has great refreshing waterfalls where you can swim. National Park rangers maintain crocodile traps to keep the waters safe for you. Besides great waterfalls you'll also see the amazing magnetic termite mounds here. More info....
Highlights
You can also go on a tour that will take you around all the Top End's highlights, Kakadu, Litchfield and Katherine Gorge, in three days/two nights. More info...
Museum

The museum has a waterfront cafe with cooling breezes.
Only about four km. from the city centre is the Museum and Artgallery of the Northern Territory in Fannie Bay. Here you can see a wide variety of things;
- the preserved body of Sweetheart, the legendary 5metre, 780kg. crocodile that used to bite outboard motors and overturn fishing boats. When he was caught in 1979 he became so tangled in the ropes that he drowned.
- Aboriginal art from the nearby Tiwi isalnds and Arnhem Land.
- A maritime display of several interesting boats
- A display on cyclone Tracy with photos, eyewitness accounts and a soundroom where you can get a feel of what it would have been like to go through this disaster.
Parliament House

Parliament House in Darwin
This $117 million building houses both the library and the Territory Government and is open to the public from Monday to Saturday.
As the Northern Territory is not a state it has so far only been granted limited self government by Canberra. Basically this means they can do what they want in Darwin but if Canberra doesn't like it they can reverse their decisions. This happened a few years ago when the Northern Territory became the first place in Australia to legalize euthanasia. Several terminally ill people managed to end their suffering but Canberra moved swiftly and put an end to this.
Reading
For books and book exchange go to Rapid Creek Business Village, 48 Trower Rd, in Millner where Alan Marshall has around 15 thousand books to choose from. Phone 08 8985 6466 , EFTPOS is available. Contact him via email or visit his website .
Scuba diving
Cullen Bay Charters can take you out to ship wrecks in Darwin harbour.
Something completely different

Photo by Datto
On Berrimah Road you can see the remains of a Toyota 4WD that was bombed in an airforce blunder in 2000. More info...
Swimming
Though Darwin is surrounded by beautiful beaches it unfortunately has the infamous box jellyfish from October till May. Mindil beach is an easy walk from the city centre, if you go out a bit further there are several more beaches along Nightcliff and after that there is 7 km. long Casuarina beach, a part of this is an official nude beach as well. For safe swimming in stinger season head to Lake Alexander at East Point in Fannie Bay or if you've got a car head down the road to Berry Springs, this gets busy on weekends with locals but on weekdays it is a great place for a swim.
About Darwin - Accommodation - Tours and what to do - Transport and car hire - Photos - Map