Wheel chair friendly travel
Disabled and want to travel to Australia? No worries mate, Australia is well prepared for travelling disabled people and has wheel chair friendly accommodation and tours in many places.
Worried about finding a toilet somewhere? No worries either, to assist the elderly and disabled travellers the AussieGovernment put together the website Toiletmap.gov.au that lists more than 14,295 of Australia's public toilets!
To make it even more high tech this dunny-directory has now joined up with Google Earth to provide satellite images of the loo locations!
If you are in a remote location with no internet cafe to go and look up the nearest urination location on this website you can also phone the national toilet hotline for free on 1800 990 646 from within Australia, or if you like to plan ahead you can ring them before your arrival in Australia from overseas on 61 3 6211 3230.
You can also fax for the nearest dunny on 03 6211 3222 within Australia or from overseas on 61 3 6211 3222, or send an email to helpline@toiletmap.gov.au or call the translation line on 13 1450 if you want to ask for the nearest dunny if you don't speak English or Australian.
Wheel chair friendly tours:
WheelAdventures - WheelAdventures is a Motorcycle Tour business specialising in customised rides and tours for the disabled.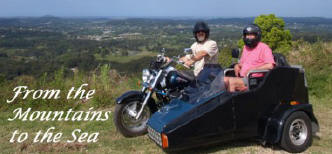 WheelAdventures provides Chair-bound and Mobility-challenged people with the unique opportunity to experience Queensland's picturesque Sunshine Coast and Hinterland in a Motorcycle Sidecar which is specially designed for wheelchairs.
WheelAdventures operates across Queensland's Sunshine Coast and Hinterland regions,
7 days a week, 8am - 5pm (ex. Christmas Day, Boxing Day, Good Friday and Anzac Day). Whether you're 16 or 60, WheelAdventures can design a safe, fun and exciting riding experience just for you.
Nice and Easy Tours - Crocodile spotting on the Daintree River, north Queensland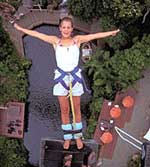 Bungy jumping? Yes, if you're seeking a thrill anything is possible here, they will strap your wheelchair on the bungy cord and there you go! Bungy jumping is f ound in many, often very scenic, places around Australia. Click here for more info on this insane adventure...
This is a brandnew page and needs a lot more work, accommodation and tours and lots of other info will be added soon, please come back soon to see the updates, or if you have anything to add to this page or a business or a website of interest to disabled people to link to please let us know.