Information about Australia
Australia is a rather large island situated between Bali and New Zealand that broke off from the super continent Gondwana 55 million years ago.
It is the sixth largest country in the world with a surface area of no less than 7.686.850 million square km. ( incl. islands), that is almost as big as the United States of America, around 50% bigger than Europe, and 32 times bigger than the U.K.
On October 17 2003 the human population hit 20 million and in February 2010 it reached 22 milion, three quarters of people live close to the ocean in only ten cities and almost 200 nationalities are represented, indigenous people only make up 1.5% of the current population and the country has a population density of only two people per square km.
Australia is also populated by about 40 million kangaroos, 75000 crocodiles, half a million wild camels, 140 million sheep, 24 million cows, 100 000 koalas and 90 000 dugongs.
Australia has more World Heritage listed sites than any other country, seventeen of them have been classified by UNESCO; such as the Great Barrier Reef Marine Park , the Daintree National Park, Kakadu, Uluru, Cradle Mountain, and several dinosaur fossil sites. And there are also another 2000 national parks to explore, and over 7000 beaches and 8000 islands.
The full list of Australian World Heritage Areas:
* Great Barrier Reef
* Kakadu National Park
* Willandra Lakes Region
* Lord Howe Island Group
* Tasmanian Wilderness
* Gondwana Rainforests of Australia 1
* Uluru-Kata Tjuta National Park 2
* Wet Tropics of Queensland
* Shark Bay, Western Australia
* Fraser Island
* Australian Fossil Mammal Sites (Riversleigh / Naracoorte)
* Heard and McDonald Islands
* Macquarie Island
* Greater Blue Mountains Area
* Purnululu National Park
* Royal Exhibition Building and Carlton Gardens
* Sydney Opera House
After Antarctica, Australia is the world's driest continent, more than 80 per cent of the continent lies in arid or semi-arid climatic zones and a quarter of it is officially uninhabitable, this did not stop people sailing down from Indonesia 50 000 years ago and making Australia their home.
These people, now known as Australian Aborigines, quickly spread across the continent and even the island Tasmania, where you could walk to at that time with sea levels being much lower than today.
It took another 49500 or so years for the next visitors to arrive; the earliest European explorers to sight Australia were the Portuguese when Luis Vaez de Torres sailed the narrow strait between the tip of Cape York and New Guinea in the 16th century, he was followed by the Dutch ship "the Duyfken" skippered by Willem Jansz who has been confirmed to have landed in North Queensland in March 1606, no less than 164 years before the so called "discovery" of Australia by James Cook.
The Dutch explorer Dirk Hartog also landed on the west coast in 1688 but was far from impressed and wrote in his journal; "This land is cursed; the animals hop not run, birds run, not fly and the swans are black not white".
So for more than one and a half century Australia was actually called New Holland until Cook raised the Union Jack and claimed it as part of the British Empire.
The first Europeans started living in Australia in January 1788, when the First Fleet sailed into Sydney's Botany Bay under the command of Captain Arthur Phillip.
The country was started as a penal colony but after decades of convict transports this was abandoned in 1852 and more decent people started arriving and Australia was being settled, but it still took until 1860 when two explorers (Robert Burke and William Wills) became the first Europeans to cross the entire continent of Australia from south to north.
Just over two centuries later Australia legally left the Empire in 1986 with the passing of the Australia Acts .
The Australia Act 1986 declared Australia to have the status of a Sovereign Independant and Federal Nation. The Act also terminated all British legal jurisdiction over Australia, though officially the Queen is still the head of state and she has a representative in Australia called the Governor General.
He is theoretically the most powerful person in Australia, though does not usually mingle in the country's affairs and sticks to drinking champagne at public functions and gobbling up lots of tax payers dollars.
Every state in Australia also has its own Governor, which does the same as the Governor General.
Many Australians would like to see the country break ties with Britain completely and become a republic, but at the last referendum held in 1998 it was decided by a small margin to maintain the status quo.
The Australian money is some of the most technologically advanced in the world, compared to the brightly colored high-tech plastic notes of Australia the US dollar looks like it just came out of a black and white photo copy machine. The plastic is waterproof so you can keep it in your backpocket and get sweaty in Darwin or get thrown in the pool at a barbie and you will not lose your cash.
The Aussie Dollar is divided into 100 cents. Notes come in denominations of AU$5, 10, 20, 50 and 100. Travellers cheques are also welcome in places but not everywhere, they are a bit outdated now as Aussies are big users of credit cards (fantastic plastic as they call it) and they are accepted everywhere. Credit cards are widely accepted and ATMs are freely available throughout the country. Banking hours are usually 9.30am to 4pm Monday to Friday, but some banks may offer extended hours or be open on Saturday mornings.
The international telephone country code for Australia is +61. Remember to leave the 0 from the area code, so for instance Sydney with an area code of 02 means you dial 61 7 and then the number.
To call out of Australia you first dail 0011 followed by the relevant country code ( 001144 for the United Kingdom). Local calls from public payphones are not timed and cost a standard rate, while international and long distance calls are charged according to the time spent on the phone. Mobile phones do not work everywhere in Australia due to its vast size.
Travellers to Australia over 18 years do not have to pay customs duty on 2.25 litres of alcohol; 250 cigarettes or 250g cigars or other tobacco products. Fresh produce and animal/plant products and lots of other things are strictly prohibited, even the ffood you did not finish on the plane can not be brought in and there are stiff penalties, check the Australian Customs website for up to date info.
Tipping is a relatively new phenomenon in Australia, and not as compulsory as for example the USA.
A small tip can be given in cafes and restaurants in the larger cities,and taxi drivers are always happy to be left with the change.
Wondering where all the Australian cities are? Well, let me draw you a mud map....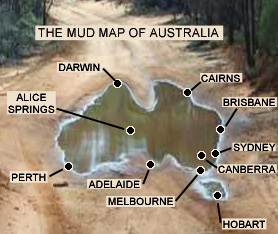 Australia's mainland is made up of six states, two territories and one (at least claiming to be) independent province:

Map scale: 1 cm. equals a bloody long way
New South Wales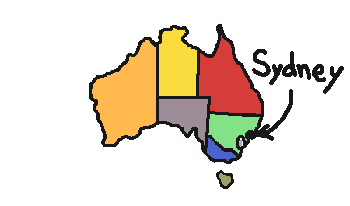 Started out as a colony of prisoners in 1788 but has become quite civilized, nowadays best known for its capital Sydney, the country's biggest city, with Opera House, Harbour Bridge, Bondi Beach and the venue for the 2000 Olympics and the annual Gay and Lesbian Mardi Gras . It also has a popular wine growing ( and tasting!) region in the Hunter Valley and has a bit more laid back side in the northern part of the state around Byron Bay and Nimbin.
Queensland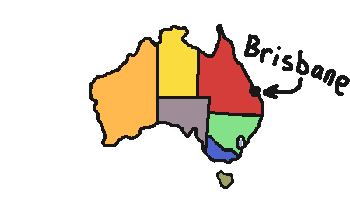 Also started as a colony of prisoners but a bit later in 1825 . Its capital Brisbane hosted the World Expo in 1988.
Queensland advertises itself as the Sunshine State but unfortunately all this sunshine has made it the Skincancer Capital of the world. Most famous for the Great Barrier Reef, the Daintree, the Gold Coast ( Surfers Paradise) and the Sunshine Coast.
Victoria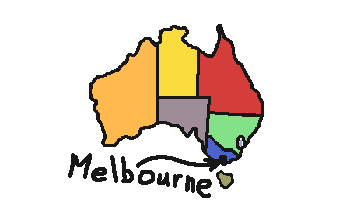 Started out as two plots of land that became Melbourne and Geelong, bought from local Aborigines for flour, tools and clothing by John Batman ( no relation to the lifesaver in the movies) in 1835 and was later in 1851 declared a British colony.
Victoria is Australia's second smallest state but home to 26 per cent of the population. Mostly known for its unpredictable weather in its capital Melbourne, the annual Melbourne Cup and changing the slogan on cars numberplates from Garden State to 'Victoria-on-the-move' and on the move they were, thousands bailed out every year to start a new life in sunny Queensland, later an improving economy changed this trend.
South Australia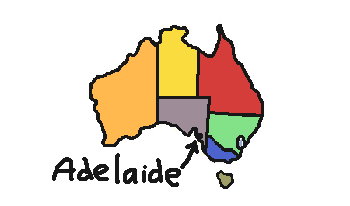 This one actually got started by free settlers and not criminals in 1836. Best known for its festivals, Mediterranean climate and wine, just north of the capital Adelaide the Barossa Valley produces a huge amount of wine and you can spend at least one good day cruising the wineries and tasting their products. Kangaroo Island is also a popular destination and futher north the town of Coober Pedy is the largest opal mine in the world !
Western Australia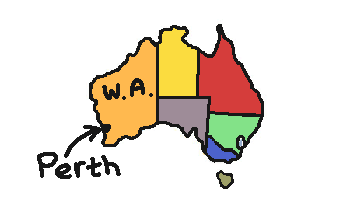 Started out as a British militairy colony in 1829and is Australia's largest state but accounts for only 8 per cent of the population. Its mining industry contributes 25 per cent of GDP.
Its capital Perth is known for being the world's most remote city, being home to Alan Bond and hosting the America's Cup, the state in general is known for having lots and lots of desert and the gold mining town of Kalgoorlie has Australia's only attempt at a Dutch style red light district.
South of Perth the south-west corner of the country is a an area with a great diversity of forests, deserts, surf beaches and wine growing areass.
Further north there are remote towns like Monkey Mia and Broome which are also popular tourist destinations.
Tasmania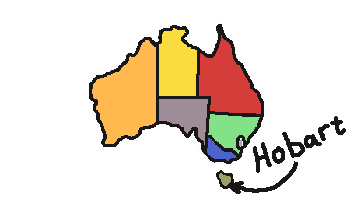 Started out as Dutch territory being called van Diemen's land but the British seized it in 1803 and started yet another colony of prisoners here. The capital of Tasmania is Hobart. Though for many years the Tasmaniacs left in droves to find better employment oportunities on the mainland, in recent times due to house prices being ridiculously cheap by Sydney standards, there has been a flow in the other direction again. Being an island with a small population many mainlanders also joke about inbreeding that has led to many Tasmanians having two heads.
The island is best known for apples, the Tasmanian tiger, and for its many national parks and wilderness areas where you can do some spectacular hiking.
Northern Territory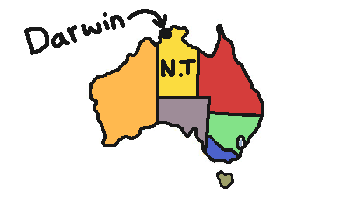 Previously part of South Australia, this is actually a territory and not a state, they were granted limited self- government in the 1990s but whatever is decided can be overturned by Canberra, this happened in the case of the euthanasia law that was passed in the N.T. but repealed by Canberra.
The Territory government also resisted the ridiculous bicycle helmet law for some time until they were forced into it by Canberra that threatened to with hold millions in road funding.
Its capital Darwin has grown considerably over the last decade, largely due to armed forces being moved up here as the generals realized that if we were to ever be attacked it would most likely be from the northern side and not from the south where there was nothing else than penguins.
The N.T. is best know for beer drinking, crocodiles, Ayers Rock, Kakadu, Katherine Gorge, road trains and hot weather.
Australian Capital Territory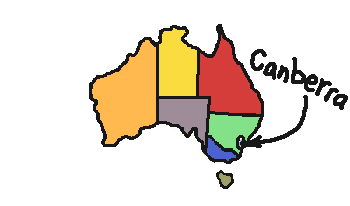 This one was started in 1911 when arguments between Victoria and New South Wales on who should house the Australian government could not be resolved so a third place was chosen, the first parliamentary meeting in the new capital city was held in 1927.
Due to its more recent establishment and efficient planning it lacks somewhat in character and is considered by many to be the most boring city in Australia, though many Canberrans enjoy the good facilities the city offers.
Its capital Canberra houses the government and is best known for public servants, the 2003 bushfires, relaxed drug laws and being the base of the nation's porn industry, due to legislation they find this the easiest place to operate from.
Hutt River Province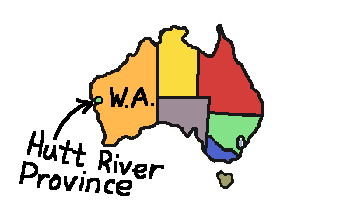 Between Kalbarri and Port Gregory in Western Australia lies the 39 square mile Hutt River Province where Prince Leonard has seceded from Australia and Western Australia in 1970, renamed his wheat farm the Hutt River Province, declared himself Prince Leonard and his wife Princess Shirley of Hutt , and has started printing his own stamps. You can go in and visit the Prince and Princess. Send us a photo too. The Geraldton tourist info will give you a map when you go in to get your visa for Hutt River Province. You can get your passport stamped on entry.
This is the story behind this independent country;
The government of Australia was worried about a huge wheat surplus in 1969 and imposed quotas on all the WA wheat growers. Mr Leonard Casley was only permitted to sell a small percentage of the 1,500 acres wheat he planted and stood to lose heaps of money. When his appeals for a higher quota kept being knocked back, he started a bit of legal investigation. An ancient English law he found says that if your livelihood is threatened by the state, you are entitled to 'secede' your land from the state. Though he had no legal experience or training turned his farm into an independent country and himself into HRH Prince Leonard. As residents of an independent country, none of the 30 or so people who live in Hutt River Province pay taxes to the government of Australia and none receive any benefits from it. There were still more disagreements between Hutt River Province and Canberra and in 1997 Hutt River Province actually declared war on Australia.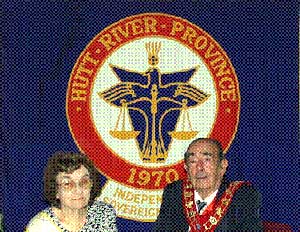 Directions: Hutt River Privince is located about 100 km. from Geraldton. Drive north, pass Northampton and turn left at Chilimony Road (the sign is on the right). If you miss the turnoff you will come across a small river named Hutt River, turn around and go back 10km. Follow Chilimony Road and then turn left into Ogilvie Road and after about ten minutes you will find Hutt River Province on your right. Click here for a map to find your way there.

Australia is also responsible for administering seven external territories;
Norfolk Island, the uninhabited Coral Sea Islands Territory, the Cocos (Keeling) Islands, Christmas Island, the uninhabited Ashmore and Cartier Islands Territory, the Territory of Heard Island and the McDonald Islands in the sub-Antarctic and the Australian Antarctic Territory.
You know of any info about Australia that we forgot? Please tell us!