One of Hobart's many historic buildings
The island Tasmania that Hobart is located on was discovered in 1642 by Dutch explorer Abel Tasman, who named it Van Diemen's Land after the governor of Batavia, and in 1856 the island was renamed to Tasmania after its actual discoverer. It is now also known as The Apple Isle, or simply Tassie as Australians like to abbreviate everything. Tasmanians are also called Tassies, Taswegians, or Tasmaniac, and often mainlanders joke about them inbreeding and being born with two heads because of the small population base here. For quite a few years this place was thought to be the tip of the Australian continent until it was discovered to be an island. Like many places in Australia, it was originally established as a penal colony, and many of the grand old buildings you see nowadays are built by convict labour. Thanks to the good deep water harbour Hobart became a thriving business hub and a centre for the whaling trade, ship-building and the exports of corn and wool.

Bridge across the Derwent river connecting Hobart to the north.
Photo by Kimiko Holder
Hobart is the Australia's second oldest capital city, the gateway to Antarctica and homeport for Australia's only icebreaker, Aurora Australis, and the destination for one of the world's toughest blue water classics, the Sydney to Hobart Yacht Race, which arrives shortly after Xmas turning the city into a big party zone.
Hobart was also the first city in Australia to have a casino, this was established in 1973.
Anywhere you walk around Hobart you see history; Arthur's Circus, a circle of cottages built around a village green, St George's Anglican Church, and Anglesea Barracks, built in 1811 is the oldest military establishment in Australia, inside there is a free museum.
The Van Diemen's Land Folk Museum, located in a historic Georgian home surrounded by beautiful gardens in Battery Point, is the oldest folk museum in the country.
Salamanca Place is a row of beautiful waterfront sandstone warehouses that were the centre of Hobart's trade and commerce in the 1830's. Nowadays they house shops, cafes, bars and restaurants from where you can observe the port at work. Markets are held here every Saturday morning.
The Commissariat Store was built in 1808 and is Hobart's oldest building, it houses the Tasmanian Museum & Art Gallery which includes Tasmanian Aboriginal relics and a good collection of Tasmanian colonial art.

Hobart's riverside location ensures plenty of good views.
The original inhabitants of the Hobart area were the Aboriginal Mouheneer tribe. If you think what happened to the Aborigines on Australia's mainland during white settlement was bad wait till you read the story about Tasmania. Tensions between black and white in the early 1800's rose that high that the Governor at the time gave soldiers the right to arrest or shoot on sight any Aboriginal found in an area of European settlement! From 1820 onwards Aboriginals were relocated to a camp on Bruny Island where bad conditions and disease reduced their numbers rapidly until the last Tasmanian full blood Aborigine died in 1876.

Nice parking, mate!
Tasmania is well known for its large pristine wilderness areas, and in the 1960's Hobart became the headquarters of protest groups determined to prevent the damming of the Franklin and Gordon Rivers and other significant places. In the 1989 state elections, Tasmania's Green Independents won 18% of the vote and held the balance of power in parliament until 1998. There are still environmental groups fighting today to stop the logging of old-growth forests for Japanese papermills.
Tasmania also used to be home to a now extinct animal; the Tasmanian tiger. Officially the last one of this species did in the Hobart Zoo in 1936 but since then people still have reported regular sightings though nobody ever managed to come up with a decent quality photograph. Most of the sightings are usually by owners of Tasmanian wildlife parks (who then get the name of their park in the newspaper for free) but even on mainland Australia people have reported sightings, ranging from Victoria to Western Australia to the jungles of North Queensland.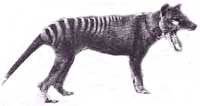 Due to its southern location Hobart can be cool so most tourists visit in summer (December to February) when it's warm enough for swimming and outdoor activities. Winter (June to August) is often cold, wet and cloudy; spring (September to November) can be very windy and the hills around Hobart may still get snow. Autumn, from March to May, is mild.
Check out todays's weather here:
About Hobart - Accommodation - Tours and what to do - Car hire and transport - Photos - Street map