Tours and other things to do in Australia
Jungle Surfing in Cape Tribulation, a multi award winning adrenaline tour in the Daintree rainforest, read more....
Australia has an amazing choice of tours and things to do on your holidays, from jungle surfing to scuba diving to climbing Sydney harbour bridge to fourwheel drive outback tours and Aboriginal culture....
Gone are the days when you had to see on arrival what was available and at what cost, now you can browse and book tours and activities online from the comfort of your home before you start your trip.
Book online and print your tickets at home and skip the queues when you get there!
Search for a specific Australian tour or location on Viator.com, they are an international online tour booking service with a huge range of tours in Australia that you can browse and securely book online, avoid the queues!

Tours To Go is an Australian online tour specialist with a huge range of thousands of Australian tours, attractions, experiences and things to do from a wide range of tour operators and it puts them all at your finger tips in one user friendly website!

Search, compare and book online and enjoy instant confirmation! You can ask questions directly to the tour operators, create itineraries and generally build your holiday touring experience by selecting from Australia's best touring and experience options.
Aboriginal culture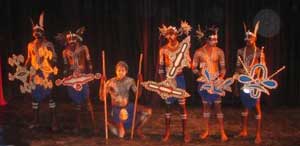 To see the real Aboriginal culture you would have to travel to some very out of the way places and usually it is too difficult to organize permits to enter Aboriginal owned land and even then they prefer to be left alone and not be a tourist attraction. Fortunately there are many places nowadays where you can without traveling too far get an introduction into Aboriginal culture. In, or just outside main cities, there are Aborginal galleries and dance theatres.
See the full range of Aboriginal Tours in Australia to book online with Viator or with Tourstogo
Antarctica
Several times a year planes depart Sydney and Melbourne for scenic flights over Antarctica. More info...
Ballooning
There are many places around Australia where you can go for a flight in a hot-air balloon, probably the most famous one the one at Ayers Rock. Usually early departures to catch the sunrises and a champagne breakfast is included.
Book balloon flights and tours online with Tourstogo
Bird watching
Australia has over 800 species of birds, half of those found only in this country. The multitude of bird life, from the brightly colored lorikeets to the elusive cassowary, makes Australia a bird watchers paradise. The most amazing one of all would have to be the cassowary.
Book your birdwatching tours online with Tourstogo
Boating
As is often the case with islands, Australia has a lot of water around it, and boating is a popular passtime in Australia, and the climate and fish make it even better. See some boating tours....
Boomerang throwing lessons
Learn to throw this ancient hunting tool to make it come back, not as easy as it sounds but there are various places around the country where they will turn you in to a skilled hunter.
Bridge climbing
Rise to the challenge and climb Brisbane's iconic Story Bridge! You'll enjoy 360-degree panoramic views from the summit, taking in Moreton Bay, the Glass House Mountains, Mt Coot-tha, Lamington National Park and the Brisbane River. Your climb leader will provide a safety briefing and audio commentary to your group sharing interesting facts about Brisbane's surrounds and the Story Bridge on your 2.5 hour climb.
More info and reservations....
Bungy jumping
Bungy jumping is found in several, often very scenic, places around Australia. It is no longer free for naked jumpers, too many people started taking advantage of this offer, now everyone has to pay.
The Bungy Jump in Cairns offers a few more extras, including their BIGGEST DAY OUT deal!
This package allows UNLIMITED JUMPING between 10:00am and 3:30pm, on the same day. It has been designed specifically for the more adventurous thrill seeker. Lunch at AJ'S Rainforest Café is included. For your UNLIMITED number of bungy jumps, you may want to select from the following menu: The Psycho Back Dive - Tandem Jump - The Pendulum - The Cling On - The Elevator - The Haggis - The Fruitbat - The Cliffhanger
Click here for more info on this insane adventure...
Bushwalking
Australia is a mecca for bush walkers and hundreds of National Parks across the country offer a huge choice in walks. Tasmania is a very popular place, the Cradle Mountain walk being the most famous, the south-west still has expanses of wilderness where you can walk for weeks without seeing anyone and you will need a plane to fly you out again. Keep an eye out for that elusive Tasmanian Tiger while you're there.
Camel riding
One place where this is popular is Cable Beach in Broome W.A. where you can watch a magnificent sunset from the back of your camel. Another popular one runs in Alice Springs where you take your camel to dinner.
Cane toad races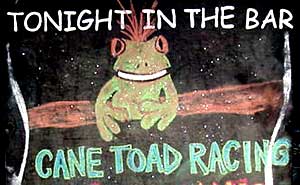 Before the race someone is given the task to collect a bucket of cane toads. They are then fitted with a number on their back to tell them apart. The numbers correspond to names on a board, to make it more internationally competitive they get names associated with countries and are then assigned to people from those countries that are picked from the audience. One by one they are issued their cane toad, instructed to kiss the toad, and place it in a bucket in the centre of the dance floor. Read more....
Caving
The sense of adventure you feel when caving is second to none, navigating your way through a maze of passages that will eventually lead you to the exit requires excellent leadership, teamwork and an appetite for fun.
Crocodile spotting tours
Forget about just going down to a river to see crocodiles in northern Australia, they are masters at hiding, while the whole body is submerged only the eyes stick out above the surface so they see you but you don't see them. The way to see them isto book on a crocodile spotting tour, the guides will know where they are and point them out to you. Most of them, like the ones around the Daintree area north of Cairns only view crocodiles, but on the Adelaide River in the Northern Territory on the way to Kakadu they take it a step further and dangle pieces of meat above the weather that the crocodiles snap up. Advertised as the "Jumping Crocodiles" you will see they do not just jump, their tails are powerful enough to let them stand up out of the water for a few seconds to take meat from as high as two metres above the water. This is not a trick they are taught, in nature crocs will jump to catch low flying birds. When this first started local fishermen were not too happy about this as they thought it would teach crocs to jump at any boat they would see but so far nothing has happened.
Mangrove Adventures

Dan Irby is a wildlife expert and photographer and on the Daintree river he runs tours that will show you what an amazing place this is. His Daintree River cruises are very personal and informative for both the amateur and professional visitors all year round catering for small tour groups of 2-10 people Learn about the interaction and importance of the fascinating plants and animals found only in the Daintree River Mangrove ecosystem.

The main boat, "Nightwatchman" is 6 metres long with an open top and very comfortable 360 degree swivel seats. The swivel seats allow you to turn to see "the action" rather than sitting shoulder to shoulder on a bench seat. Nightwatchman's shallow draft allows a much closer approach to things of interest. Its wide beam also gives it great stability. More info and online bookings....
Didgeridoo lessons
Too many people just buy a didgeridoo as an ornament that will gather dust in a corner of their European living room for years to come, but it really would add to your Australia experience, and impress your friends and family, to return home as a didgeridoo player, also being able to annoy the hell out of the neighbours with midnight didgeridoo concerts.
At the Didgeridoo Breath shop in 6 Market St, Fremantle, Western Australia you can do a four week course, 1.5 hours per week. What you will learn: making the drone, vocal sounds (animal noises), circular breathing, diaphragm techniques, building rhythms and more... Cost: $100 for early payment or $120 (4 x $30) for weekly payments, this includes didgeridoo hire if required. More info...
If you didn't get to learn to play the didg in Oz, log on to this website anywhere in the world for some online didgeridoo lessons!
Discount tours in Australia
Drinking
Drinking was about the only pleasure the convicts had in the rough old days and it has remained an institution ever since. Be sure to visit some of the Australian pubs, especially in the outback they are usually very colorful and often the only thing around so you don't have much of a choice.
Some more civilized drinking occurs in the various wine growing regions around Australia, either cruise around in your own car or book on a tour bus to sample wines of the various wineries; the Hunter Valley near Sydney, the Barossa Valley near Adelaide and the Margaret River near Perth are the most popular.
Especially along the east coast there is a well established party trail where the Australian tourism industry caters to young, mainly English, backpackers that drink and shag their way around Australia.
Eating
Australia has nearly two hundred nationalities of people as residents so you can be assured of huge variety of cuisines being available. Coming from Europe you will find most of it very reasonably priced and besides in restaurants it is in often cooked fresh at outdoor markets, one particularly popular one being the Mindil Beach markets in Darwin, N.T. where you can eat on the beach watching the most magnificent sunsets.
Festivals
Australia has some good festivals and annual events, try to time your holiday so you can catch some of them.
Fishing
Australia has some pretty good fishing and some tourists can't believe the size of the fish that are being pulled up here.
More on Australian fishing...
Fossicking
Try your luck at finding gold or gem stones. Though most of Australia has been explored many small scale miners and fossickers make a living out of what they find.
Just recently in March 2005 a farmer dug up 1.5kg gold nugget in the north of Victoria while he was out fossicking with some friends. The nugget contained about $40,000 in gold but to a collector could be worth around $100,000 in its natural form as nuggets this size are quite rare.
Four wheel driving
There are a lot of unsealed roads and a lot of bushtracks in Australia, and four wheel driving, or 'bush bashing' if there are no tracks at all, is a popular passtime. Quad biking is another way to get off the beaten track.
Fruit tasting
Many exotic tropical fruits are grown in Australia nowadays, one such place where you can learn about these fruits is the Cape Trib Farm.
Golf
Aussies love a game of golf and there are golf courses all over the country, even the smallest towns have one. Many Japanese come to Australia for the main purpose of playing golf.
Guided rainforest tours
Harley tours
In Melbourne and many places around Australia leather clad bikers have gone into business to tour you around on their shiny thundering machines. The first one to kick off this industry did so well he was featured on TV. Unfortunately an FBI agent then recognized him as wanted and he was promptly arrested and carted back to the States. Nowadays all Harley Tours are all fully checked out, licensed by the Transport Department and insured, though they might still be a bit hairy and sweaty you know what they say; Old bikers never die. They just smell that way!
Helicopter flights
Flying all the way around Australia by helicopter would be a very expensive exercise, but in most Australian cities and other popular tourism destinations like the Great Ocean Road, Uluru and Kakadu you can do scenic flights by helicopter, an unforgettable experience! Click here for more info...
Horse riding
In many places you can explore Australia's beauty on horse back, tours usually cater for beginners and advanced riders and run through outback, along beaches and through forests.
Jackaroo or jillaroo school
Several outback places offer courses that will turn you into a jackaroo or (for girls) jillaroo, otherwise known as station hand. You will learn how to ride a tractor and horse, how to castrate a sheep with your teeth and how to fix a fence and be qualified to get a job on a cattle station.
Jungle Surfing
In the rainforest most of life occurs high up in the canopy where you can not get to but in Cape Tribulation in the oldest rainforest in the world in the World Heritage listed Daintree you can get a birds eye view of the canopy. Fully trained and qualified guides will move you along steel cables through the canopy. More info and online bookings...
Kite surfing
This sport has rapidly increased in popularity the last few years, and there are various places where they can teach you how to kite surf.
Mine tours
Mining is a huge part of Australia's history and even today's economy. In many places like Mount Isa, Kalgoorlie, Coober Pedy, Tennant Creek etc. you can go on tours in the mine and get a feel for what it was like to be a miner in those rough old days.
Mountain biking
With so much bush in Australia it is a paradise for mountain bikers.
Outback camping trips
In many places there are tours that will show you the sights in multiple day trips camping out in the bush in tents or swags. Nights are usually spent either in the middle of nowhere around the camp fire underneath magnificent starry skies or at outback pubs where the locals are usually friendly and the cowboys like to meet some new faces from out of town.
Parachuting
See sky diving.
Rodeos
In many places around Australia, especially in the outback, the wild west is still alive and the annual rodeo is often the highlight of the year. You can watch cowboys ride horses and bulls while you enjoy a cold beer. More info...
Sailing
Sailing is a popular pastime in Australia, and various tour companies offer you the chance to join their boat and hit the waves.
Sea kayaking
Ski the snow
Snow? Yes, not all of Australia is covered in palm trees and tropical things, in the south the weather is much like Europe and up in the mountains it gets cold enough for snow and skiing. The Snowy Mountains in New South Wales have a thriving ski-industry centred in the village of Thredbo.
Scuba diving
Scuba diving the desert
Under the Nullarbor Plains between Adelaide and Perth there are submerged caves where you can go scuba diving.
Scuba diving the Great Barrier Reef
Early 2004 a survey was held in the U.K. asking people about the 50 things to do before you die and the majority placed scuba diving on the Great Barrier Reef in the top three. It is the largest living coral system in the world, stretching 2300km along Queensland's coast from Bundaberg to the top of Cape York it contains 1600 reefs and a 1000 islands and is the site of the biggest orgasm in the universe; this is one of the terms the North Queensland dive industry uses to describe the annual coral spawning where three to five nights after the full moon in november or december when the water temperature hits 28 degrees, the entire 2300 kms of Great Barrier Reef lets go of zillions and zillions of brightly colored sperm and eggs that float around for several days and fertilize eachother. Fish go into a feeding frenzy and the ocean sometimes resembles an oiltanker disaster site but all this is done to propagate new corals to ensure the survival of the Great Barrier Reef. If you find yourself in North Queensland around this time you can witness this spectacular event as many of the reef tour operators run extra night trips.
The Great Barrier Reef was the first Australian site to be placed on UNESCO's World Heritage list, now there are 15 Australian sites. In Cape Tribulation the reef comes closest to the shore and you can go on a reef trip here with Ocean Safari
See a selection of Queensland scuba diving trips here..
Scuba diving with sharks

© Oceanworld Manly
Yes, believe it or not, in Sydney at Manly Oceanworld you can scuba dive with sharks! They have two tours, one exclusively for certified divers and another introductory dive for those who have never dived before. What a blast for your first dive!
More info...
Scuba diving with whale sharks

Ningaloo Reef
© Australian Adventure Travel
Whales, dolphins, dugongs, manta rays, huge cod or sharks can be seen in abundance on this tour…
260-kilometre-long Ningaloo Reef offers world class diving through to family snorkeling in sheltered lagoons crammed with coral gardens. Ningaloo is the largest fringing coral reef in Australia. It is the only large reef in the world found so close to a continental land mass; about 100 metres offshore at its nearest point and less than seven kilometers at its furthest. The park covers more than 4000 square kilometers and was declared in 1987.
This 4WD adventure will have you enjoying Ningaloo Reef, Shark Bay, the dolphins at Monkey Mia, Coral Bay, Kalbarri and the Pinnacles. Swim, snorkel, scuba, ride a quad bike or take a boat cruise. The tour is accommodated on sheep stations, farms and country lodges. More info....

Smoking
Most of Australia, and especially Queensland, is pretty conservative when it comes to marijuana but the town of Nimbin in northern New South Wales is a smokers paradise.
Skydiving
Many people thinks it makes no sense to jump out of a perfectly good aeroplane but there are others that disagree, even if you want to do it only once you can do a tandem jump with a fully qualified instructor to give you a huge adrenaline rush and see some Australian scenery from a birds eye view.
Stargazing at Ayers Rock
The skies in Central Australia's desert are clear most of the year, and the absence of cities spreading their lights makes this the absolute perfect place to watch the stars of the southern hemisphere! More info....
Surfing
Never surfed before? No worries, there are surf schools were they will teach you how!
Gold Coast: For surfing lessons on the Gold Coast go to Silversurfer.net , Greg Howell will teach you how to ride those waves!

© Adrift Surf Tours
Western Australia: Experience the soul of surfing… come along on a true surfing safari, escape the crowds of the city and head north out of Perth. You will soon be driving along beautiful white sandy beaches in the search to find the best waves. With a fully accredited coach by your side, you will be cruising along waves all the way into the beach, in no time!
After your first surfing lesson, it's time for a healthy lunch and a moment to sit back and enjoy the view. Once you have recharged, hit the surf again to fine tune your new surfing skills.
The afternoon will include 4WD action through the awesome Lancelin sand dunes where you can test your sandboarding skills. You will then head back to Perth, around mid-afternoon, and relish the experience you've just had living a day in the life of a surfer! More info...
Whale watching

© Australian Day Tours
This is a seasonal activity as it depends on the migration of the whales to and from the icy waters of the Antarctic which normally happens from June till October.The humpback whales swim along the entire east coast and are sometimes spotted as far north as Cape Tribulation. More info....
Wine tasting
Either cruise around in your own car or book on a tour bus to sample wines of the various wineries; the Hunter Valley near Sydney, the Barossa Valley near Adelaide and the Margaret River near Perth are the most popular.
Wwoofing
One way to find accommodation around the country if you're not too lazy, is to join WWOOF, it stands for Willing Workers On Organic Farms and the principle is that you stay with host-members where you do 4 to 5 hours work a day in exchange for food and accommodation. Very popular with young people, it saves money, is approved by Immigration for people without a working visa as it is not paid work and no money changes hands, and it gets you away from the 'get pissed and get laid' backpackerscene that has taken over much of the east coast. When you join WWOOF you receive a book with addresses all across Australia with property descriptions so you can choose what suits you best. One such place is Rainforest Hideaway in Cape Tribulation but there are thousands around the country.
You did anything in Australia that you would recommend to others? Then contact us!