City tour
A very comfortable and easy way to see all the best the city has to offer is to book on a tour, in 2.5 hours you can see;
Victoria Square - heart of the city
Gouger Street - restaurants and cafes
The grand boulevard of King William Street
The Terraces - north, south, east and west that separate the city from the greenbelts
Parks, gardens and greenbelts
River Torrens with its delightful garden banks
Parliament House
The Casino
State Library with the Bradman collection
Trinity Church - Adelaide's oldest church
Trendy Hutt Street
Visit Haigh's Chocolates - Australia's oldest chocolate manufacturer (*)
Enjoy a complimentary tea or coffee accompanied by fine Haigh's chocolates (*)
Beehive C at Rundle Mall
Festival Theatre and Adelaide Convention Centre
Adelaide Oval - one of Australia's most notable cricket grounds
Quaint suburbs of North Adelaide
O'Connell Street - restaurants and trendy shops
St. Peters Cathedral
Colonel Light's lookout on Montefoire Hill affording spectacular views over Adelaide
* On Sunday's Haigh's will not be available
More info on this tour...
Festivals
Adelaide is known as the festival city, and if you are there at the right time you might catch some good ones, for more info visit;
Fleurieu peninsula
The Fleurieu peninsula is not far from Adelaide and a daytour can show you the diversity of this playground of wineries, the holiday seaside resort of Victor Harbour and where Australia's greatest river system meets the lakes and sea at the old paddlesteamer port of Goolwa. More info...
Hahndorf

Adelaide
© Gray Line
Tour the highlights of Adelaide, then travel through the Adelaide Hills dotted with unique and historic villages. Visit Hahndorf, Australia's oldest German settlement, rich in German heritage and a delight to walk and browse along the main street. Tour highlights include:
Chinatown
Central Market
Victoria Square - heart of the city
St Francis Xavier Cathedral
North and East Terraces
Trendy Hutt Street
Leafy Eastern suburbs and a visit to Australia's oldest German settlement - Hahndorf. More info....
Kangaroo Island

Australian Fur Seals
© Gray Line
You can reach Kangaroo island by sea or air, this unspoiled wilderness is home to wallabies, goannas, echidnas, koalas, kangaroos, seals and is a haven for many other marine wildlife and seabird species. There is a great day tour that will show you all the highlights of this amazing island. More info....
Meditation
Had enough of the hustle and bustle of the city? The Lifeflow Meditation Centre has been providing high quality meditation teaching in Adelaide for over 25 years. It is one of Australia's most experienced meditation centres. With a studio in the city and a retreat centre in the Adelaide Hills they offer a large range of courses and retreats to suit both beginners and advanced meditators. Visit their website for more info
Murray River

'Proud Mary' on The Murray
© Gray Line
The Murray River system is Australia's largest and in recent times the government has started some big conservation projects to save this river that was severely damaged by major irrigation works upstream. On classic old paddle steamers you can experience this river and the green vineyards, golden citrus orchards and prosperous rural communities. More info....

The Nullarbor
9 Day Adelaide to Perth - Crossing the Nullarbor is a mind blowing experience. The vast distance of 2800 km between the two cities of Adelaide and Perth makes for one of the world's greatest road journeys. In some places the road runs very close to the edge of the continent and to stand there looking at the Great Australian Bight is an awesome "end of the world" feeling, there are caves to explore, outback pubs and historic ruins and remains of the days when whaling was an industry along here.
You can drive it yourself and burn a lot of petrol or book on a 9 day camping adventure, more info and reservations...
Wine tasting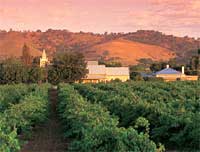 The Barossa Valley
© Gray Line
A visit to Adelaide without a visit to at least one wine growing region would be like going to north Queensland without seeing the Great Barrier Reef. The city is surrounded by wine growing country where you can spend some very enjoyable days discovering the many top quality wines, and what better way to do it than to book on a tour where the busdriver will get you safely home again after a hard day's sampling. There's a variety of tours to choose from;
Adelaide Hills Private Wine Tour
Barossa Valley Private Wine Tour
Barossa Valley small group touring
Barossa Valley Wineries and Hahndorf
Clare Valley Private Wine Tour
McLaren Vale and the Fleurieu peninsula
McLaren Vale Private Wine Tour
Another way to avoid drink driving is to stay in the Barossa Valley!
About Adelaide - Accommodation - Tours and what to do - Transport and car hire - Photos - Map