This page has some links to fishing tours and resources but we can always list more,
if you're in the fishing business contact us to advertise on this page!
Gold Coast bloke Robbie Hughes at Varsity Lakes apartments on Lake Orr doesn't need a boat to go fishing.
He lives on the 6th floor of an apartment building above a lake and fishes from his balcony !
With the help of his mate David he has caught at least 12 bull sharks up to two metres in length, while another 100 or so have gotten away. It requires some team work, Robbie casts the line from the balcony and when he's got one hooked Dave grabs the gaff and zooms down in the lift to the bottom car park to help pull in the catch. Gold Coast canals are notorious for bull sharks, two swimmers were killed here in 2002.
Some good size queenfish and trevalli from the Endeavour River at Cooktown
In Cooktown, north Queensland there is some very good fishing to be done as you can see on the pics above.
Fishing in the Daintree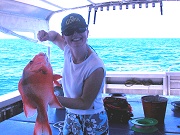 Go fishing when you're staying in the Daintree/Cape Tribulation area; there's a few fishing boats available to charter on the Daintree river, or you can rent your own boat. The boats come and go a bit so we can't keep up to date info here but first find yourself some accommodation in the Daintree and your host will find you a boat then.
New South Wales fishing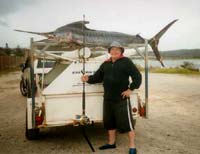 Fishing report by Froggy: I have actually just returned from a 2 day Game Fishing Trip to Bermague on New South Wales Sapphire Coast. I have always dreamed of catching a Black or Striped Marlin on the high seas, and guess what.. I caught a 100-110 kg - 244lbs - Striped Marlin on my first try. It is very hard to describe the feelings of having a screaming reel in your hand, and wondering,, How can I actually reel this Monster in... he is pulling so hard, and I felt so tiny hanging on to the rod, and winding as fast as possible, then having this Fish take over, and I end up further away from him as when I first hooked on. Anyway... after a titanic struggle for 45 min, with a massive amount of help from the skipper, using his boat handling skills to take up the slack on the line, moving his 30ft boat in and out like it was a 12 ft tinny.... I finally got him along side,,, Yes! - I Tagged and released, (T.R.)
Photo and fishing report by froggy
Victoria
Are you in the fishing business in Victoria? Contact us!
Northern Territory
Bare hand barra fishing! Some of the most amazing fishing I have ever seen was in Mataranka, Northern Territory, where a bloke catches barramundi with his bare hands. He will stand in the water holding a bit of bait and when the barra goes for it he will shove his hand up its mouth ( making use of the fact barra don't have teeth) and lift him out of the water.
Tasmania
Paul Kaine's Guided Fishing Tasmania

Paul Kaine with a trout
Paul Kaine, the owner and principle guide for Paul Kaine's Guided Fishing Tasmania. With his family he resides in Tasmania's Central Highland lake country where he conducts specialised guided trout fishing adventures. More info on his website guidedfishingtasmania.com.au or send him an email .

Western Australia
Are you in the fishing business in Western Australia? Contact us!
South Australia

S.A. Fishing News is a website where you will find all the information you need to become a successfull fisherperson, the latest tide times, weatherforecasts and fishing hot spots, fishing tips, pictures, size and bag limits and much more.
Canberra
Are you in the fishing business in Canberra? Contact us!
You know of, or did, any amazing Australian fishing? Then tell us!