About Cooktown - Accommodation - Tours & what to do - Transport & car hire - Photos - Street map
Cooktown
Fishing the Endeavour River from the jetty at Cooktown is a popular pastime for locals and tourists.
Latest news: The inland road to Cooktown is now sealed all the way!
Cooktown is one of Australia's most historically significant towns, in 1770 on the banks of the Endeavour River pictured above James Cook and his crew managed to fix his ship after their disastrous crash on the Great Barrier Reef. They spent seven weeks here, discovered many species of flora and fauna, most notably the kangaroo, and then managed to continue their journey further north where they planted the Union Jack and claimed Australia, otherwise this country might have still been New Holland today, which was its name before Cook claimed it.

James Cook, the man Cooktown is named after
A hundred years later gold was discovered in the Palmer River and this put Cooktown on the map as a port and trading centre was needed to service the goldfields. It may be hard to imagine today when you walk through the sleepy village but once upon a time this town was the second biggest in Queensland with 4000 inhabitants and 30,000 people passed through the town during the goldrush, it had direct shipping lines with China, thousands of Chinese lived here and a hundred bars and brothels kept the miners entertained. A walk through the cemetery will give you a feeling of how tough life must have been in those days. After the goldrush the town was reduced to about 400 people, it was further hit by two devastating cyclones and was evacuated during World War Two but has since then grown to the current 1600. Locals are very happy with the completion of the sealed inland road, now that you no longer need a four wheel drive this will no doubt bring changes and more people to the town.


Click here for the best accommodation deals in Cooktown
Cooktown is located on the inland side of a headland which shelters it from the ocean winds that can blow quite strong along this coast and looks out over the Endeavour river. The shelter of this headland has also helped some rainforest to survive, there are a few patches of rainforest within walking distance from the town centre which form a nice oasis in the otherwise dry and dusty surroundings of the town. The town is packed with history, a visit to the James Cook Museum will give you a good insight on the colorful history of this town, they also have some items recovered from the ocean floor that Cook had thrown overboard to stop his ship from sinking. In the main street you can see some of the old buildings left over from the goldrush days and one time I observed from the balcony of the Cooktown Hotel how the kangaroos hopped through the main street in search of green grass when the traffic stopped after midnight.
Another bit of history is the lookout on the top of Grassy Hill where the lighthouse stands. James Cook spent quite a bit of time on this hill in 1770 to observe the mouth of the river with its treacherous sandbanks to plan a passage out to sea, the last thing he needed was to get stuck again! Nowadays this lookout is a good spot to watch the sunset over the Endeavour river, a rare treat on the Queensland coast where in a lot of places the sun just disappears behind the Great Dividing Range.
Cooktown is famous for its fishing, you can try your luck from the wharf but for some real fishing get on a boat and head up the river or out on the ocean.
To the right you see some happy fishermen on Mark Privett's fishing charterboat "Gone Fishing" showing off their catch.
Cooktown also has a couple of nice beaches at Quarantine Bay and Finch Bay where you can go for a swim (outside stinger season). On the way to Finch Bay there is a very good botanical gardens and the impressive art gallery Nature's Powerhouse.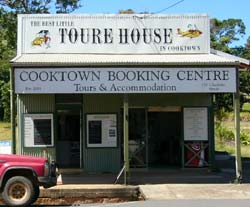 Cooktown is also the departure point for flights to Lizard Island, a beautiful Great Barrier Reef island about 100kms. north, here you can either camp in the National Parks campground for a couple of dollars or go for the other end of the scale and stay at the Lizard Island Resort;
Where to eat:
For breakfast from 7 am onwards you can't beat the food and the view of Cook's Landing Kiosk, at the end of the main street..
For dinner the RSL club or the Bowls Club next door to them are good choices, but lovers of spicy food would be best off to get in to some fairly authentic Thai food in the Italian restaurant opposite the Cooktown Hotel.
Accommodation in Cooktown
Now that the road is sealed there will be more people heading up to Cooktown, you are advised to book your accommodation well in advance for the July/August peak season.
Pam's Place

Cooktown, the most northerly town in the east coast of Australia.
Pam's place is a modern hostel catering for people of all ages with twins,doubles and single rooms,all with air conditioning,ceiling fans and refrigerators. Three and six bed dorms also available.We have a large kitchen,TV and pool room,laundry and licenced bar
The Hostel is set in tropical gardens with salt water pool and an out door fire place .
Hotel and resort accommodation in Cooktown
We enjoyed a wine with some great sunset views from the balcony of the Sovereign Resort
How to get to Cooktown:
There is a wide choice of car rental companies where you can book your car or campervan online to be assured of a car on your arrival at Cairns airport or anywhere else in north Queensland, and most offer one way rentals between major cities. Nothing beats the freedom of having your own car to explore and stop when and where you want, and now that the inland road is sealed all the way the drive is easy and any car can make it up there.
Budget Car Hire needs little introduction, the name says it all: car hire at Budget Prices with a car hire company with an international reputation, and this sites makes it even easier to find yourself a cheap hire car, or anything else with wheels: trucks,buses, campervans, utes, four wheel drives etc.
Flights to Cooktown:
Unless you live in north Queensland you will have to fly to the nearest international airport Cairns first, and then either drive, go on a bus or guided tour, or continue to fly with Skytrans
The nearest main airport to Cooktwon is Cairns, you can fly there from any main Australian city or directly from overseas.
If you are already in Australia then go to our page Cheap Domestic Flights in Australia for a good choice in cheap domestic airfares to Cairns.
If you are still in your home country then you will need to get an international flight to Cairns, but be aware that although Cairns is an international airport, not too many airlines go straight in to Cairns, you will usually have to fly via Brisbane or Sydney.
ZUJI is an online travel agent with offices throughout the Asia Pacific region, offering you a choice of more than 400 airlines and 60,000 hotels, as well as car hire and travel insurance.
Feel more comfortable to book your airfares to Cairns online with a travel business from your own country that you know and trust?
Then choose your home country here:





Go on a guided tour from Cairns to Cooktown;
Pass through Cape Tribulation, head up the famous Bloomfield track and include the Palmer River goldfields, Cooktown, the Lions Den pub and Aboriginal rock art at Laura. More info....
Take the coast road / Bloomfield Track up to Cooktown
Follow the highway north through Mossman, cross the Daintree river and continue a beautiful scenic drive through rainforest to Cape Tribulation. Book some accommodation in Cape Tribulation for a few nights, there is heaps to do and see around here) and then continue up the infamous Bloomfield Track, you will need a four wheel drive for this. There are lots of beautiful beaches, creeks and rainforest along this road, and also the Bloomfield Falls and the Lions Den Hotel which is a must do stop for a drink. To allow yourself more time to explore this magnificent stretch of coastline you can also stay overnight in Bloomfield at Bloomfield Cabins & Camping.

Crossing the Bloomfield River on the way to Cooktown
Photo by Thelma Chalmers
Bloomfield Cabins & Camping
Take the inland road up to Cooktown
YES! THEY'VE DONE IT ! THE INLAND ROAD TO COOKTOWN IS NOW SEALED ALL THE WAY !
Follow the coast road north from Cairns, turn left just before Mossman and head up into the hills. You'll come to a T intersection where you can turn right to go to Cooktown or make a short detour to your left for a lunch at Lobo Loco cafe in Mount Molloy which is famous for its ginormous burgers. A bit further up the road is the Mount Carbine Hotel which is a good place for a beer. Closer to Cooktown are some more places worth stopping; the Annan River and Black Mountain.
It is recommended that you start your journey early enough in the day, the road up to Cooktown often has cows, kangaroos and other wildlife on the road, and they can be hard to spot at night.

By public transport bus: Sunpalm Coaches do regular runs up and down both the inland road and the coast road, phone 07-40842626, or contact via email
Country Road Coaches

This bus does a run all the way from Cairns to Cooktown, so is a good option if you plan to spend a couple of nights at accommodation in the Daintree and then head further north. They depart Cairns at 06.45 in the morning, arriving in Cape Trib about 10.45 but not every day, contact them for up to date info. More info....

Phone 07-4045 2794