Australian Annual Events
Australia has quite a variety of annual events, below we have a selection for you, try to see some on your travels around Australia...
Australia Day

Aussies love to celebrate Australia Day on the beach
All Aussies get a day of work each year on 26 january to celebrate the arrival of the First Fleet. It was this day in 1788 when Arthur Philip arrived in Sydney Harbour after a nine month journey with the first shipment of 770 prisoners in 11 ships and officially took posession of New South Wales ( the names Sydney and Australia were not yet thought of at that time) and became Governor. Therefore the day was also not celebrated as Australia day in years to follow but 'Foundation Day' although one tradition that will never change in this country was that "the anniversary of the foundation of the colony was observed in the traditional manner with drinking and merriment".
Every state used to celebrate this day as it would see fit until in 1946, the Commonwealth Government, States and Territories agreed to observe Australia Day under one banner and on the same day.
It was not until 1994 however, that all the states and territories endorsed the celebration of Australia Day on the actual day instead of the closest Monday. United Australia Day celebrations have been held on 26 January ever since.
To many Aborigines this day means Invasion Day and they see no reason to celebrate, and on Australia Day 2008 Aborigine Adam Thompson burned an Australian flag in Tasmania in protest against "the atrocities committed against my people under the colours of that flag" as a crowd of about two hundred watched him.
Anzac Day

The famous Anzac Biscuit
(ANZAC =Australian and New Zealand Army Corps)
Aussies also get a day off on 25 April to commemmorate a monumental military loss in World War One, of no less than 7600 Aussies and 2500 Kiwis at Gallipoli in the south of Turkey when the Poms ( who also lost 40 000 of their own) had a plan to capture the city of Istanbul. Unfortunately the beach where they landed was much better defended and the hills much harder to climb than expected so they dug in and started exchanging fire until they evacuated the area again after eight months. As there are not many World War One veterans left nowadays the day now honours veterans of all wars that Australia has been involved in, alltogether 102.000 Aussies never made it home from distant battle fields. Marches are organized through capital cities and war veterans catch up with old mates and exchange memories and have a few drinks. In the marches in 2003 some cheats were discovered who had found or obtained medals without ever having been to any wars and were joining in the parades but as there are not many veterans left and they all know eachother they were quickly discovered and dealt with. In 2005 the Coalition of Patriots for Military Honour, armed with digital cameras, patrolled the marches to catch out cheats, and they quickly caught out over a hundred, they also have a website containing a wall of shame with photos of imposters, but have to do all this coverts as death threats have been received. This is also the one day a year when it is legal to play two-up in the streets which was a traditional favourite game of the soldiers. Not that it happens much as most people have forgotten how to play it. Should this game interest you there is a legal gambling den for two-up just outside the gold mining town of Kalgoorlie, Western Australia that is worth a visit to absorb a bit of local culture.
Birdsville Races, Queensland

Birdsville Hotel
Photo by Alysse Gavlik
Horse race held in September. People fly and drive in from all over Australia to this remote town 1600 km west of Brisbane situated on the edge of the Simpson Desert . The local pub The Birdsville Hotel, built in 1884, does a roaring trade during this event. More info....
Blokes World Live Expo, Brisbane
Aussie Culture at its best!! This amazing event is held on October 1 and 2, 2005 at the Queensland raceway in Ipswich after Brisbane Council wowsers did not want this to take place in their city. Chicks, tattoos, fast and loud cars, utes, dogs, and alcohol, all the essential ingredients for a great weekend out. Entry to 18+ only.

Body Art Carnivale, Eumundi, Queensland
Every year the Australian Body Art Carnivale is held in Eumundi, Queensland.
2010 will see an expansion of all elements of the festival and it's growing to now become a three day event!
The Carnivale will again be 'A Festival of Colour' centred around body art in its many and varied forms. For members of the public, it's nothing short of phenomenal to watch the human canvases take shape during the competitions.
There'll be a feast of other entertainment including pavement art, wearable art, an art gallery walk, workshops, Indigenous body painting, world-class street performers, and music to groove to. There'll also be a car painting exhibition, a sunset street party, and a whole lot more.
The next Australian Body Art Carnivale will be held in Eumundi from Friday 14 May to Sunday 16 May, 2010
Camel Cup, Alice Springs, Northern Territory
The outback's answer to the Melbourne Cup. Every year at Alice Springs locals and tourists come together to witness the annual Camel Cup. This long-running tradition - a fundraiser for the Lions Club - began in 1970 after a pub bet, but proved so popular the charity decided to hold it on an annual basis. In 2004 the race became a bit more official when the government of Afghanistan announced it will sponsor the cup - in recognition of the contribution of early Afghans to the development of the Australian outback. Also they will send their ambassador to Australia and New Zealand, Mahmoud Saikal, to present a trophy to the winner of the race. Afghan cameleers were crucial in major exploration and settling of the remote regins of Australia between 1860 and 1930. The 34th annual Camel Cup carnival will was held at Alice Springs' Blatherskite Park with 30 camels fighting it out in nine races.
Clean Up Australia Day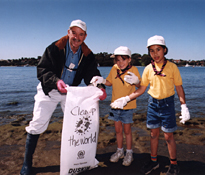 This simple idea of Australian builder and solo yachtsman Ian Kiernan has now become the nation's largest community-based environmental event in which more than 6 million Australians have now volunteered their time since 1989 to help make a difference to their own local environment.
It started out as Clean Up Sydney Harbour Day in 1989 which received an enormous public response with more than 40,000 Sydneysiders donating their time and energy to clean up their harbour. Tonnes of rusted car bodies, plastic , glass bottles and cigarette butts were removed.
The next year Clean Up Australia Day was born. Ian and his committee believed that if a capital city could be mobilised into action, then so could the whole nation. Almost 300,000 volunteers turned out on the first Clean Up Australia Day in 1990 and that involvement has steadily increased ever since. In the past twelve years, Australians have devoted more than eight million hours towards the environment through Clean Up Australia Day and collected over 165,000 tonnes of rubbish.
Cooktown Festival, North Queensland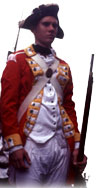 Every year in june the town of Cooktown has a long weekend of festivities that starts with the re-enactment of the landing of James Cook in Cooktown in 1770 in which they beached their damaged ship and spent seven weeks around the area repairing it, in the process also discovering the kangaroo. Good festival to visit if you like to see some history and lots of drunk cowboys, bring your own tent or book your accommodation well in advance. Other exciting events include the discovery Gala Ball, Jazzmusic, Bull Riding, 4WD and Ute Muster, Amusement Park, Live Bands and watch on as Cooktown's harbour lights up with spectacular fireworks, plus so much more. More on Cooktown...
Crown Casino's Aussie Millions Poker Championship
Held every year at the Crown Casino in Melbourne, in the 2010 event 23 Year old Aussie Uni student Tyron Krost beat 746 other players and walked away with a cool $2 million after a marathon 13 hour all night battle, the largest prize ever awarded in a live poker tournament in the Southern Hemisphere.
Biggest poker win in Southern Hemisphere
23 Year old Aussie Uni student Tyron Krost is $2 million dollars richer after winning the largest prize ever awarded in a live poker tournament in the Southern Hemisphere. He beat 746 other players at win Crown Casino's 2010 Aussie Millions Poker Championship. He said he was looking for something to do that night so he joined in, and after a marathon 13 hour all night battle he walked away with a cool $2 million !!
Darwin's Beercan Regatta, Northern Territory
In Darwin people tend to drink a few beers resulting in lots of empty beercans. Once a year the Darwinites get creative and build all these empties into boats that they race in the annual Beercan Regatta at Mindil Beach. In the old days before environmental awareness the day used to finish with a seabattle where everyone would smash up eachothers boats and mountains of empty beercans would be scattered all over the ocean.
The Beer Can Regatta is usually held in July / August , and has now diversified into lots of games and watersports, and you can now even use softdrink cans to build your boat!
The Annual Beer Can Regatta will is usually held at Mindil Beach (Gilruth Ave) on in July. The all day event starts at 10am, the Mindil Beach Sunday Market will also be open and entry is by gold coin donation which will go to charity. If you are interested in building a boat from beer or softdrink cans, help for construction can be obtained by contacting the Convenor - email to convenor@beercanregatta.org.au
Darwin to Adelaide World Solar Challenge
Race over 3010 km. by solar powered vehicles, in november 2003 the Dutch team won with their Nuna II covering the 3010 km, in only 30 hours and 54minutes beating their old record by one hour and 45 minutes. Australia came second and the U.S. team third.
Dunny Derby, Winton, Queensland
The Great Australian Dunny Derby is held each year at the end of September in Winton, Queensland, as part of the great outback festival.
The Dunny Derby involves four people pushing an outhouse on wheels up and down three lengths of the football ground in Winton. At the start of the race the jockey must dash to the loo with his undies down around his ankles then jump aboard. With assistance from the team, the jockey then jumps in and out of the dunny collecting such items as bog rolls, newspapers and even a toilet brush.First to cross the line with all the items is the winner. The competition consists of 20 dunnies, divided into four heats lined up for this prestigious event with a total prize fund of $3,000.
Earth Hour

All lights off for an hour during Earth Hour
Earth Hour was first held in 2007 in Sydney, Australia when 2.2 million individuals and more than 2,000 businesses turned their lights off for one hour to take a stand against climate change.
Only a year later and Earth Hour had become a global sustainability movement with more than 50 million people across 35 countries/territories participating. Global landmarks such as the Sydney Harbour Bridge, CN Tower in Toronto, Golden Gate Bridge in San Francisco, and Rome's Colosseum, all stood in darkness, as symbols of hope for a cause that grows more urgent by the hour.
It is an international event now, but is started as an Australian event!
Husband dragging
Ths event is held in Singleton, NSW, as part of the annual Country Fest. The inaugural husband dragging race was held in March 2010. It is the symbolical wife dragging husband out of the pub scenario, and a follow up on the Wife Carrying Championships that have been held for some years.
This amazing sport sees the wives running over slippery plastic to a bar where their husbands are drinking beer, they grab their respective husbands and then drag them home along the ground and then next they make them do household duties.
The game has some rules, including the husband must act as a dead weight while being pulled, he may not help his wife, the wive must have a cranky look on her face and she is not allowed to kick or punch her husband.
The 2010 winners Emma Mellows and Jacabe Wood took home the fist prize of $1000 cash.
Goat Races, Lightning Ridge, New South Wales
Every year at the end of March the locals of the outback opal mining town of Lightning Ridge get together for the annual Goat Racing Championships. More info...
Gold Coast Indy
Be careful crossing the street here in October, the streets of Surfers Paradise fill with the roar of racing car engines that do 300 km/hr on a street circuit. There's heaps of family activity and parties going on tooaround this time. More info...
Golden Gumboot Festival

The Big Gumboot in Tully
In the small town of Tully, north Queensland, locals get together once a year for this festival, of which the highlight is the gumboot throwing competition. The person who can throw a size 8 gumboot the greatest distance wins. Tully's other claim to fame is being declared officially the wettest place in Australia with an annual rainfall of up to seven metres.
Earth Hour
Earth Hour started in 2007 in Sydney when 2.2 million homes and businesses turned their lights off for one hour to make their stand against climate change. Only a year later and Earth Hour had become a global sustainability movement with more than 50 million people across 35 countries participating and two years later in 2009 hundreds of millions of people took part in the third Earth Hour and the 2010 Earth Hour is expected to be even bigger again. More info....
Henley on Todd Regatta, Alice Springs, N.T.
This is a race with a difference; the Todd river that runs through Alice Springs is at this time of year as dry as a Pommy's bath towel ( Australian expression for very dry) . But with good old Aussie ingenuity the problem has been solved by having boats with no bottoms so people are actually running carrying the boats!
Hookers Ball, Darwin, Northern Territory

All ready to hit the hookers ball
Once a year Darby's nightclub in Darwin used to organize the annual hookers ball where the main condition of entry was that you were dressed up as a hooker, we have just been informed by some Darwin residents that is is now held early December at the Discovery nighclub on Mitchell St. but we are still waiting for some photos....
Humpty Doo's Darwin Stubby Drinking Competition
The Darwin stubby contains a huge 2 litres of beer, and is a popular souvenir for tourists that visit Darwin in the Northern Territory.
Its origins date back to the 1950s when the small Carlton United brewery in Darwin decided to package their beer in bottles, but they proved so popular that even despite charging a deposit they hardly ever got their bottles back.

In later years Darwin Stubby drinking competitions were held in Humpty Doo, a town on the highway from Darwin to Kakadu.
For many years a bull used to win (despite many complaints from the RSPCA) until several years ago he unfortunately died, and many other big bellied blokes also gave it their best to drink the massive two litre bottle in as little time as possible.
You will find Humpty Doo on the road from Darwin to Kakadu.
Melbourne Cup

Photo by Rob Lapaer of Rainforest Hideaway B&B, Cape Tribulation, N.Qld.
The Melbourne Cup inspired the Cape Tribulation locals to run their version of the Cup on the beach.
On the first tuesday of November the entire country grinds to a halt when at 15.20 in the afternoon the whole of Australia focuses on Melbourne when a group of horses thunder down a 3200 metre stretch at the Flemington race track in an effort to win the Melbourne Cup and billions of dollars in gambling money changes hands around the country. Most Aussies will take at least half the day off to place their bets, have plenty to drink and just enjoy the excuse to stop work for the day because of this event that actually only runs for about three and a half minutes.
A very popular and easy way of betting on the Cup is the office sweep where everyone just puts in five dollars and gets allocated a horse at random with the money being divided between the winner and the two place getters, this way it does not matter if you don't know anything about horses or the way the betting works and you still get the adrenaline rush of hoping to win and have a great excuse to take time off work to follow the race (with a few drinks of course).
If you are a tourist traveling in Australia do not expect any mechanic to fix your car this afternoon, a huge array of services normally available in a western country will disappear during this day so it is best to plan ahead, stay put and join in the fun.
The Melbourne Cup is a long time tradition, it has been running since 1861.
A horse still remembered today is Carbine who ( with a "huge" 66 kg. jockey) ran the distance in a record 3 minutes and 28 seconds in 1890.
Still his fame is nothing compared to Phar Lap who, out of 51 races in his career, won 37, one of them the 1931 Melbourne Cup. This horse gained so much fame that after dying in Mexico his heart was preserved and is now held at the National Museum in Canberra, his skeleton in a museum in New Zealand and his stuffed skin in the museum of Victoria in Melbourne.
Mudcrab Tying (bare foot)
Every year in August the Barefoot Mudcrab Tying competitions are held in Darwin where contestants have to tie up as many mudcrabs as possible in a certain time while being barefoot in an enclosure with the big nippers.
Mud Run

Mud run competitors
The Mud Run is a cross country run held at Glenworth Valley - 60mins North of Sydney, with some natural and often muddy obstacles to challenge competitors.
The course will traverse the beautiful native forests but of course also, as the name suggests, numerous mudflats and bog-holes will be at the core of this event so don't bring that new set of runners, you might just lose them to the Mud Monster!
The last race saw over 700 people getting incredibly muddy and dirty so it was a great success.
If you would like to join in this run and get totally covered then check out their website for details on the next race.
Nimbin's Mardi Grass, New South Wales
The 12th Annual Nimbin "Let It Grow!" Mardi Grass 2004 will be held on 1 and 2 May, together with the Hemp Olympics and the Nimbin Cannabis Cup will be raced around that time too.
The now-legendary HEMP Olympix comprises pothead contests around joint rolling, bong throwing and, for the more physically-minded, a Growers Ironperson competition. For this contestants pit themselves against the odds in outlandish tests of strength such as crawling through lantana tunnels dragging large bags of fertiliser.
Based (very loosely) on the Amsterdam event of the same name, the Nimbin Cannabis Cup is a nice mellow wrap-up to the heightened chaos of the previous few days. A rather broad selection of the best local buds is tasted, toked and tested by a smattering of card-carrying "expert" judges, eventually choosing a winner. If you don't make it as a judge however it doesn't really matter. Just like in Amsterdam, there's so much good pot everywhere that anyone that does make it to judge status is usually too stoned to tell anyway.

Nude Surfing Competition, Tasmania
Tasmania is the unlikely home to the the nude surfing competition at Clifton Beach on December 13 2003, who would go surfing without a wetsuit in this island just across the water from Antarctica?
Penny farthing world championships

Annual penny farthing world championships
in Evandale, Tasmania
Photo from evandalevillagefair.com
Every year in February, penny farthing enthusiasts converge on Evandale, Tasmania, from throughout Australia and overseas to vie for a series of races, held on a triangular circuit in the centre of the village. First held in 1983, based on an event held in Tunbridge, Tasmania, in the 1970's. Over the past 18 years, Evandale has attracted penny farthing enthusiasts from all states of Australia and from New Zealand, USA, England, Ireland, Holland, Germany, Czech Republic, Sweden, Singapore and Japan. Recognised internationally as the largest annual event in the world devoted to racing antique bicycles. The streets of Evandale, Northern Tasmania, Australia. 20 km south of Launceston, 5km south of Launceston Airport. Evandale is one of the state's earlier settlements, with buildings dating back to the 1820's. A penny farthing speed race was also held on the runway of Launceston airport. More info...
Pine Creek pig and feral cat hunt, Northern Territory
The Wood family, who recently moved from Katherine to Darwin, won $250 for killing 303 cane toads filling four rubbish bins. They had been caught over three nights in Katherine by driving around in a troop carrier with the kids hanging over the side with golf clubs and a butterfly net and frozen in friends' fridges before being transported to Pine Creek, 200km south of Darwin. Mr Wood said the family took up cane toad hunting in 2002 after it became too dangerous to spear freshwater prawns because of crocodiles.
Raw at Caboolture
In 2005 this nude event is held on 22, 23 and 24 April. Thousands of nude people dance for three days to the tunes of live bands and enjoy body painters, performing artists, good food, drinks and all sorts of things. A security team is present to deal with any nude party goers that may go too excited.
Queen's Birthday
Many Poms are surprised to find that Australians get a day off work on 14 june to celebrate the Queen's birthday! It is pretty amazing considering in England the Poms have to go to work on this day like any other day and most Aussies don't even want the Queen as their head of state! When the referendum was held on Australia becoming a republic many believe that Aussies voted against the republic for fear of losing a public holiday! If this Referendum on 6th November, 1999, had resulted in a 'Yes' vote then Queen Elizabeth II, of the House of Windsor, would have been retrenched as Head of State on the 1st January, 2001, The Centenary Of Federation in Australia.
Remembrance Day
On 11 November all Australians are meant to honour those who have fallen in World War One with two minutes silence
Rodeo
The Wild West is still alive in Australia, if you are traveling through outback areas in cattle country you might be lucky and get there on the annual rodeo where you can see cowboys riding bucking bulls and horses, we will try to post some approximate dates here later. More info on the Mount Isa rodeo here...
Running of the bulls, Weipa, North Queensland
Once a year the men of the town of Weipa, a mining town in the middle of nowhere up the top of the Cape York peninsula in North Queensland, get together for a lap around the town in the nude. Though one of the highlights of the year in Weipa it was fairly unknown in the rest of the world until the rumour spread that American singer Madonna might join the race, to many people's disappointment the rumour proved to be false.
This was not the first false rumour to hit North Queensland, one time the servers of the Port Douglas Tourism website nearly went up in smoke after the world massively logged on when the rumour spread that Monica Lewinsky was holidaying in the town.
Schoolies Week, Gold Coast, Queensland
When school finishes thousands of teenagers converge on the Gold Coast for some serious partying. In recent years the situation has got out of control a bit, often because of people joining in that look a bit too old to have just finished school and police is keeping a very close watch on things now.
Sexpo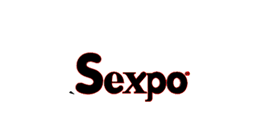 Sexpo is an annual event about anything and everything to do with sex. Even the Australian Taxation Office had a stall here to try and convince sex workers to declare their income and pay GST. To make it even easier for you to visit this event, it is held in Sydney, Brisbane, Melbourne and Perth. Find out when it is on and where on Sexpo.com.au
Smoke-in
Smoke-in - Held annually since 2002 in Darwin's Raintree Park but at varying times so for this year's date check the website of the Network Against Prohibition (NAPNT) who organizes this annual event to protest against the Labor government's drug-house laws and as an expression of human
rights. Activities include a free BBQ, music, speakers and an open-mike. Anyone who wants to have a say can do so.


The October 2002 smoke-in.
Steve Irwin Day
The Irwin's family spokesman John Stainton announced in 2007 that 15 November had been declared Steve Irwin Day, the Irwin family was hoping that everyone would take a day off work, and they hoped that it would even become a national public holiday, also people were encouraged to wear khaki to work.
The Queensland Premier Peter Beattie said there were no plans to make November 15 a public holiday, and he doubted Steve himself would have wanted that much fuss. A few people saw it as just another ploy to get more crowds to come to the Australia Zoo festivities and spend money....
Sydney's Gay and Lesbian Mardi Gras
A tradition of well over 30 years, the Mardi Gras parade started out as a protest march for gay rights in 1978, while most participants then were arrested it has now become an annual street parade watched by well over half a million people that pack Sydney's streets.
Gay and lesbian party animals fly in from all over the world for the celebrations that carry on for much longer than the actual parade runs. Valuable to the Australian economy as many of the party goers continue to other parts of the country to recover from the hectic festivities in quiter places and see a bit of Australia. Even places like Cairns where council went all-out to close a swingers B&B realize the value of the 'pink dollar' and publish a special 'pink guide to Cairns' to entice gay tourists into a visit.
Sydney to Hobart Yacht Race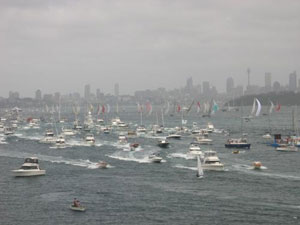 The annual Sydney to Hobart yacht race starts in Sydney on 26 December and runs for 630 nautical miles, roundabout 1200 km., to the Tasmanian capital Hobart. The start is always spectacular and risky as hundreds of other boats steam along to farewell the racing yachts resulting in many near misses or the occasional collision.
In 1998 the race was hit by a severe storm and out of the 115 boats, five sank, 66 retired, 55 crewmembers had to be rescued and 6 drowned.
Only hours after the start of the race the Bureau of Meteorology (BOM) issued a storm warning, but received no answer when phoning the race committee. They then faxed a warning to the yacht club, which took some time to get through to the organizers. They were also slow to act again to pass the warning on and communicate the severity of the storm, even when the first reports of 75 knot winds started arriving.
The 2004 race was won by the 27 metre $5 million Nicorette in 2 days and 16 hours after bad weather forced half the boats of the 116 strong fleet to abandon the race. This was skipper Ludde Ingval's second victory in this race. The AAPt came in six hours later and Brindabella came third.
Toad Day Out

The infamous cane toad
Toad Day Out was advocated by politician Shane Knuth and takes place on the 29th of March and aims to reduce the population of the invasive Cane Toad.
Toads are captured and taken to be humanely destroyed with prizes awarded for children who find the heaviest toads, and schools which capture the most amount of toads (by weight).
Tuna tossing
Every year the town of Port Lincoln in South Australia holds its annual tuna tossing competition. In January 2006 no less than 85 tossers competed but Steve Hitch, from the Eyre Peninsula, proved to be the biggest tosser of all when he managed to toss a dead tuna for the considerable distance of 17.1m and was crowned the 2006 champion, earning himself $7000.
His nearest competitor Martin Tregoning had tossed a 10kg tuna 17.06m, but this was still peanuts compared to the effort of former Olympic hammer thrower Sean Carlin who had proved himself a super tosser in 1998 by tossing the tuna a whopping 37.23m!!!!!!!!!
Undie 500, Tasmania and Port Douglas
Every february the tiny town of Riana, near the town of Penguin in northwest Tasmania fires up for the Undie 500 race. Competing Tasmaniacs have to run a 400 metre relay race wearing their undies over their clothing Superman style.
(Due to the local climate a running of the bulls like Weipa as described above seems like a bad idea.)
Port Douglas in north Queensland also runs an Undie 500 every year to raise some money for charity, this one takes place around late January / early February, the 2010 race had to be cancelled because cyclone Olga was expected to make landfall in Port Douglas the afternoon of the race, but it failed to arrive.
World lizard racing championships, Eulo, West Qld
Every year in August the world lizard racing championships are held on the famous 'Paroo Track' in Eulo, which is only a one-pub, one-general store town and found 64 km west of Cunnamulla and 887 km west of Brisbane. If you're in the area go and watch the races and send us some pics.
You know of a good annual event? Then contact us!