Annual events

Yachts on their way to Hobart
Sydney to Hobart Yacht Race - Every year on Boxing Day a group of sailing boats depart Sydney in a chaotic situation of hundreds of spectator boats all trying to get a good view to make it to Hobart in as little time as possible. Some serious partying goes on at the Hobart waterfront around this time.
Hobart Summer Festival - runs from late December to late January, incorporating the above yacht race.
Royal Hobart Regatta - This is the largest boating event in the southern hemisphere and is held in February.
Salamanca Writers Weekend - Held in March.
Royal Agricultural and Horticultural Show - Usually held in October
Battery Point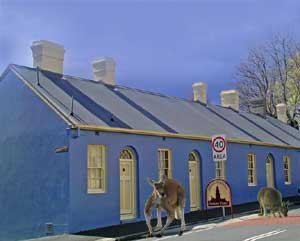 Located near Princes Wharf, this historic old port area of Battery Point is a must see attraction in Hobart. The name Battery Point originates from the gun battery of guns that once stood here.
This area used to be a bustling maritime village filled with sailors, fishermen and merchants.
Bruny Island

Australian Fur Seals
© Tourism Tasmania
Bruny Island Wilderness Coast, Seals and Wildlife Adventure! This tour has it all - beautiful remote bays, spectacular towering cliffs, mysterious breathing rock, hidden caves, sculptured rocky islands and the fascinating Friar Rocks - home to 1000+ Australian Fur Seals. More info on this tour...
Cascade Brewery

Photo by Kimiko Holder
Located in a beautiful old building, the Cascade brewery is Australia's oldest brewery and brews some of the best beer in the country. You will be able to confirm this if you book on one of their guided tours which shows you how they brew this excellent stuff and includes, like is pretty well standard on brewery tours, free sampling. If you can still walk after all this sampling check out the gardens around this brewery too.
The brewery is located 10 minutes by bus or car from the centre of Hobart at 140 Cascade Road, South Hobart. One-and-a-half hour tours are conducted by guides four times a day at 9.30 and 1.00pm Monday to Friday. Tours include the chance to see some of Australia's best loved premium beers brewed in the historic brewery and a walk through the famous Woodstock gardens. Allow half an hour at the end of the tour for tastings, which are included in the tour price. From 1 October 2004, tours cost $16 for adults, $7.00 for children and young people under the age of 18, and $12 for seniors/students (with cards) and family $38 (two adults and up to four children). Bookings are essential and can be made by phoning (03) 6224 1117.
City tour
You can explore the city on your own or enjoy a guided tour on board the Hobart Explorer Coach Tram for a historical 3 hour tour of Hobart and the beautiful surrounding suburbs, over 40 sights gives you the perfect picture of Hobart's attractions. More info on this tour....

Hobart Waterfront
© Tourism Tasmania
Another option is the Hobart Highlights tour
Chocolate cruise
River Cruise, Cadbury Tour and Chocolate! Chocolate! Chocolate! Explore the Cadbury Schweppes Chocolate Factory, enjoy a fascinating tour and tantalize those taste buds with some taste testing. Located on a picturesque peninsula this is the perfect opportunity to team your chocolate experience with a splendid natural experience, as you cruise to and from the factory from the magnificent Hobart harbor and Derwent River. More info on this tour...
Cycling
If you're into cycling then Hobart offers quite a few options;

The descent down Mt Wellington
© Island Cycle Tours
A very enjoyable way to get some exercise and see the sights is this tour where a mini bus will take you to the top of Mt. Wellington and then all you need to do is ride downhill!
Take in the views of the distant mountain ranges of the southwest, to the sprawling city of Hobart below. Then follow your guide on a downhill descent of the mountain. Watch the alpine terrain gradually being replaced by a magnificent forest and stop on several occasions to take in the varying views and snap a picture or two.
The winding mountain road takes you down to the foothills where you can choose to experience the thrill of the off-road section. Ride 5km of winding, twisting ups and downs - only for the adventurous at heart. Regroup for a snack then complete the ride at Salamanca Place on the waterfront of Hobart.
More info on this tour...
Franklin River, Tasmania

© Tourism Tasmania
There are few great frontiers left in the world - the Franklin is one of them. Free of pasture and any human habitation, it is a veritable feast for the intrepid explorer.
Rafting down this superb river is the only way to truly appreciate its wild beauty. It is acknowledged as one of the most spectacular and difficult river trips around, attracting adventurers from all over the world. The opportunity of an expedition-style trip, rather than merely 'thrills and spills' makes this the ultimate wilderness experience.
This is certainly a wilderness experience rather than the kind of rafting you might encounter on a one-day rafting trip. Levels can vary from more exciting levels often earlier in the season to more sedate levels late in the season. If you have had outdoor experience and think you are ready for this adventure, then the challenge is yours. There is very little doubt that this is an unforgettable experience, one that you will remember for the rest of your life. More info on this amazing adventure....
There is also the option of extending this tour to include the rugged mountain of Frenchman's Cape, more info...
Hiking

© Tourism Tasmania
South west; Tasmania is rennowned for its wilderness areas but none are as remote and undisturbed as the south west part, and hikes in this area are only for the serious hikers.
The South Coast Track in Tasmania's remote South West is considered one of the best wilderness treks in Australia. This nine day and eighty kilometer hike through World Heritage wilderness will take you through rainforest, along golden beaches, over coastal ranges and beside quiet lagoons. This magnificent journey is a wilderness experience for the serious adventurer! More info on this amazing adventure....
Cradle Mountain; The Overland Track from Waldheim near Cradle Mountain to Lake St. Clair is, for very good reasons, the most popular extended walk in Australia. Walkers, from all over the country and overseas, are attracted to this magnificent area to experience the grandeur of its mountain ranges, the beauty of its unique vegetation and the pure solitude of wilderness. This seventy kilometer (forty four mile) walk can normally be completed in five days, but Tasmanian Expeditions allow seven so as to best appreciate the points of special interest along the way.
Your schedule will permit time to visit the summit of some of the highest mountains in the State, possibly even Mount Ossa, the highest of all.
Since Tasmanian Expeditions groups are restricted to a maximum of ten people, a real sense of group identity develops, making this wilderness experience one that you know will be truly memorable. More info on this amazing 8 day adventure...
Shorter three day and six day adventures are available too.
Huon Valley

Tahune Forest Airwalk
© Experience Tasmania
You can't go to Tasmania and not see at least some of its many forests. Discover Tahune Forest Airwalk and enjoy a Salmon Farm visit! Journey into the lush rolling hills and valleys of the Derwent and Huon Valleys. Walk under tall tree fern canopies and float above the tree tops on the Tahune Forest Airwalk! Including a delicious home cooked lunch at a local farm - this is the ultimate day out! More info on this tour....
Kayaking

© Chris Blackaby Sea Kayak Tours
Enjoy the view from the water of the River Derwent with the view from the summit of Mt Wellington on these great combination tours. There are two tour options and both options include a two hour sea kayak, 3 hour Mt Wellington Descent, a light meal and snack as indicated in the itineraries below. These tours are run in conjunction with Chris Blackaby Sea Kayak Tours and include a light bakery breakfast and hot coffee from your kayak. At 9.30am, join the Mt Wellington Descent bike ride for a full morning of activities that's over by lunchtime. More info on this tour....
And just as with the cylcing tour above, you can also do this combination tour in the evening, more info...
If you're a serious kayaker you might like this three day tour to the Freycinet Peninsula, more info...
Mt. Wellington

Mt. Wellington seen from the city


Panoramic views from Mount Wellington
© Experience Tasmania
Rising to a height of 1270 metres, Mt Wellington is a spectacular and panoramic backdrop for the city and a visit to Hobart would not be complete without a trip to the top of this mountain to enjoy the spectacular views over the city and the Derwent River, and all the way down to the D'Entrecasteaux Channel and Bruny Island . You can enjoy this mountain on one of the cycling tours above or on a two hour tour that includes more of the city sights. More info on this tour...
Port Arthur

Port Arthur Church
© Port Arthur Region Marketing
Do you enjoy historical tours? This full day tour has been designed to allow as much time as possible to explore Port Arthur. Formerly a convict site, Port Arthur is bursting with history and today boasts a landscape of natural beauty, scenic ruins and restored buildings. Make the most out of your day and join the informative fully guided historical walking tour and jump on the relaxing cruise to the Isle of the Dead! More info on this tour...
Salamanca Place

Salamanca Markets
© Experience Tasmania
At the waterfront at Salamanca Place you will find some excellent Australian colonial architecture. These beautiful sandstone warehouses were the centre of trade and commerce of the whaling industry in the 1830s. Nowadays they have been converted into restaurants, bars, galleries, and shops. Every Saturday morning a market is held here.
Tasmanian Museum & Art Gallery
This museum includes an Aboriginal display and relics from the state's colonial heritage, and the gallery has an excellent collection of Tasmanian colonial art. You can also see Hobart's oldest building here, which was built in 1808.
Wildlife

Tasmanian devil in Bonorong Wildlife Park
© Experience Tasmania
Tasmania is the home of the Tasmanian Devil, a pretty fierce creature with some serious teeth on him, and you can meet him on this private half day tour. Begin the day with a visit to the Bonorong Wildlife Park, see the Tassie devil and some other Australian native animals and take this opportunity to learn more about them. Next, you'll visit Richmond - admire the charm and history and explore its many sights at your own leisure. And enjoy some samples of some special Tasmanian whisky and liqueurs at the Lark Distillery before returning to Hobart. More info on this tour...
About Hobart - Accommodation - Tours and what to do - Car hire and transport - Photos - Street map