Kakadu accommodation - Kakadu tours - Transport to Kakadu - Crocodiles in Kakadu - Photos - Map
Kakadu National Park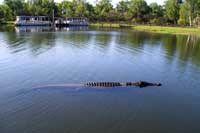 Kakadu is located about 200km. east of Darwin, it is a spectacular Aboriginal owned World Heritage Listed National Park, covering over 1.3 million hectares with a very varied landscape that includes swamps, wetlands with rich birdlife, Aboriginal rock paintings, rivers and billabongs with crocodiles, a uranium mine, spectacular gorges and waterfalls, campgrounds and resorts, patches of monsoonal rainforest and savannah.
To the east of Kakadu an escarpment dramatically rises high above the plains and behind this lies Arnhem Land, a huge Aboriginal reserve that you can only enter with permits from the Northern Land Council or on a guided tour. Click to enlarge some of the images below to appreciate the vastness of the plains and the feeling of wilderness...


Click here for the best accommodation deals in Kakadu
The origins of the name Kakadu are not real clear, it is thought that anthropologist and biologist Sir Baldwin Spencer called the local Aborigines Kakadu when he visited the area in 1912, others think it is just a word with no real meaning. There are many Aboriginal art sites around Kakadu, with some of the paintings dating back more than 6000 years, some are open to the public and others are closed or kept secret. Some of the more popular art sites include Ubirr in the northern part of the park that has some great rock art, and Nourlangie in the southern part. While Europeans have only four seasons, the local Aborigines have six seasons;
January - March: Gudjuek (wet season), big thunderstorms, lots of rain and high humidity.
April: Banggereng (storm season), violent storms and rains knock down the long-grass.
May - June: Yekke (mist), water levels are still up, but most terrain is accessible.
July - August: Wurrgeng and Gurrung (dry season), wildlife and birds are increasing in numbers.
September - October: Gunumeleng (build up season), humidity goes up , temperature goes up and the mosquitoes increase in numbers.
November - December: thunderstorms with lightning start and continue into the wet season, the Territory is famous for its lightning, photographers travel from far and wide to capture this phenomena.
Jim Jim Falls and Twin Falls are spectacular waterfalls, but require some effort being located 60km. down a dirt road, when it rains the road gets cut off and when it does not rain for some time the falls dry out so you need to pick the right time. Getting to Twin Falls involves a swim as well as there is no road access. Small planes and helicopters can give you an awesome view of the roaring falls in the wet season.
Waterfall Creek, in the past known as UDP Falls, is another spectacular place, made famous even more in the Crocodile Dundee movie that featured quite a bit of Kakadu scenery. A lot of swimming holes have fresh water crocodiles in them but they don't bother people, and rangers keep an eye on the saltwater crocodiles, if any of those move in to popular swimming holes they are usually captured and relocated. Yellow Waters and some others are saltwater croc habitats, best thing to do is to observe the signs where you go to see what the local situation is.


Note the crocodile trap on the right that will keep you safe from the saltwater crocodiles. Photo by Mark Maupin.
The park has a choice of walking tracks varying from 1 to 12km to explore the area, and several campsites.
Kakadu is popular with bird watchers, the wetlands attract thousands of birds, some species that you may spot here are brolgas, bustards, cockatoos, kites, cormorants, darters, ducks, eagles, egrets, herons, ibis, jabirus, kingfishers, magpie geese and pelicans. Some birdwatchers prefer the end of the dry season to visit as birds then congregate around the last remaning waterholes and are easier to spot. As many as 100 000 magpie geese can flock together on the South Alligator River. Another popular place with bird watchers is the Mamakala Observation Point, a bird hide along the Arnhem Highway on the way to the park built on the edge of a lake where thousands of birds tend to concentrate.

Besides birds and crocodiles there are also some less welcome animals that inhabit the park; waterbuffaloes, feral pigs, horses and donkeys run wild and damage delicate wetland ecosystems, and recently the cane toads have started arriving too. The cane toad is basically a poisonous frog introduced from South America, and is Australia's biggest blunder of all times. In the 1933 scientists, paid by the Australian government, went overseas to collect canetoads and set about thirty of them free in North Queensland. The idea was that they would eat the beetles that were causing economic damage eating the sugarcane but unfortunately the cane toads never touched the beetles but helped themselves to everything else they could find. Wildlife smaller than them they will kill and eat, wildlife bigger than them will eat them and die from the poison they have in glands on their back. The thirty toads that were introduced initially have now multiplied into the countless millions and are spreading across Australia and have recently arrived in Kakadu where it is expected they will devastate the place as there are vast floodplains which are the perfect breeding ground for them.
Uranium was discovered in 1969 in Kakadu, and has been mined since 1981 in two places at the Ranger and the Jabiluka Uranium Mines. 6 million tonnes per year is dug out of a big open pit that produces 3000 tonnes of uranium oxide per year. This has caused much controversy over the years, and UNESCO has paid a visit to assess the situation as they considered removing Kakadu from the World Heritage Listing. The Aboriginal owners of the land are being paid royalties by the mining company through the Northern Land Council, and strict environmental controls are in place to monitor the quality of water being released by the processing plant. The mining company ERA runs regular free one hour long tours of the mine and the mill which you can book on (08) 8979 2411 .
Jabiru is a small town in the middle of Kakadu, the majority of the population are the uranium mine workers, and you will find shops and more facilities than in most towns that are this remote, including a hotel in the shape of a crocodile. When this hotel was announced in the 1980s all the locals thought is was an April Foolsday joke.
Weather wise the most pleasant time to visit Kakadu is between April and September. If you come early in the dry season the waterfalls will still be running. During the dry season you may see bushfires, hese are usually controlled burnoffs. Aborigines have been managing the landscape for thousands of years by lighting fires, this way the long grass is burned every year in relatively low-heat fires and will not build up in to a mass of fuel that would kill the trees, animals will flee from the fire and can be easily caught, and green grass will grow after the fire, attracting more animals that can be hunted. Many species of trees have become so used to the fire that their seeds will not germinate unless they have been through a fire, so now the landscape has to be burned every year. Australia must be one of the few countries around the world where National Parks actually sets their own parks on fire!
| | |
| --- | --- |
| | Nourlangie Rock is located south of Jabiru and there are over 100 sacred sites with Aboriginal rock art in this area but not all are open to the public, some of the paintings include thylacines, or Tasmanian tigers, which once lived all over Australia, but by the time Europeans arrived only in Tasmania, where the last one died in Hoabrt Zoo in 1936. |
| | Yellow Waters billabong is one of the most popular areas within the park, being easy to access by vehicle and offering boat cruises to spot the abundant wildlife and crocodiles. The Cooinda Motel is here for those that decide to stay overnight. |
On the way from Darwin to Kakadu you can go on the Jumping Crocodile Cruise on the Adelaide River. This is not a circus trick that the crocs have been taught, crocs naturally launch themselves out of the water to catch low flying birds. When this tour started local fishermen were not happy at all as they thought this would teach the crocs to drag them out of their boats but it has been running for a few years now and so far so good.
Note that this tour is located on the way to Kakadu, NOT at the township Adelaide River on the Stuart Highway to Katherine.


Photo by Nancy Hagoort
Getting to Kakadu
Unless you drive up to the Northern Territory you will have to fly to the nearest airport Darwin first, and then rent a car or book on a tour.
If you are already in Australia then go to our page Cheap Domestic Flights in Australia for a good choice in cheap domestic airfares to Darwin.
If you are still in your home country then you will need to get an international flight to Darwin.
ZUJI is an online travel agent with offices throughout the Asia Pacific region, offering you a choice of more than 400 airlines and 60,000 hotels, as well as car hire and travel insurance.
Feel more comfortable to book your airfares to Darwin online with a travel business from your own country that you know and trust?
Then choose your home country here:





Car hire for Kakadu
Rent a car to get to Kakadu! Kakadu is about a 200km. drive east of Darwin, and with your own car you will be able to visit several other attractions on the way such as Berry Springs, Fogg Dam and the Jumping Crocodiles on the Adelaide River.

There is a wide choice of car rental companies where you can book your car or campervan online to be assured of a car on your arrival in kakadu or at Darwin airport, and most offer one way rentals between major cities. Nothing beats the freedom of having your own car to explore and stop when and where you want.
Budget Car Hire needs little introduction, the name says it all: car hire at Budget Prices with a car hire company with an international reputation, and this sites makes it even easier to find yourself a cheap hire car, or anything else with wheels: trucks,buses, campervans, utes, four wheel drives etc.
See Kakadu and the N.T. in a campervan
Kakadu is the perfect place to go with a camper van! Wide open roads, countless beautiful spots to pull over and camp, the freedom to go where and when you want.
Nothing beats finding your own camping spot in the wild, having a cold beer admiring a wildly coloured outback sunset and a dinner cooked on the campfire under the magnificent starry skies.
Discovery Campervans is an Australian owned and operated company that specialises in organising campervan rentals in Australia but also in New Zealand.
Their fully qualified team handle your reservation queries and overlook all rentals placed. The benefit to you of having a dedicated team is that it provides a level of professionalism, product knowledge and experience to ensure that your rental goes smoothly, and you can enjoy your trip without any hassles. Yes, REAL People work here!
Discovery Campervans has been built and developed with the support and continuing assistance of the largest campervan rental companies in both Australia and New Zealand....
By booking your campervan hire through the Discovery Campervans website, you get to take advantage of our clever technology - showing up to date, competitive comparitive prices - and have the security of renting with established and leading brands in the campervan hire market.
Compare Britz, Maui, Backpacker, Kea and Apollo on one easy to use website.
Save Quotes, look at the layouts and full specifications and compare prices and package inclusions.

Relax and let someone else do the driving!
Kakadu in a (long) day


Kakadu National Park
© Australian Pacific Touring

Depart Darwin early this morning and enter the 20,000 square kilometer expanse of Kakadu National Park, home to more than one-third of the Top End's plant life and the temporary or permanent home to one-third of all Australian bird species. On arrival at Jabiru airport, (if you select this tour option), you will step aboard your small plane for a breathtaking scenic flight over the Arnhem Land escarpment. The aerial perspective gives you a greater appreciation of the size and geographic diversity of the park, from the sheer sandstone escarpment to the floodplains and their lush surrounds.
Back on terra firma, join a cruise on Kakadu's most famous wetland area, Yellow Water billabong, keeping a look out for crocodiles and a variety of birdlife. Following a buffet lunch, view ancient rock art at Nourlangie Rock. Return to Darwin late afternoon, stopping en route at Windows on the Wetlands for a glass of wine as you watch the sun set over the flood plains.
More info....
3 Day Kakadu and Arnhem Land Safari

This up-market camping safari combines some of the best of Kakadu National Park with the special experience of traveling in Aboriginal Arnhem Land.
The highlights of the trip include pristine World Heritage wetlands, wilderness teeming with wildlife and unparalleled Rock Art away from the more popular sites. Travel in comfortable 4WD vehicles, dine on superb fresh food by candlelight, complemented by good Australian wine, either under the stars or in the rustic restaurant of Davidson's exclusive safari camp near Mount Borradaile in Arnhem Land. More info....


Arnhem Land Aboriginal Rock Art
© Discovery Ecotours
4WD Kakadu Experience


Twin Falls
© NT Tourism Commission

Camp out in the World Heritage wilderness that is Kakadu National Park. Spend three days exploring this amazing landscape. Spot abundant birdlife and crocodiles in the wild. View ancient Aboriginal rock art from thousands of years ago. Swim in the crystal clear waters of Twin Falls and Jim Jim Falls. This is a 4WD adventure of a lifetime… More info....
Ubirr, Guluyambi Cruise and Arnhem Land


Kakadu Wetland
© Australian Pacific Touring

This two day independent coach tour lets you experience some of the highlights of Kakadu National Park. Travel by luxury coach from Darwin to Kakadu and overnight in Australia's largest national park, before returning to Darwin. Visit Ubirr Rock, cruise the East Alligator River and take a 4WD adventure tour into Aboriginal Arnhem Land. More info....
Yellow Waters, Art Sites, Arnhem Land


Yellow Waters Billabong
© Australian Pacific Touring

This two day independent coach tour lets you experience some of the highlights of Kakadu National Park. Travel by luxury coach from Darwin to Kakadu and overnight in Australia's largest national park, before returning to Darwin. View the ancient rock art at Nourlangie Rock, cruise the Yellow Waters and take a 4WD adventure tour into Aboriginal Arnhem Land. More info....
Combine Kakadu and Katherine Gorge


Katherine Gorge
© NT Tourism Commission

Welcome to the 'Top End'. This three day tour visits both the World Heritage listed Kakadu National Park and cruises the waters of the famous Katherine Gorge. Spot crocodiles and other wildlife, see classic examples of ancient Aboriginal rock art and swim in crystal clear waterholes underneath cascading waterfalls. An amazing Top End experience…
More info....
Accommodation in Kakadu
Camping in Kakadu
There are quite a few camping sites within the National Park including Malabanbandju, Mardukal and the Jim Jim Billabong Camping Areas. The Ranger Headquarters have all the details, brochures and maps.
Crocodiles in Kakadu
| | |
| --- | --- |
| Be aware of crocodiles in Kakadu, they have perfected their hunting techniques for millions of years and can swim under water at 30 km/h withhout a ripple on the surface and then burst out and on a short distance can outrun a horse. If a prey puts up too much resistance they will do the "death roll" to get it off its feet. They even jump out of the water to catch low flying birds and, on the "jumping crocodile tours" they raise themselves out of the water and "stand" on their tail for a few seconds to grab a piece of meat. Many crocodiles are large enough to catch and kill animals as big as cows, horses and water buffaloes, females can grow up to 4 meters in length, males can reach 7 meters in length and weigh over 1,000kg. On average one person a year in Australia is killed, usually by ignoring some of the common sense safety rules. Click here for more info about crocodiles or here for more about crocodile attacks in Australia , including some in Kakadu. Below you can observe the difference between salties and freshies, the freshies are OK to swim with, the salties are not. | |
Kakadu accommodation - Kakadu tours - Transport to Kakadu - Crocodiles in Kakadu - Photos - Map