About Monkey Mia - Accommodation - Tours and what to do - Car hire & transport - Photos - Map
Monkey Mia / Shark Bay
Monkey Mia is a remote but very popular tourist destination located about 850 km north of Perth in the World Heritage listed Shark Bay Marine Park.
Here you will find crystal blue waters and kilometres of pristine white beaches
Main reason for people travelling to this faraway place is the daily feeding of the bottlenose dolphins, they have been coming in for a free feed for more than 40 years.
Department of Environment and Conservation rangers carefully supervise the feeding process, touching the dolphins is not allowed to avoid any transmission of disease.

There is accommodation here at the Monkey Mia Dolphin Resort and you have a choice of transport options from flights to campervans to car hire to extended guided tours from Perth.
While there are dolphin tours available in various places around Australia, Monkey Mia is the only place where you can see them for free, and with a 99.99% chance of seeing them.
With perfect blue skies and sunshine at least 300 days of the year, Monkey Mia with its miles of unspoilt white sand beaches is a fantastic holiday destination.
Coming face to face with a wild dolphin is an unforgettable magical experiencce, and you can do it in comfort here, if you stay in the Monkey Mia Dolphin Resort you only need to walk a few steps from your room!
There are other activities and tours available here, including cruising, sailing, snorkelling, beach camel rides and four wheel drive tours. And when you are finished with your adventures you can rest and relax in the resort's spring hot tub and licensed restaurants.
Mia is the Aboriginal term for home or shelter, while the Monkey part of the name is allegedly derived from a pearling boat called Monkey that anchored here in the late 19th century, during the days when pearling was an industry in the region.
The area was originally used as a base for the pearling and fishing boats.
In the 1960s a fisherman and his wife began feeding Bottlenose Dolphins when returning with their catch. As news of the dolphins coming to shore spread, visitors flocked in to see them.
In 1985 an information centre was built and in 1988 a special state government grant was provided to develop roads, carparks, and other facilities.
In November 1990, the waters adjoining Monkey Mia were declared a Marine Park managed by the Department of Conservation and Land Management.
In more recent years, attention has been given to the Aboriginal history of the area and the Aborigines' knowledge of the land, this resulted in Aboriginal cultural tours being established, where tourists can get an introduction to this ancient culture.

Dolphins are not the only animals you will see in Monkey Mia, pelicans are also abundant.
Monkey Mia does not only have dolphins but also a population of pelicans, these are amazing birds, in the picture above you can see how they can stretch their beak open sideways, on our pelicans page we have a movie of a pelican eating a duck !
Monkey Mia is also home to the Monkey Mia Dolphin research project where researchers Richard Connor and Rachel Smolker have been studying the bottle nose dolphins since 1982 and have attracted many scientists from around the world.
Stromatolites

Stromatolites
Photo by Froggy
The rocks pictured above are found in the Hamelin Pool Marine Nature Reserve on the way to Monkey Mia.
At first glance they do not look overly exciting and it is not too long ago that scientists discovered what they actually are, they include some of the most ancient records of life on Earth!
According to the scientists these stromaltolites are layered accretionary structures formed in shallow water by the trapping, binding and cementation of sedimentary grains by biofilms of microorganisms, especially cyanobacteria (commonly known as blue-green algae).
And because these "rocks" have been doing this pretty well ever since our planet has existed, about 3.5 billion years or so, they are like an aeroplane's black box to the scientists. About 1,250 million years ago they were most abundant and nowadays they only survive in a few places on earth, mostly in highly saline environments.

Stromatolites near Monkey Mia
Monkey Mia accommodation


Click here for the best accommodation deals in Monkey Mia

Dolphins in Monkey Mia
Photo by Katrin Holmsten
Transport to Monkey Mia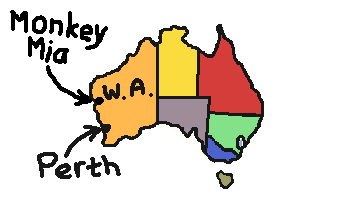 There is a wide choice of car rental companies where you can book your car or campervan online to be assured of a car on your arrival in Australia , and most offer one way rentals between major cities. Monkey Mia is a long way from Darwin or Perth so you have a long drive ahead of you. Nothing beats the freedom of having your own car to explore and stop when and where you want.
Budget Car Hire needs little introduction, the name says it all: car hire at Budget Prices with a car hire company with an international reputation, and this sites makes it even easier to find yourself a cheap hire car, or anything else with wheels: trucks,buses, campervans, utes, four wheel drives etc.
See Monkey Mia and W.A. in a campervan
Western Australia is the perfect place to travel with a camper van! Wide open roads, countless beautiful spots to pull over and camp, the freedom to go where and when you want.
Nothing beats finding your own camping spot in the wild, having a cold beer admiring a wildly coloured outback sunset and a dinner cooked on the campfire under the magnificent starry skies.
Discovery Campervans is an Australian owned and operated company that specialises in organising campervan rentals in Australia but also in New Zealand.
Their fully qualified team handle your reservation queries and overlook all rentals placed. The benefit to you of having a dedicated team is that it provides a level of professionalism, product knowledge and experience to ensure that your rental goes smoothly, and you can enjoy your trip without any hassles. Yes, REAL People work here!
Discovery Campervans has been built and developed with the support and continuing assistance of the largest campervan rental companies in both Australia and New Zealand....
By booking your campervan hire through the Discovery Campervans website, you get to take advantage of our clever technology - showing up to date, competitive comparitive prices - and have the security of renting with established and leading brands in the campervan hire market.
Compare Britz, Maui, Backpacker, Kea and Apollo on one easy to use website.
Save Quotes, look at the layouts and full specifications and compare prices and package inclusions.

See our page Campervan hire in Australia for more useful info and links on renting a camper or RV in Australia
Flights to Monkey Mia:
Unless you are planning on some very long distance driving you will have to fly to Monkey Mia, Shark Bay is the nearest airport.

If you are already in Australia then go to our page Cheap Domestic Flights in Australia for a good choice in cheap domestic airfares to Monkey Mia /Shark Bay.
If you are still in your home country then you will need to get an international flight to Monkey Mia / Shark Bay, but international airlines do not fly straight in to Shark Bay and you have to go via another bigger city in Australia, such as Perth or Darwin.
Feel more comfortable to book your airfares to Monkey Mia online with a travel business from your own country that you know and trust?
Then choose your home country here: