Amazing Australian Disasters
Before and after cyclone Larry
Australia has, like any country, had a few disasters over the years.
Below is a selection of Australian disasters..
Ash Wednesday
On this fateful Wednesday on 26 february 1983, fires broke out both in the Adelaide Hills and the Dandenongs near Melbourne. They burnt for four days and killed at least 72 people and destroyed more than a 1000 houses.
Black Saturday bushfires
In February 2009 the state of Victoria was covered in bushfires, as many as 400 individual fires at one point on Saturday 7 February, which went into history as Black Saturday and resulted in the highest loss of life ever from a bushfire, 173 people died and 414 were injured.
The majority of the fires ignited and spread on a day of some of the worst bushfire-weather conditions ever recorded where temperatures went up in to the high 40s °C and winds reached speeds in excess of 100 kilometres per hour.
This created several large firestorms, especially north-east of Melbourne where one single firestorm killed 120 people.
The fires destroyed over 2000 houses and damaged thousands more. Many towns north-east of the state capital Melbourne were badly damaged or almost completely destroyed. The fires affected 78 individual townships in total and displaced an estimated 7500 people. About a month later around mid March favourable weather conditions aided containment efforts and finally extinguished the fires.
During a thorough inquiry on how authorities could have handled this situation better it was revealed that on Black Saturday Police Commissioner Christine Nixon was briefed on the seriousness of the situation, and then left the Emergency Co-ordination Centre five minutes later to go and enjoy some dinner with friends in a restaurant. Survivors of the disaster were outraged when they learned of this news.
The drought and heat conditions had been that extreme that koalas, who normally never drink water, were found drinking from swimming pools and approaching people for a drink.
Also Bruno's Art Sculpture Garden in Marysville did not escape the destruction, the forest and a large part of the sculptures were destroyed, but forests know how to regenerate and Bruno's friends got together to help him restore the sculptures, and nine months after the fire the gardens were re-opened.
See his website for more info and how to find the restored gardens for a visit.
2011 Floods
Cyclone Larry

Also Paronella Park was not spared by cyclone Larry
In March 2006 cyclone Larry ripped through far north Queensland, it was the most powerful cyclone in nearly a century and damaged thousands of buildings and devastated farms. 80% of Australia's banana crops were wiped out causing banana prices to rise up to $12.- a kg. and thousands of acres of sugar cane fields were flattened. The damage bill was estimated in the hundreds of millions of dollars but, thanks to thousands of residents having been evacuated ahead of the storm, no one was killed and only some people have reported to hospital suffering injuries including cuts and abrasions.
The town of Innisfail, south of Cairns, copped the worst of it when 290km/h winds tore roofs from buildings and uprooted trees, and also the holiday town of Mission Beach was hit hard, it took several days for the main road in to Mission Beach to be re-opened so for quite a while there was no access or electricity.
This cyclone also went unusually far inland, normall cyclones weaken as soon as they hit land, and considerable damage was also caused in the Atherton Tablelands west of Cairns, some famous landmarks like the Giant Red Cedar and the Peeramon Pub were blown over, while the city of Cairns got off fairly light in comparison to all the widespread devastation.
Soon after the cylcone wandering cassowaries were reported who had to come out of the devastated rainforests to look for food.

A rainforest after the cyclone
Photo by Katrin Holmsten


90% of Australia's banana crops were wiped out and bananas cost up to $16 a kg.
Photo by Katrin Holmsten


This is not a modern artwork but chairs embedded in the wall of the Johnstone school.
Photo by Katrin Holmsten


Damage to the Johnstone School.
Photo by Katrin Holmsten
Usually cyclones also bring lots of rain but this time that was not the case, Paul from the Mission Beach Sanctuary reported Sunday afternoon to be a beautiful sunny day, although later in the week it started pouring down which hampered relief efforts and blocked the highway needed by trucks to bring supplies..
Help flooded in from all directions, even the tax office offered victims of Cyclone Larry extra time to pay debts without charging interest.
Pervan, the local mayor, was interviewed on radio and made the unique public appeal to "send up a truckload of piss so we can all get f#@#!ng drunk", this was only one of the reasons the mayor got sacked by the Department of Local Government in the following year.
Cyclone Tracy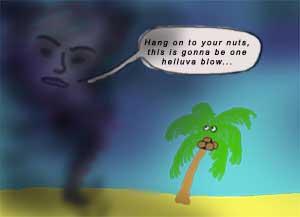 On Christmas Day 1974 the city of Darwin was hit by cyclone Tracy. Normally people are given warnings a long time before a cyclone hits and people get prepared for it but most of the Darwin residents were too busy celebrating Christmas ( with the usual alcohol that Darwin was infamous for) so when the full force of Tracy hit most people were taken by surprise. Countless houses were totally destroyed, ( out of 11200 houses only 400 survived intact), 25 ships sunk in the harbour, 35 planes destroyed at the airport and all communications were cut so the rest of the country didn't even know until a radio-amateur dug some gear out of his cellar and contacted someone in Sydney after which the rescue operation swung into action. As many people as possible were immediately evacuated on some record breaking flights to Adelaide,( planes do not usually have passengers sitting in the aisles). The death toll of 66 was not as high as one would expect considering the devastation though there are people that claim lots of bodies were dumped in massgraves and not counted. Insurance companies ended up paying out over $700 million.
In the Darwin Museum in the suburb of Fannie Bay there is a big display on Tracy where you can get some idea of the impact of this event, there are photographs of the damage like steel powerpoles twisted like cork screws and someone found his fridge a mile down the road embedded in a watertank several metres off the ground. There is also a sound room where you can get to experience what a cyclone sounds like, a strong warning is posted on the door for people that have actually been through the cyclone to think twice about going in there.
Click here for some chilling eye-witness accounts of cyclone Tracy.
Cyclone Yasi
Canberra fires
On January 18, 2003,a firestorm pushed beyond containment lines and into the suburbs of the national capital and killed four people and destroyed 507 houses.
Sarah Jones, who lives on the outskirts of the city, described how she saw fire jumping from one hill to another through the sky, though the hills were several kilometres apart! Even houses right in the city went up in flames from burning debris falling from the sky and fire creeping in along nature strips.
Granville rail crash
In january 1977 Australia had its worst ever rail crash when at Granville, Sydney, 83 people died when a train hit a concrete bridge.
Lockhart River plane crash
Lockhart River is an Aboriginal community on Cape York, a bit north of Cooktown, and is a refuelling stop for the small planes that ferry locals and workers around the vast remote Cape York peninsula. On 7 May 2005 this became the site for Australia's worst air disaster since 1960.
On this day a Fairchild Metroliner twin-engined aircraft, operated by Aero-Tropics, slammed into a tree covered 500m high hill about 11km north west of the Lockhart River airport. The plane was flying through cloud and had approached the airport too low, and in a huge fire ball all 15 people aboard were killed instantly.
It was a tragedy that hit hard around Cape York peninsula as almost everyone knew at least one of the victims.
Investigations by the Australian Transport Safety Bureau revealed that there was nothing on the cockpit voice recorder (that had malfunctioned) to suggest there had been a problem, but they said the pilot should have heard a ground proximity warning alert before the accident.
This was the Australia's worst air disaster since 29 people were killed in June 1960 on a flight from Brisbane to Mackay when a Fokker Friendship crashed into the sea 15km from its destination.
Melbourne collisions
On February 10th, 1964, the destroyer HMAS Voyager sunk after being cut in two by the aircraft carrier Melbourne in a collision off the coast of Jervis Bay. 82 sailors died in the disaster. The Melbourne slipped up again five years later when it collided with a U.S. destroyer in the South China Sea and 74 American sailors were killed.
Newcastle earth quake
Earth quakes are unusual in Australia as it is a very old continent and the landmass has well and truly settled by now but on 28 december 1989 the town of Newcastle, New South Wales, was rocked by and earth quake that killed 13 people and made over 15000 homeless. Nobody had ever lost his life in Australia in an earth quake before. Insurance companies had to pay out $950 million and many started leaving earth quake cover out of the policy after that, before they had all generously included it as the chance of it happening was deemed to be nil.
N.T. Cannonball Run
This was meant to be an annual event and was the brain child of the Northern Territory's Chief Minister at the time who was a bit of a racing fanatic.
The race was held on the Stuart Highway from Darwin to Ayers Rock and back, a distance of around 4000 km. and attracted a few financially well off racing enthusiasts from all over the world with their expensive machines.
Unfortunately in the very first race a Japanese driver lost control of his car and ploughed into some racing officials next to the highway and four people were killed, the Japanese Ferrari driver and his co-driver, and two NT men. The race was never held again.
Sydney to Hobart yacht race 1998

Chaotic scenes as boats storm across Sydney Harbour
The annual Sydney to Hobart yacht race starts in Sydney on 26 December and runs for 630 nautical miles, roundabout 1200 km., to the Tasmanian capital Hobart. The start is always spectacular and risky as hundreds of other boats steam along to farewell the racing yachts resulting in many near misses or the occasional collision.
In 1998 the race was hit by a severe storm and out of the 115 boats, five sank, 66 retired, 55 crewmembers had to be rescued and 6 drowned.
Only hours after the start of the race the Bureau of Meteorology (BOM) issued a storm warning, but received no answer when phoning the race committee. They then faxed a warning to the yacht club, which took some time to get through to the organizers. They were also slow to act again to pass the warning on and communicate the severity of the storm, even when the first reports of 75 knot winds started arriving.
Snowy Mountains landslide
Eighteen people died early one morning july 1997 when the Australian Alpine ski resort of Thredbo was rudely awoken by a land slide that had crushed 2 ski lodges, Carinya with 1 inhabitant and Bimbadeen with 18 residents. Rescue crews faced a near impossible task to try and find survivors in the rubble as soon as possible but the risk of further landslides and the fear of crushing survivors made it too risky to use havy equipment. After 53 hours some specialized equipment detected some movement and only survivor Stuart Diver was succesfully rescued 12 hours later.
Waterfall train crash
Seven people, including train driver Herman Zeides, were killed and 19 injured when a Tangara train bound for Port Kembla ran off the rails speeding too fast through a bend near Sydney on January 31 2003 when the driver suffered a heart attack at the controls and the emergency deadman brake failed. The accident inquiry found that StateRail managers had known since 1988 that the Tangara's deadman emergency brake was not fail-safe but had failed to rectify it and two senior rail executives were sacked without any payout.
Wine smash
McLarenVale wine maker Sparky Marquissays did not have a good day when they were getting wine ready for shipment and a whole container of Moollydooker Wines' 2010 Velvet Glove Shiraz that sells for $185 a bottle fell off the forklift with an almighty crash.
No less han 462 cases with a weight of 12 tonnes and a total price of a million dollars were smashed to pieces.
Do you know of, or have survived, an Australian disaster? Then tell us!