Australisch woordenboek
In het grootste gedeelte van Australie wordt Australisch gesproken, dat veel op Engels lijkt.
Als je al Engels spreekt dan zul je het snel oppikken, maar er zijn hele ladingen woorden in de Australische taal die je niet in andere Engels talige landen vindt. Hele boeken zijn er mee gevuld maar de lijst op deze pagina zal je in de meeste situaties helpen.

Nederlanders worden door Australiers Dutchies of cloggies genoemd.

Vakantie naar Cape Tribulation plannen?
Ga dan naar Capetribulation.nl !!
A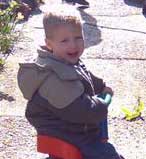 Aussie ankle biter playing in the arvo
Abo - Aboriginal. Maar pas op en gebruik dit woord niet, veel Aborigines vinden dit een beledegend woord, maar in een land vol met ambos, avos, garbos, milkos, lilos, journos, biros, musos, servos, salvos, regos, thingos and preggo sheilas is het best wel een begrijpelijke afkorting.
Amber fluid - bier.
Ambo - iemand die op een ambulance werkt.
Ankle biter - klein kind, klein kreng.
Arvo - middag.
Aussie - inwoner van Australie, ook gebruikt om iets Australisch te beschrijven: the Aussie barbie.
Aussie salute - vliegen wegslaan met je hand.
Avos - avocados.
B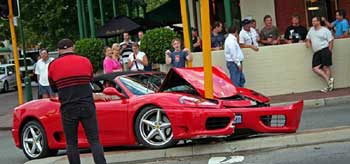 Blimey! These blokes on a bender in the big smoke watch some blotto boofhead having a beaut bingle
Bail (someone) up - iemand tegenhouden of vastgrijpen.
Bananabender - inwoner van de Australische staat Queensland.
Barbie - barbeque.
Barney - gevecht.
Barrack -aanmoedigen, zoals bij een voetbal westrijd.
Bathers - zwembroek, bikini of badpak.
Beanie - wollen pet.
Bender - een zeer langdurige zuip partij.
Beaut - een geweldig resultaat.
Biffo - knokken, gevecht.
Big bikkies - onwijze berg geld.
Big smoke - de grote stad.
Bikkie - bisquit.
Billabong - klein meer.
Billy - blik om thee in te maken over een kampvuur.
Bingle - auto botsing.
Biro - pen, balpen.
Bities - bijtende insekten.
Bizzo - zaak, bedrijf (how's your bizzo going?)
Blackfella - een ander woord voor Aboriginal. Sommige Aboriginals noemen mensen blackfellas (zwarten) and whitefellas (blanken), alhoewel zij deze woorden gebruiken stellen veel Aboriginals het niet op prijs als blanken deze woorden ook gebruiken.
Blast from the past - wanneer je onverwachts een telefoontje krijgt van je ex waar je tijden niks van gehoort hebt.
Blimey, Charlie - Jezus Christus!
Blind mullett - drol.
Bloke - man.
Bloody oath, mate! - ja, zeg dat wel!
Blotto - straal bezopen, zo blauw als een aap.
Bludger - luie donder.
Blue - gevecht ("they were having a bit of a blue ") / een fout maken.
Blue/Bluey : iemand met rood haar.
Boardies - korte broek (om te surfen).
Boatie - iemand die een boot heeft of graag met de boot er op uitgaat.
Bog - modder (auto's die vast komen te zitten in de modder zijn 'bogged') - bog is ook het spul dat je gebruikt om deuken en krassen te verbergen op je auto of muren.
Bogroll - Rol toilet papier.
Bogan - scary member of the underclass who wears a black t-shirt, a mullett hairdo and drives a V-8
Bondi cigar -drijvende drol, deze uitdrukking dateert van de tijd dat Sydney nog een primitief riolerings systeem had dat alles zo de zee in spoelde.
Bonza - onwijs goed!
Boofhead - idioot.
Boomer - kangoeroe.
Boong - Als je je tussen kinkels bevindt kun je ook de woorden 'coon' of 'boong', dit zijn hele grove beledigende namen, gelijk aan een zwarte Amerikaan een "nigger" noemen, en het is niet aan te raden deze namen te gebruiken, maar nu weet je tenminste wat die woorden betekenen als je ze hoort.
Bored shitless - onwijs verveeld.
Boss - de vrouw (echtgenote). Wanneer een Aussie kerel een beslissing moet nemen maar eerst zijn vrouw wil raadplegen zegt hij; I'll go and ask the boss.
Bottle shop - slijterij.
Bottle-o - slijterij.
Bottler - goed resultaat.
B & S Ball - Jaarlijks dansfeest voor vrijgezellen, waar meestal ook onwijs gezopen wordt.
Breatho - alcohol controle van de politie.
Brekkie - ontbijt.
Brick shit house, built like a - onwijjs stevige kerel.
Brickie - metselaar.
Brissie/Brizzie - Brisbane, hoofdstad van de staat Queensland, let op dat Brisbane wordt uitegesproken als Brisb'n, niet Bris-bane zoals plane.
Brumby - een wild paard.
Buck's night : stag party,laatste feest avond uit voordat een kerel moet gaan trouwen, meestal gaat dit gepaard met onwijs veel zuipen en strippers.
Buckley's, Buckley's chance - geen kans ("New Zealand stands Buckley's of beating Australia at football") .
Budgie smugglers - speedos.
Bugger - originally used to refer to two men having sexual intercourse and was the B word instead of the modern day F word. 'Bugger' is now often used as 'bummer' meaning 'what a shame', a few years ago a Toyota TV commercial drew some criticism from older people for repeating the word 'bugger' about 25 times in half a minute. Something that is broken can be 'buggered' and someone can tell you to 'bugger off' and a person who has bad luck can be described as 'a poor bugger'.
Bugger all - F#*k all, Sweet FA, niet veel, heel weinig.
Bull bar - strong steel bar or frame fixed to the front of a vehicle to protect it from the impact of hitting kangaroos. Only bullbars on road trains actually protect against bulls.
Bundy - short for Bundaberg in Queensland, and for the rum that is made there. Bundy'nCoke is a popular drink.
Bunyip - mythical Australian creature with a piercing cry
Burl - have a burl at it, iets proberen / een poging doen.
Bush bashing - four wheel driving, off roading, driving where there are no roads. ( More recently this term has also started to mean critisizing the US president George W. Bush, which has become internationally popular, and not without reason.)
Bushie - someone who lives in the bush.
Bushpig - onwijs lelijk onverzorgd wijf.
Bush telegraph - 'grapevine', word-of-mouth.
Bushtucker - eten dat je in de natuur vindt.
Bushwalking - wandelen in de natuur.
BYO - Bring Your Own alcohol, breng je eigen alcohol.
C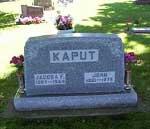 This cobber has carked it after too many ciggies and coldies
Cab Sav - Cabernet Sauvignon wijn
Cabbie - taxi chauffeur
Cackleberry - een ei.
Cancer stick - een sigaret.
Cark it - sterven, doodgaan.
Cask - wijn in een aluminium folie zak in een doos.
Chinwag - gesprek.
Chippie - timmerman.
Choof off - vertrekken.
Chunder - kotsen, overgeven.
Chook - kip.
Chrissie - kerstmis (Chrissy pressies = kerst kadootjes).
Ciggie - sigaret.
Clayton's - nep, namaak.
Click - kilometer - "it's 10 clicks down the road".
Cloggie - een Nederlander, (omdat Nederlanders klompen (clogs) dragen.
Clucky - zin om kinderen te krijgen.
Cobber - vriend.
Cockie - boer, kaketoe, of kakkerlak.
Cockroach - een inwoner van de staat New South Wales.
Coldie - een koud biertje.
Compo - Workers Compensation pay.
Comfy - comfortabel.
Cook up a storm - Een heel lekker etentje koken.
Cooee - a call used to find someone lost in the bush, a place can be 'within cooee of..'
Coon - If you find yourself in the company of rednecks you may hear the words 'coon' or 'boong', these are very derogatory terms, even worse than calling an Afro-American a nigger, and you should definitely not use them, but at least now you know what they mean now in case you hear them, and you can move on to find better company. The Coon cheese you may see in the shop is named after American doctor Edward William Coon who patented a process for the accelerated ripening of natural, unprocessed cheese in 1926 and has absolutely nothing to do with Australian Aborigines.
Cop - politie agent.
Copshop - politie buro.
Corroboree - een bijeenkomst van de Aboriginals.
Counter lunch - lunch in de kroeg.
Country cousins - euphemistic term for Aboriginals.
Cozzie - badpak, zwembroek.
Crack onto (someone) - iemand proberen te versieren.
Cranky - sjacherijnig.
Crash - In slaap vallen wanner je er hard aan toe bent, of in iemand anders huis slapen.
Crashed out - in slaap gedondert.
Crim - misdadiger.
Croc - krokodil.
Crook - kan misdadiger betekenen ( he is a crook) of dat iemand ziek is ( I'm a bit crook, mate).
Croweater - inwoner van de staat South Australia.
Cuppa - een kop thee.
Cushie - het makkelijk hebben.
Cut lunch - boterhammen.
D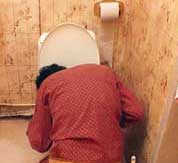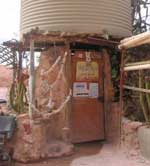 This Dinky Di dero is driving the porcelain bus in this Down Under dunny
Dag - a funny person, nerd, goof.
Daks - broek.
Damper - brood van meel en water, vaak gemaakt in een kampvuur.
Dead as a dodo - erg dood, of saai.
Deadset - echt waar, de waarheid.
Dero - tramp, hobo, homeless person (from "derelict").
Dickhead - een idioot.
Digger - een Australische soldaat.
Dill - een idioot.
Ding - a wog in Western Australia.
Dinkum, fair dinkum -: true, real, genuine ("I'm a dinkum Aussie"; "is he fair dinkum?") .
Dinkie-di - the real thing, genuine.
Dipstick - a loser, idiot.
Dig in, mate! - Eet smakelijk !
Dingo girl - Het soort wijf dat als je het 'sochtends in je armen vindt dan knaag je liever je arm af en sluipt weg zonder haar te wekken dan te riskeren je arm los te maken en haar wakker te maken.
Dishpig - de bordenwasser in een restaurant.
Ditch - "The ditch' is de zee tussen Australie en Nieuw Zeeland.
Ditch the bitch - het uitmaken met je vriendin.
Dizzy - distributor, de verdeelkap in je auto.
Dob (somebody) in - iemand verlinken.
Docket - een ontvangstbewijs.
Doco - documentaire.
Dog - lelijk wijf.
Dog's balls, stands out like - dat is godverdomme nogal logisch!.
Dole - sociale dienst.
Dole bludger - luie donder die het prima naar zijn zin heeft in de uitkering.
Dong - lul / penis.
Donga - demountable/transportable building.
Donk - auto motor.
Doona - dekbed.
Down Under - Australie en Nieuw Zeeland.
Drink with the flies - drinken in je eentje zonder gezelschap.
Driving the porcelain bus - kotsen in de WC terwijl je de WC pot met je handen vasthoudt, zoals een stuur van een bus.
Drongo - een achterlijke slome eikel.
Dropkick - a dipstick.
Dummy, spit the - ergens plotseling onwijs kwaad over worden.
Dunny - plee, schijthuis, in de tuin los van het huis.
E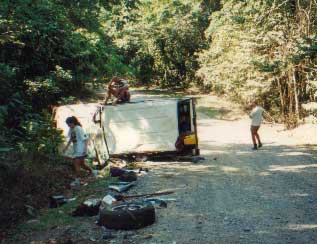 That last trip to the Ekka turned out a bit exy
Earbashing - non-stop door blijven ouwehoeren.
EFTPOS - Electronic Funds Transfer at Point Of Sale; betaal met je plastic kaart van je Australische bank rekening.
Ekka - the Brisbane Exhibition, een jaarlijkse show.
Esky - koelbox , ook handig om op te zitten op feestjes.
Exy - duur, prijzig.
F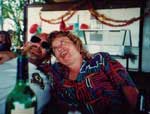 These fair dinkum fruitloops in Freo are pretty full after a fortnight flatout drinking like a lizard
Fair dinkum - echt, origineel.
Fair go - een eerlijke kans("give a bloke a fair go").
Fairy floss - suiker spin.
Fantastic plastic - credit card.
Feral - een harige vieze hippie.
Firie - brandweerman.
Five-finger discount - winkel diefstal.
Fix up - een rekening betalen / een dokter die je geneest.
Flat out as a lizard drinking - onwijs druk.
Flick - to give something or somebody the flick, iemand op laten donderen.
Foodie - iemand die gek van goed eten is.
Footie - een afkorting voor Australian Rules Footbal.
Fossick - zoeken naar goud of edelstenen.
Fortnight - periode van twee weken.
Fremantle Doctor - verkoelende middag wind in Perth uit de richting van Fremantle.
Freo - Fremantle in Western Australia.
Frog - inwoner van Frankrijk.
Fruit loop - gek.
F%*k all - niet veel, onwijs weinig.
Full - dronken, bezopen.
G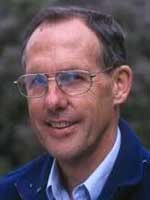 Bob Brown is one of Australia's best known greenies,
Goodonya for saving the Franklin River!
Garbo - vuilnisman.
Genny - generator of stroom aggregaat.
G'Day - hallo!
Glassie - diegene die in een kroeg rondloopt om lege glazen op te halen.
Go for it - try it / do it / also used instead of the international 'Bon Appetit' for which Australia has no alternative of its own, (other than 'Dig in mate!').
Going off - used of a night spot or party that is a lot of fun - "the place was really going off". Also "she went off at him" meaning she gave him a good telling off.
Good oil - useful information, a good idea, the truth.
Good onya - good for you, well done.
Going troppo - mental health problems due to excessive heat, common in Darwin in summer time.
Gone walkabout - traditionally an Aboriginal person going bush for spiritual reasons, now also used to refer to anyone disappearing for a while.
Green can - een blik VB bier.
Greenie - environmentally minded person.
Grog - drank, alcohol.
Grog shop - slijterij.
Grommet - jonge surfer.
Grotty - vies, smerig.
Grouse - cool!
Grumblebum - iemand die veel klaagt.
H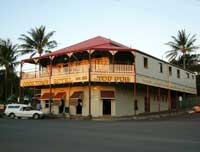 After heaps of hard yakka, hoons hit the grog and have a handle at this hotel
Half your luck - gefeliciteerd!
Handle - beer glass with a handle.
Hanging for a banging - zo geil als boter.
Hard yakka - zwaar werk.
Hard yards - zwaar werk, training.
Heart-starter - eerste alcoholische drankje van de dag, of sigaret.
Heaps - veel, e.g. "thanks heaps", "(s)he earned heaps of money" etc.
Heave - kotsen.
Hit the frog and toad - laten we gaan.
Hit the grog - beginnen met drinken.
Hit the piss - beginnen met drinken.
Holy dooley! - een uitdrukking van verrassing, zoals Jezus Christus!
Hoon - iemand die snel, wild en onvoorzichtig rijdt.
Hooroo - dag!
Hotel - vaak alleen maar een kroeg die niet noodzakelijk ook kamers heeft.
Humongous - onwijs groot.
Humpie - hutje in de bush.
I

I could eat the ass out of a low flying duck but am too busy watching the idiot box.
I could eat the ass out of a low flying duck - Ik sterf van de honger!
Icy pole, ice block - popsicle, lollypop.
Idiot box - televisie.
If it's got tits or wheels, sooner or later you're gonna have problems with it. - Australisch spreekwoord, alles wat wielen of tieten heeft geeft je vroeger of later problemen...
J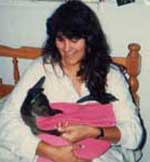 This jillaroo is feeding a joey
Jackaroo : a male station hand, a (cattle or sheep) station is a big farm/grazing property.
Jaffle - toasted sandwich.
Jaffle iron - camping tool, used to make a toasted sandwich.
Jillaroo : a female station hand.
Jocks - onderbroek.
Joe Blow - de gewone mad.
Joey - baby kangoeroe, koala of ander buideldier.
Journo - journalist.
Jumbuck - schaap.
K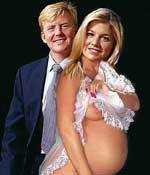 This sheila with nice knockers will need to look for a kindie soon as she has been knocked up.
Kelpie - Australian sheepdog originally bred from Scottish collie.
Kero - kerosine.
Kicked the bucket - gestorven.
Kindie - kindergarten, pre-school.
Kiwi - een inwoner van Nieuw Zeeland of een Chinese gooseberry (fruit dat tegenwoordig kiwi heet) of een klein met uitsterven bedreigt vogeltje uit Nieuw Zeeland.
Knock - bekritizeren.
Knock back - weigering (they knocked it back).
Knocked up - zwanger gemaakt( he knocked her up).
Knocker - iemand die een hoop bekritizeert.
Knockers - tieten.
Knuckle sandwich - een ram voor je muil.
Kraut - inwoner van Duitsland / mof.
L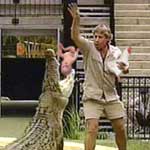 Larrikin from the Lucky Country
Lamington - Australisch gebak van zachte cake met chocolade en kokos.
Larrikin - iemand die zich altijd een beetje achterlijk gedraagt, de clown uithangt.
Lay-by -een aanbetaling doen in de winkel zodat ze het artikel voor jou wegleggen. Kan ook een aantrekkelijke jongen zijn die nog niet oud genoeg is voor sex.
Lend of, to have a -iemand in de maling nemen (niet: to take someone in the mailing...)
Lippy - lipstick.
Lilo - lucht bed.
Liquid lunch - tussen de middag bier drinken in plaats van eten.
Longneck - grote fles bier van 750ml.
Lucky Country, The - Australie.
M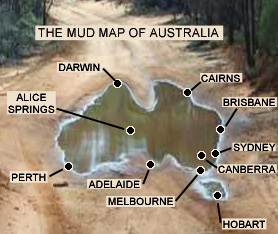 Thanks to this mud map me an my mate can make tracks so we can get away from the mozzies,
hopefully me missus will have a middy and some mull ready...
Maccas - McDonald's (hamburgers).
Make tracks - laten we gaan.
Map of Tassie - vagina, aangezien het schaamhaar ongeveer de vorm heeft van Tassie (het eiland Tasmanie).
Mate -vriend, het woord mate wordt onwijs veel gebruikt in Australie; no worries mate, thanks mate, f##k off mate, de mogelijkheden zijn onbegrenst !
Dit filmpje geeft een hele reeks mogelijkheden voor het gebruik van het woord mate;

Mate's rates - speciale korting voor een "vriend".
Metho - spiritus. Dit wordt nog steeds gedronken door daklozen en Aboriginals als ze niet genoeg geld voor normale alcohol hebben, vroeger werdt het zelfs gekoeld verkocht!
Mexican - dit varieert van staat tot staat, in New South Wales betekent het inwoners van Victoria en in Queensland betekent het iedereen die woont ten zuiden van de Queensland grens.
Middy : 285 ml bier glasin New South Wales.
Milk bar - winkeltje op de hoek dat fungeert als snackbar.
Milko - melkman.
Missus - vrouw / echtgenote / vriendin.
Mob - een groep, mensen, kangoeroes, etc.
Mongrel - klootzak, etter, klerelijer, tering lijer.
Moo juice - melk
Motormouth - ouwehoer.
Mozzie - mug.
Mudmap - eenvoudige kaart of plattegrond getekent in zand op de grond of stukje papier..
Mull - grass (het soort grass dat je rookt...).
Muso - muzikant.
Muster - vee bij elkaar drijven.
N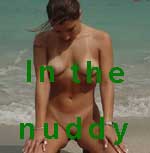 She's got no worries about being in the nuddy
Naughty (having a) - wippen, naaien, sex hebben .
Never Never - the Outback, midden van Australie.
Nipper - jonge surf lifesaver.
No worries -veel gebruikte uitdrukking, wat beteken kan; dat zit wel goed, graag gedaan, maak je geen zorgen, tot ziens, en nog veel meer...
Nuddy, in the - in zijn haar nakie.
O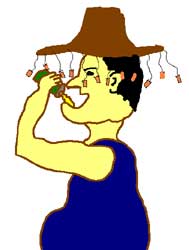 Off his face ocker in the Oz outback
Ocker - een kinkel, onbehouwen kerel, of een redneck.
Off her tits - zij is straal bezopen.
Off his/her face - hij of zij is straal bezopen..
Offsider - an assistent, helper.
Old Girl - moeder.
Old Lady - echtgenote.
Old Man - vader.
Oldies - ouders - "I'll have to ask my oldies".
On the blink - kapot, werkt niet meer, naar de tering.
On the nose - stinkt.
Outback - het verlaten midden van Australia.
Oz - Australie!
P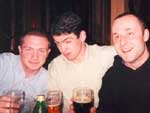 Pommie piss artists playing sillly buggers pissing their money up the wall drinking pints and pots getting pissed in Aussie pub. Don't put the pedal to the metal on the way home in your panelvan, the pigs might get you or you'll risk a prang and you'll be pushing up daisies.
Panelvan - A car like a station wagon but with the rear part being just a bit higher and usually without windows it made it a very practical vehicle for tradesmen to throw all the tools and stuff in and also became the vehicle of choice for hoons, usually with big V8 engines and wide tires. As there was plenty of room for a mattress in the back teenagers found the panelvan offered a hundred times more privacy and comfort than a backseat in a normal car and the panelvan developed a few nick names like 'sinbin' , 'shaggawagon' , 'f%*# truck' and 'root ute' and was often decorated with a sticker announcing 'if this van is rockin', don't bother knockin'.
Pedal to the metal - zo hard als ie kan met de auto scheuren..
Perve - iemand bekijken/met de ogen uitkleden.
Piece of piss - een heel makkelijk klusje.
Pig - politie man of vrouw.
Pig's arse! -: ik ben het niet met je eens! Tegenovergestelde van 'bloody oath mate'!
Pint - groot glas bier.
Piss - beer. Vandaar de uitdrukkingen; "hit the piss", "sink some piss" , to order more beer; more piss, Miss!
Piss artist - zuiplap.
Pissed - Americans are pissed when they are angry, in Australia this word means drunk, when Australians get angry they are "pissed off'.
Pissed it up the wall - verspilt, weggegooit.
Piss off! - oprotten! / donder op!
Pissed off - boos, kwaad over iets. Kan ook gebruikt worden om iemands vertrek aan te duiden; he has pissed off - he has left, he's gone. Of van iemand of iets afkomen; I have pissed that one off.
Pisshead - zuiplap.
Pissup - een bijeenkomst waar stevig gezopen wordt.
Playing sillybuggers - waste time, mess around. Bob Hawke confused the hell out of the translator of Malaysia's Prime Minister by using this term.
Please explain... - Pauline Hanson's favoriete uitdrukking. (see politicians page)
Plonk - goedkope wijn / Chateau Migraine.
Pokies - poker machines, fruit machines, gok machines.
Pollie - politikus.
Pom, pommy, pommie - een inwoner van Engeland.
Pommie bastard - een inwoner van Engeland.
Pommie shower - beetje deodorant onder je armen en kruis spuiten in plaats van te wassen of douchen.
Poofter - homo / flikker.
Postie - postbode.
Pot - 285 ml beer glass in Queensland and Victoria, also marijuana ( geez, we smoked some good pot, man!)
Pozzie - position - get a good pozzy at the football stadium. In photography; give us a pozzy/possie!
Prang - auto botsing.
Preggo - zwanger.
Prezzie - kadootje.
Pub - bar, kroeg.
Pushie - kort voor pushbike; fiets.
Pushing up daisies - de pijp uit, dood.
Q
Queer - homosexueel persoon of gedrag.
Quid, make a - verdien je brood- "are you making a quid?"
Not the full quid - beetje dom.
R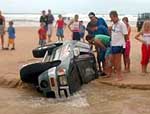 I reckon you can cancel the rego 'coz that car is rooted, mate!
Rack off - push off! get lost! Rot op! Donder op!
Rage - feest.
Rage on - door blijven feesten - "we raged on until 3am".
Rapt - heel blij ergens mee zijn.
Rats ass - I couldn't give a rats ass! Het interessert me geen reet!
Raw prawn, to come the - to bullshit, iemand in demaling nemen.
Reckon! - I reckon! Zeker weten! Zonder uitroeps teken betekent I reckon "Ik denk dat" of "Ik ben van mening dat"
Rego - registratie van je auto / wegen belasting..
Rellies - familie.
Ripper - geweldig, fantastisch! - "it was a ripper party"
Ripper, you little! -: Uitroep van vreugde.
Road train - vrachtwagen met een stuk of drie aanhangers.
Rock up - arriveren - "we rocked up at their house at 8pm".
Rollie - een sjekkie, sigaret die je zelf rolt.
Roo - kangoeroe.
Root - wip, sexuele gemeenschap.
Rooted - sexuele gemeenschap (Bruce rooted Mary), vermoeid (I'm rooted, mate!) , naar de kloten (that car's rooted, mate!)
Rort (verb or noun) -: Bedonderen, bedriegen, frauderen, op oneerlijke wijze geld verkrijgen.
Rotten - totaal lam- "I went out last night and got rotten".
Rotto - Rottnest Island in Western Australia.
R.S.L. - Returned Services League-Social club, oorspronkelijk een club voor soldaten die van de oorlog terug gekeert waren, maar omdat Australie een lange tijd niet aan oorlogen meedeed gingen alle oude soldaten langzamerhand de pijp uit en raakten de clubs steeds meer leden kwijt, dus tegenwoordig kan zo'n beetje iedereen lid worden.
Rubbish (verb) - bekritizeren.
S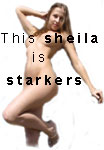 Strewth, what a spunk, I'll shout her a schooner, I'd be stoked if I can shag her in my sinbin
Salute, Aussie - vliegen wegslaan.
Salvos, the - Salvation Army, het Leger Des Heils.
Sanger - a sandwich.
Sambo - a sandwich.
Sandgroper - een inwoner van Western Australia.
Schooner - groot glas bier in Queensland; gemiddled glas bier in South Australia.
Scorcher - een onwijs warme dag.
Scratchy - instant lottery ticket.
Screamer - party lover; "two pot screamer" - somebody who gets drunk on very little alcohol.
Screenie - iemand die onwijs veel films kijkt.
Seppo - kan een septic tank zijn, of een Amerikaan (beiden zijn "full of shit" = lult veel onzin).
Servo - benzine station.
Session - uitgebreid drinken met een groep.
Shag - wip.
Shaggawagon - see panel van.
Sheila - meisje of vrouw.
She'll be right - het komt wel goed.
Shonky - dubieus, niet vertrouwd. E.g. a shonky practice, shonky business etc.
Shoot through - vertrekken.
Shout - rondje geven ("it's your shout").
Sickie - ziek melden en niet op het werk komen( meestal door een kater van te veel zuipen)
Sinbin - see panel van.
Sixpack short of a carton - that bloke is a sixpack short of a carton - die vent is een beetje dom/achterlijk.
Slash - have a slash, pissen, meestal buiten.
Smoko - pauze, zelfs niet-rokers hebben smoko..
Snag -a sausage on the barbeque or Sensitive New Age Guy (dat soort gevoelige romantische moderne man waar een hoop vrouwen naar zoeken, maar die dan helaas meestal homo blijkt te zijn...).
Sook - person or animal who is soft, tame, inoffensive. Hence sooky (adj.)
Spag bol - spaghetti bolognese, volgens onderzoek door Dr. Adele Wessell, een historicus van de Southern Cross University, is dit het gerecht dat Aussies het vaakst thuis koken!
Sparkie - electricien.
Spewin' - onwijs kwaad.
Spiffy, pretty spiffy -great, excellent.
Spit the dummy - geduld verliezen en onwijs kwaad worden.
Spruiker - man who stands outside a nightclub or restaurant trying to persuade people to enter.
Sprung - betrapt.
Spunk - lekker stuk, kan zowel mannelijk als vrouwelijk zijn.
Squiz - ff snel ergens naar kijken.
Starkers - naakt / bloot.
Station - een hele grote boerderij, van een hectaretje of tig.
Stickybeak - nieuwsgierig persoon.
Stoked - waanzinnig blij.
Strewth - uitroep ("Strewth, that Chris is a bonzer bloke"). Godverdomme, wat een goeie kerel!
Strides - lange broek.
Strine - Australisch slang en uitspraak.
Stone the crows! - Jezus Christus!
Stubby - bottle of beer, usually 375 ml. but over 2 litres in the Northern Territory.
Stubby holder - polystyrene insulated holder for a stubby.
Stuffed, I'm stuffed mate! - ik ben moe, of ik zit vol.
Stuffed, I'll be - krijg nou de klere...... / krijg nou de vinken tering....
Sunbake - zonnebaden.
Sunnies - zonnebril.
Surfies : mensen die surfen.
Stubbies - merk korte broek dat populair is in Australie, vaak als werk kleding. Een stubby is ook een flesje bier meestal van 375 ml. of ruim twee liter in het geval van de Darwin stubby.
Swag - Green canvas bedroll, previously carried by bushmen but now often seen tied on the back of utes.
Sweet FA - Sweet F#*k all, bugger all - onwijs weinig, geen ene donder.
T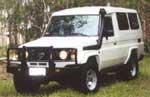 Too right! The true-blue troopy is better than a Toorak tractor to tow the tinny from Tassie to the Top End
T.A.B .- Totalisator Agency Board - betting shop, mainly for horse racing.
Tall poppies - succesvolle mensen die het ver geschopt hebben, aan de top zitten.
Tall poppy syndrome - het bekritizeren van mensen aan de top.
Tart yourself up - het aanbrengen van make-up.
Tasmaniac - inwoner van het eiland Tasmanie, ook wel Tasmaniac genoemt.
Tassie - het eiland Tasmanie.
Technicolour yawn - kotsen.
Tee-up - iets organizeren, een afspraak maken.
Thingo : Wadjamacallit, thingummy, whatsitsname - dingus.
Thongs - not underwear like in the U.S. but rubber footwear also known as flip-flops. You need to know this as some bars have signs "No Thongs" on the door, there is no need to remove your undies before entering the bar.
Tinny - een blikje bier of een vissers bootje van aluminium.
Togs - zwembroek / badpak.
Too right! - zeker weten!
Toorak tractor - refers to four wheel drive vehicles that never leave the city, Toorak is an expensive suburb in Melbourne where pricey Range Rovers are commonly used to do super market shopping.
Top End - het verre noorden van Australie.
Trackie daks/dacks - tracksuit pants.
Trackies - track suit.
Troopy - Toyota Troopcarrier, model of four wheel drive that seats at least eight people.
Truckie - vrachtwagen chauffeur.
True blue - patriotic.
Tucker - eten / voedsel.
Tucker-bag - je tas me eten.
Tuck shop - school kantine.
Turps - terpentine, of hit the turps kan betekenen begint met drinken (bier of andere alcohol).
Turps, hit the - begint met een zuip festijn.
Two up - gok spelletje. Hoewel normaal gokken op straat illegaal is mag het ieder jaar op Anzac Day op straat door iedereen gespeelt worden.
U
U-ie - U-turn.
Uni - universiteit.
Unit - flat, apartement.
Up himself / herself - je eigen heel hoog, of te hoog, inschatten, verwaand /"he's really up himself".
Up shit creek without a paddle - een lastig probleem hebben, vast zitten..
Up somebody, get - iemand op zijn donder geven /"the boss got up me for being late" .
Useful as an ashtray on a motorbike / tits on a bull - iemand of iets die totaal nutteloos is; "he, she or it is about as useful as tits on a bull" etc.
Ute - auto met open laadbak, zoals een pick-up truck in Amerika.
V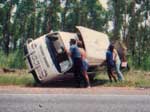 Vee dub
Vegies - groenten.
Vee dub - Volkswagen.
Veg out - luieren, relaxen.
Vego - vegetarier.
Vinnie's - St. Vincent De Paul's (Leger Des Heils soort organisatie met winkels en onderdak voor daklozen).
W

Welcome to Woop Woop
Waggin' school - spijbelen.
Walkabout : Aboriginals verdwijnen soms voor een Walkabout, wanneer ze voor een onbepaalde tijd door de bush en woestijn dwalen..
Walkabout, it's gone : wanneer je iets kwijt bent, iets verdwenen is, zeg je It's gone walkabout..
Wedgie - iemand zijn onderbroek hard omhoog trekken, zeer amusant voor de trekker en omstanders maar niet zo amusant voor de "betrokkene".
Whacker, whacka : Idiot/ somebody who talks drivel/ somebody with whom you have little patience/ a dickhead
Whacko the diddle-o - you beauty
Whacko - exclamation of happiness, when something exceeds expectations in it's success.
Wharfie - haven werker.
Whinge : klagen, zeiken, voornamelijk Engelsen hebben hiet een reputatie voor in Australie, vandaar de Aussie uitdrukking 'whingeing Pom'.
Whitefella - een ander woord voor Aboriginal. Sommige Aboriginals noemen mensen blackfellas (zwarten) and whitefellas (blanken), alhoewel zij deze woorden gebruiken stellen veel Aboriginals het niet op prijs als blanken deze woorden ook gebruiken.
White pointers - oorspronkelijke betekenis is witte haaien, maar nu ook de tieten van een wijf dat topless zonnebaadt maar dit duidelijk niet regelmatig doet.
White ant - letterlijk: witte mieren. Termieten zijn officieel geen mieren maar veel Aussies hebben het over white ants als ze termieten bedoelen die hun huizen opeten.
Wing nut - iemand met flaporen.
Within cooee - niet ver.
What size donk you got mate? Wanneer je auto pech hebt dan kan de monteur je dit vragen, hij bedoelt heb je een 4, 6 of 8 cilinder motor, (donk), niet te verwarren met het woord dong, wat lul betekent.
Wobbly - over de rooie gaan, uitbarsting van woede ("He threw a wobbly").
Woftam - Waste Of F#*%ing Time And Money, see some woftams here.
Wog - beledigende term voor immigrant uit Italie of Griekenland, maar ook gebruikt om vage ziekte te beschrijven (in bed with a wog - waarschijnlijk verkouden of koorts).
Work - iets wat je af en toe moet doen zodat je geld hebt om naar de kroeg te gaan.
Woop Woop - niet bestaande plaats, gebruikt om een zeer afgelegen plaats te beschrijven, dit nog beroemder gemaakt in de film 'Welcome to Woop Woop'.
Wowser - zeiker, iemand die overal wat over te zeiken heeft.
Wuss - watje.

X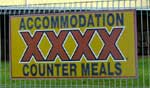 This Queensland pub serves XXXX
XXXX - Uitgesproken als Four-Ex, dit is Queensland's favoriete bier.
Y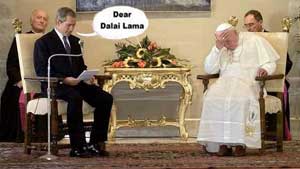 A well known Yank.
Yabbie - een soort van zoetwater garnaaltje.
Yakka - werk, that's hard yakka mate!
Yewy - u-turn in traffic ("chuck a yewy at the next traffic lights").
Yank - inwoner van Amerika.
Yank tank - dikke Amerikaanse auto.
Yobbo - Kinkel. Ook wel bekend als redneck.
Youse - jullie, meervoud van jij of jou, inplaats van 'have you guys got any beers cold' zeg je: 'hey, youse got any beer cold'?
Yowie - Aussie version of the mythical Bigfoot, the teribble snowman etc.
Z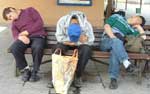 Zonked out blokes doing zilch and stacking zeds
Zeds - 'stack some Zzzz's - slapen / pitten.
Zilch - helemaal niks, noppes, geen ene donder.
Zillions - onwijs veel, waar millioenen het niet kunnen uitdrukken.
Zonked - onwijs moe, uitgeput.
Aussie Lingo Examen
Wanner je de zin: 'Bonza Ocker Bottler Beaut, Corker Whacko Didgeridoo Cobber Mate' kunt uitspreken dan ben je aardig op weg om te spreken als een echte Aussie.
Nog een tip....
In bepaalde situaties en/of gebieden is het raadzaam het beruchte F#*#! woord op zijn minst een of twee keer per zin te gebruiken, en ook op zijn minst de helft van de zinnen met "mate" te beeindigen zodat mensen je beter verstaan.
Het maakt communicatie beter in outback bars, het platteland, barbeques en feestjes waar je een hoop blauwe singlets ziet. In grote steden en op bijvoorbeeld Sydney cocktail parties is het zeker niet aan te raden deze woorden in je zinnen te mengen.
Als je geinteressert bent in het leren van echte Aussie taal koop dan een Australisch woordenboek!
Link naar ons Australisch woordenboek !
Zet een van die coole stickers op je website zodat jouw website bezoekers Australisch kunnen leren!
Plak de HTML code in je site en de stickers linken naar ons Aussie woordenboek.

<p align="center"><a href="http://www.amazingaustralia.com.au/aussie-nederlands-woordenboek.htm" target="_blank"><img src="http://www.amazingaustralia.com.au/banners/aussie-taal-leren.gif" alt="leer aussie spreken met dit australisch nederlands woordenboek" width="460" height="56" border="2"></a></p>
De bovenstaande sticker linkt naar de Aussie - Nederlands talige pagina,
alle onderstaande linken naar de Aussie - Engelstalige pagina;

<p align="center"><a href="http://www.amazingaustralia.com.au/language.htm" target="_blank"><img src="http://www.amazingaustralia.com.au/images/languagebutton.gif" width="165" height="56" border="0"></a></p>

<p align="center"><a href="http://www.amazingaustralia.com.au/language.htm" target="_blank"><img src="http://www.amazingaustralia.com.au/images/languagebanner.gif" width="460" height="56" border="0"></a></p>

<p align="center"><a href="http://www.amazingaustralia.com.au/language.htm" target="_blank"><img src="http://www.amazingaustralia.com.au/images/aussielingobanner.gif" width="460" height="56" border="0"></a></p>