About Cape Tribulation - Accommodation - Tours & what to do - Transport & car hire - Photos - Map
Transport in and to Cape Tribulation
The ferry across the Daintree river on the way to Cape Tribulation
Transport to Cape Tribulation
Unless you live in north Queensland you will have to fly to the nearest international airport Cairns first.
The nearest main airport to Cape Tribulation is Cairns, you can fly there from any main Australian city or directly from overseas.
If you are already in Australia then go to our page Cheap Domestic Flights in Australia for a good choice in cheap domestic airfares to Cairns.
If you are still in your home country then you will need to get an international flight to Cairns, but be aware that although Cairns is an international airport, not too many airlines go straight in to Cairns, you will usually have to fly via Brisbane or Sydney.
ZUJI is an online travel agent with offices throughout the Asia Pacific region, offering you a choice of more than 400 airlines and 60,000 hotels, as well as car hire and travel insurance.
Feel more comfortable to book your airfares to Cairns online with a travel business from your own country that you know and trust?
Then choose your home country here:





Want to fly all the way there? There is a small local airstrip where you can fly to with Daintree Air or even with your own plane! More info...
Car hire to Cape Tribulation
The Daintree - Cape Tribulation area is easily reached from Cairns and Port Douglas by car or coach service. Several door to door bus services depart Cairns and Port Douglas daily and reach Cape Tribulation in about three hours. There is a cable ferry crossing across the Daintree River operating from 6 am till midnight and now that the road is sealed all the way from the Daintree River to Cape Tribulation a conventional car is all you need, a four wheel drive is needed to go further north of Cape Tribulation. Driving time from Cairns to Cape Tribulation is about 2.5 hours and from Port Douglas to Cape Tribulation about 2 hours.
Some car rental companies still object to their cars going to Cape Tribulation, ignoring the fact the road has been sealed all the way to Cape Tribulation since 2002, so check before you rent.
Driving your own car or rental car is without a doubt the best way to explore the Cairns to Cape Tribulation / Daintree area, there are many interesting and scenic places along the way, and you will see how the two World Heritage areas (the Daintree National Park and the Great Barrier Reef Marine Park), meet eachother. The highway runs right along the coast in many places and north of the Daintree river if you're lucky you may even see the endangered cassowary cross the road, so keep your speed down! You can rent your car in Cairns, or Port Douglas and through online reservation make sure your hire car is waiting for you on arrival in Australia.
Remember to drive on the left, but the traffic along this coast is light enough that even if it is you're first time that you drive on this side of the road you simply follow the car in front of you and get used to it.
Some car rental companies still object to their cars going to Cape Tribulation, ignoring the fact the road has been sealed all the way to Cape Tribulation since 2002, so check before you rent. The road is fine but some try to make extra money out of you by renting you a more expensive fourwheel drive. And even if you rent a fourwheel drive and want to go off the sealed road, for instance the Bloomfield Track north from Cape Tribulation to Cooktown, check that you are allowed to go there.
Believe it or not but some companies won't let you take fourwheel drive vehicles off sealed roads!

The road from Cairns to Cape Tribulation is a very scenic drive
There is a wide choice of car rental companies where you can book your car or campervan online to be assured of a car on your arrival in Cairns , and most offer one way rentals between major cities. Nothing beats the freedom of having your own car to explore and stop when and where you want.
Budget Car Hire needs little introduction, the name says it all: car hire at Budget Prices with a car hire company with an international reputation, and this sites makes it even easier to find yourself a cheap hire car, or anything else with wheels: trucks,buses, campervans, utes, four wheel drives etc.
When you book through the above websites you are sure you deal with reputable car rental companies, without wanting to discredit smaller local companies, we have received some not too happy customer reviews on Cairns Older Car And Ute Hire.
Once you have crossed the Daintree River on the ferry please keep your speed down, these birds can cross the road very unexpectedly and a collision with one of those birds would be disastrous, both for the bird and the local eco-system, your rental car and your wallet, and not to mention the risk of getting lynched by greenies!

The sign on the right shows a bit of creativity by local midnight artists, it looks like even the local council has a sense of humour as this graffiti has been here for years now.

There is a cable ferry across the Daintree river that runs from 6 am till midnight.

Bus transport:
Currently only Country Road Coaches runs bus services from your Cairns or Port Douglas accommodation or airport to your acccommodation in the Daintree, they usually run M0onday, Wednesday and Friday, email or phone them for up to date departure times, their website is not always up to date. They only leave Cairns in the mornings, so if you fly in later in the day you will need to rent a car or find some accommodation in Cairns.

Country Road Coaches

This bus does a run all the way from Cairns to Cooktown, so is a good option if you plan to head further north after your Cape Tribulation stay. They depart Cairns at 06.45 in the morning, arriving in Cape Trib about 10.45 but not every day, contact them for up to date info. More info....

Phone 07-4045 2794
Transport in Cape Tribulation
To get around in Cape Tribulation you can hire a mountain bike from one of the resorts. If you do not have your own wheels and you stay in Cape Tribulation itself you will find the beach, shops, bars and restaurants within walking distance of where you are staying, in other areas between the Daintree River and Cape Tribulation you may find yourself a bit further from those services. Most tours will pick you up with courtesy buses from your accommodation but not all so check before you book.
Guided tours from Cairns and Port Douglas
Cape Tribulation is a place that you really need a few days for to fully appreciate, however if you are running out of holiday time and simply can not afford more than a day before you have to go home, you can do a day trip, seeing it in a day is still better than not at all, and it may convince you to return in the future for a longer stay.
There is a choice of tour operators that run daily tours to Cape Tribulation, some as day tours and others go all the way up the Bloomfield Track through to Cooktown. Click here for more info...
Cape Tribulation in a day


Cape Tribulation
© Billy Tea Bush Safaris

Your naturalist guide will meet you at your accommodation and after introductions all around we drive north along the scenic route to Mossman. Lush farmland contrasts with seascape as we approach the majestic Daintree River. Time for a short morning tea break then its 'all aboard' for an informative river cruise. Relax and enjoy the splendour only the Daintree can offer as you learn of Estuarine Crocodiles, mangrove forests and wildlife, this is nature at its best!
We then ascend the Alexandra range, pause for a panoramic view of the World Heritage Tropical Rainforest merging with the Coral Sea. A delicious BBQ with home made salads, tropical fruit and Australian wine is prepared whilst you take the opportunity to swim in a tranquil freshwater stream. Our tour does a little more. It takes you beyond Cape Tribulation along the 4WD only 'Bloomfield Track', allows time for a swim in the Coral Sea at Cape Tribulation (seasonal) where the "Rainforest meets the Reef". A short afternoon refreshment stop where you can pat a Kangaroo, scratch a Cockatoo, have a cold beer or sip a cup of the local tea, we then begin our homeward journey somewhat wiser for our 'Rainforest Experience". More info....
Some maps that may help you plan your travels;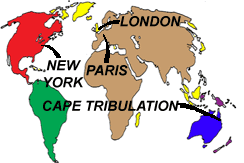 The "town" of Cape Tribulation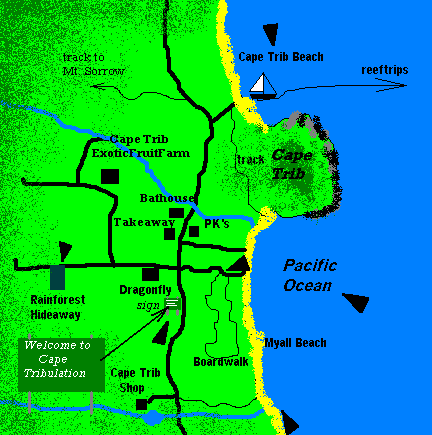 The Daintree River to Cape Tribulation area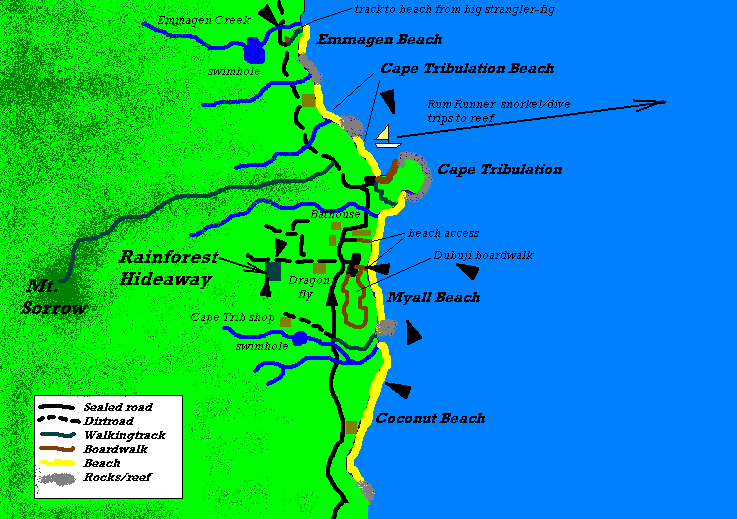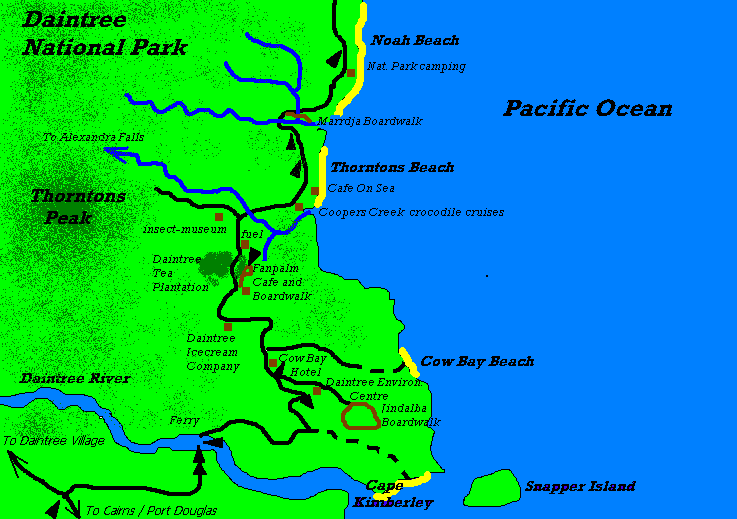 Far North Queensland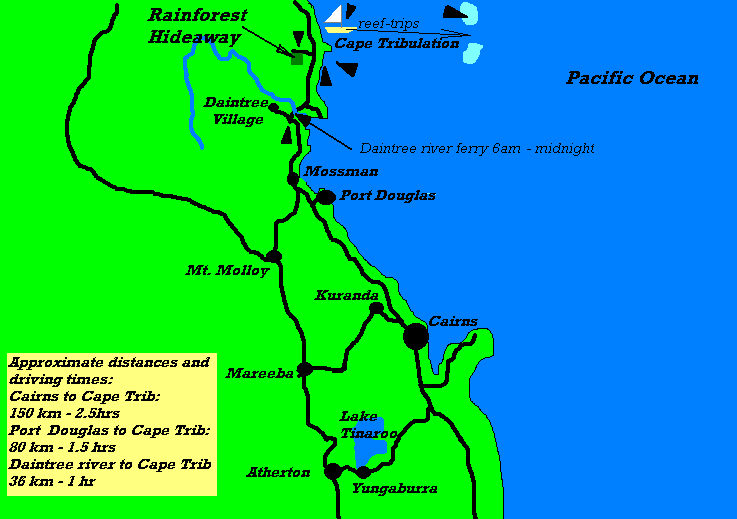 About Cape Tribulation - Accommodation - Tours & what to do - Transport & car hire - Photos - Map