Getting to and around Cairns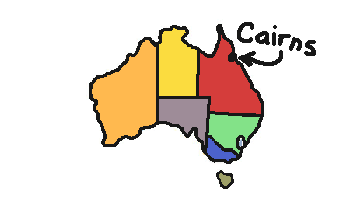 Airport transport

The Airport Bus is the most economical way to get to the city, it is not far but is it is a bit cheaper than a taxi if you're by yourself and they drop off at accommodation. Note that Cairns is a very spread out city and some accommodation places are that far off the beaten track that it will not be serviced by buses.
If you're hiring a car in Cairns many hire companies will even pick you up from the airport so you can save yourself the fare.
Airport Connections will transport you from the airport to any hotel in and between Cairns, Port Douglas and Cape Tribulation. More info....
Flights to Cairns:
If you are already in Australia then go to our page Cheap Domestic Flights in Australia for a good choice in cheap domestic airfares to Cairns.
If you are still in your home country then you will need to get an international flight to Cairns, but be aware that although Cairns is an international airport, not too many airlines go straight in to Cairns, you will usually have to fly via Brisbane or Sydney.
ZUJI is an online travel agent with offices throughout the Asia Pacific region, offering you a choice of more than 400 airlines and 60,000 hotels, as well as car hire and travel insurance.
Feel more comfortable to book your airfares to Cairns online with a travel business from your own country that you know and trust?
Then choose your home country here:





Bicycle
There are quite a few places around town to hire a bicycle, Bandicoot Bicycle on 59 Sheridan St. is one of them.
Bus around Cairns
Though Cairns has nowhere near the population of some of the main cities in the south it is very spread out, the northern suburb of Palm Cove lies 25 km. from the city centre while the soutern suburbs lie another15 or so km. down the road, the city also reaches inland about 15 kms. out to Redlynch and Crystal Cascades.
The local bus company is Sunbus and you can visit sunbus.com.au to plan your movements around Cairns. In the citycentre most of the buses leave from Lake St. next to the mall.
To get a bus further north to Port Douglas and to your accommodation in Cape Tribulation you have a choice of Sunpalm and Country Road Coaches, they do a door to door service from Cairns and the airport.
Bus to and from Cairns

Adventure Tours is an Australian company that can take you across the country in a fun and adventurous way to show you the real Australia. Of course it is quicker to fly to Cairns, but crossing Australia by road is the only way to fully appreciate its amazing vastness.
7 Day Cairns to Darwin - This 7 day adventure through the outback and the Gulf of Carpenteria includes all the highlights suuch as Atherton Tablelands, Undarra, Karumba, Normanton, Lawn Hill National Park, Hells Gate, Borroloola, Southern Lost City, Roper River, We of the Never Never,- Mataranka Springs and Katherine. More info and reservations....
Cairns to Sydney in 14 days - Departs from Cairns and stops at Airlie Beach, , Fraser Island, Gold Coast, Great Barrier Reef, Byron Bay, Sunshine Coast, North Johnstone River, Whitsundays, Mackay, Townsville, Tin Can bay, Rainbow Beach and Magnetic Island and ends up in Sydney. More info and reservations...
Day Tour

Tour highlights
© Down Under Dive
If your time is limited this ultimate daytour will show you all the best things in only one day; Kuranda train, Skyrail, scenic helicopter flight, the Great Barrier Reef etc. More info....
On foot
Pick up the brochure 'Cairns Heritage City Walk' at the tourist information for a self guided walk around many of the historic buildings in the city centre. Some of the buildings go back a long way like the one below that was built in 1890, it has survived three fires and nowadays houses Johnno's blues bar.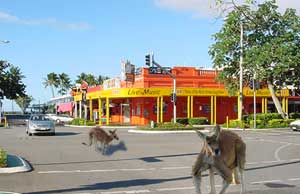 Rental car
There is a wide choice of car rental companies where you can book your car or campervan online to be assured of a car on your arrival in Cairns, and most offer one way rentals between major cities. Nothing beats the freedom of having your own car to explore and stop when and where you want.
Budget Car Hire needs little introduction, the name says it all: car hire at Budget Prices with a car hire company with an international reputation, and this sites makes it even easier to find yourself a cheap hire car, or anything else with wheels: trucks,buses, campervans, utes, four wheel drives etc.
When you book with the above websites you are sure you deal with reputable car rental companies, without wanting to discredit the smaller local companies, we have received some not overly positive customer reviews on Cairns Older Car Hire.
Taxi
Black and White Taxis- 131008