Cane toad races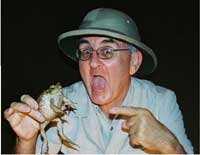 Now unfortunately no longer in action, the World famous Cane Toad Races used to be held every Monday, Wednesday and Friday at Johno's Blues Bar with crazy Toad Master for the evening Professor Sarcasm.
More info on how a cane toad race works....
Cape Tribulation
This is an absolute must-see destination if you are holidaying in Cairns. Though you can see it on a daytour you will gain much more appreciation of the area if you stay for at least one night, or preferably more, in Cape Tribulation itself. There are lots of things to do and explore in Cape Trib; guided rainforest walks, reef trips, crocodile cruises, boardwalks, sea kayaking, hikes, stunning beaches etc. Useful links for Cape Tribulation: Rainforest Hideaway for in-the-rainforest accommodation, for more in-depth info on this amazing place see our Cape Tribulation pages.
Book some Accommodation in the Daintree before you head up and spend one or two nights up there to really appreciate this area of ancient rainforest and pristine beaches. If you don't want to end up too remote and have things like tours, restaurants etc. within walking distance then choose your accommodation in Cape Tribulation, this area is compact enough to walk around.
If your time is very limited and you can only go on a daytour ask if they really take you to Cape Tribulation, there has been a growing tendency to take people to Mossman Gorge while giving the impression that this is the Daintree. To see the Daintree rainforest you have to cross the Daintree river, also Daintree Village (despite its name) is not in the Daintree rainforest.
Some of the Cape Tribulation day tours;

Cape Tribulation
© Billy Tea Bush Safaris
Cape Tribulation is 150 km. north of Cairns so a daytrip is a long day, it includes the scenic route to Mossman, lush farmland contrasting with seascape and the majestic Daintree River. Time for a short morning tea break then its 'all aboard' for an informative river cruise. Relax and enjoy the splendour only the Daintree can offer as you learn of Estuarine Crocodiles, mangrove forests and wildlife, this is nature at its best! We then ascend the Alexandra range, stop for a delicious BBQ with home made salads, tropical fruit and Australian wine is prepared whilst you take the opportunity to swim in a tranquil freshwater stream. Fish and Turtles in the creek, butterflies and exotic birds in the trees and often Goannas on the forest floor, all at our luncheon site. Enjoy walks through the Cape Tribulation National Park with experienced guides who allow ample time for questions and photographs. This tour does a little more. It takes you beyond Cape Tribulation along the 4WD only 'Bloomfield Track', allows time for a swim in the Coral Sea at Cape Tribulation (seasonal) where the "Rainforest meets the Reef". A short afternoon refreshment stop where you can pat a Kangaroo, scratch a Cockatoo, have a cold beer or sip a cup of the local tea, we then begin our homeward journey somewhat wiser for our 'Rainforest Experience". More info...

Cape York
8 Day Cairns to Cape York Adventure - Cape York is one of the last remaining wilderness areas in the world and this awesome adventure will show you all the highlights of it in an eight day journey, such as the Daintree National Park, Cape Tribulation, Bloomfield Track, Cooktown, Cedar Bay, Lions Den Pub, Iron Range National Park, Punsand Bay and Thursday Island. Travel one way by road and the other way by plane along the spectacular Queensland coast line.
More info and reservations....
Chinese Massage
After long plane journeys or days of sightseeing and adventure activities get your body back in shape with a Chinese massage at the Cairns nightmarkets. HIghly recommended, I go there sometimes twice a day whenever I'm in Cairns!
Cruising

Lazing in the sun!
© Captain Cook Cruises

The Ultimate Cruise - The Reef Endeavour does a seven day cruise out of Cairns. You will wake each day to a new adventure - on the Ultimate Great Barrier Reef Cruise. The Reef Endeavour will carry you beyond the reach of holiday crowds to wonders few have seen or experienced - exotic island hideaways, soft sandy beaches, balmy bays and remote outer reefs. A Marine Naturalist will introduce you to the beauty of the Reef as well as the intricate ecology that created it. You will come to know the countless varieties of flora and fauna, both land and marine on a cruise where they are ever respectful of the environment. More info....
There are also shorter cruises available of five days/four nights or four days/three nights .
Daintree
See Cape Tribulation above.
Day tours to the Cairns Highlands / Atherton Tablelands
Barefoot Tours

Spend a fun-filled, chilled out day cruising around the Atherton Tablelands with Barefoot Tours!

Swim at up to 4 sensational swimming holes in the lush rainforest. It's waterfall-tastic!

Our Atherton Tablelands Tour is cheap as chips and a great fun-filled day out!

Quite possibly the best value day tour in Cairns!



Barefoot Tours

Visit website for more info....

Phone 07- 4055 9082
Discounted tours in Cairns
Dive course
Cairns is one of the best places in Australia to learn to dive, you can join Deep Sea Divers Den for the adventure of a lifetime learning to dive on the magnificent Great Barrier Reef. Deep Sea Divers Den's friendly, personalized service, combined with the warm tropical waters of the Great Barrier Reef, are the perfect combination for one of the very best PADI 5 Day Openwater courses available. No pre-dive experience is necessary, however being a comfortable swimmer will be a definite advantage.
There are many different options on how to become a PADI certified diver. For your safety, a Diving Medical to Australian standard 4005.1 is a prerequisite to the PADI Openwater Certification course. It is a good idea to complete this medical prior to commencement of the course to avoid disappointment if a medical condition inhibits diving. Alternatively, a Dive medical can be arranged at the Deep Sea Divers Den Dive Centre on day one of the course.
The first two days of the course are taken up by pool and theory training. After the pool and theory training, you spend three days at sea on OceanQuest, a liveaboard dive boat, to complete your four training dives. Finish off the course with four pleasure dives and a guided night dive.
OceanQuest is 28 meters (30.6 yards) in length, fully air-conditioned with a cruising speed of 10 knots and carries 40 live aboard passengers. The OceanQuest is a dedicated liveaboard dive boat with the majority of passengers being scuba divers, with a few snorkelers. More info on this dive course or see their full range of scuba diving courses and trips here.
The Cairns Dive Centre has a great range of scuba diving courses and trips too.
Eating & drinking in Cairns
A lot of eating & drinking happens along the Esplanade in Cairns where you will find several food courts, lots of restaurants, take-aways and plenty of bars where backpackers party the night away.
Indian food lovers will like Spicy Bites on Spence St. just across the street from McDonalds. Just around the corner at the southern end of the Esplanade is a new Indian restaurant named Royal India which is best avoided, I had a beef curry there which so dry that I thought I was eating a beercarton covered in curry sauce.
Thai food lovers will find quite a few Thai restaurants, but if you like your food authentic then it is a bit of a mission to find a good place. My personal favorites are the caravan at Rusty's market from Friday to Sunday, and Siam Orchid Spicy out in Stratford, quite a way from the city centre. My old favourite Edge Hill Thai Takeaway has gone way downhill unfortunately.
| | |
| --- | --- |
| Like to try something different? This restaurant just around the corner from the Esplanade on Aplin St. has a good variety | Cairns also still has a lot of the old timber hotels like the one below to add a touch of history to the place, be sure to have a beer in at least one of them. The pub below is Rusty's, behind it the Rusty's markets are held every weekend from Friday morning until Sunday afternoon, fresh fruit and veg and nice Asian takeaway from a couple of caravans in the corner, especially the Thai caravan kicks ass and beats any Thai restaurant in the city centre! |
Ocean Spirit Dinner Cruise


As the sun sets, the gentle strumming of the guitar commences - savor this moment…


What a perfect way to end a perfect day! Discover the delights of evening cruising with Ocean Spirit Cruises. Enjoy dinner on a luxurious purpose-built catamaran - Ocean Spirit IV, built for entertaining and dining, while cruising on the beautiful calm waters of Trinity Inlet, Cairns.
A glass of champagne in hand, strolling on the foredeck, savoring the sights of the city and the rainforest clad mountains, a memory to last forever. The setting sun, the ocean breeze and then the stars appear - time for dinner!
Enjoy a sumptuous 4 course buffet dinner (including seafood) featuring the region's best produce - mouth watering prawns, tender roast, reef fish and exotic platters of fruit - all freshly prepared on board by the chefs. More info....
Flames Of The Forest


Flames Dinner
© Flames of the Forest

This is not right in Cairns but transfers from Cairns will take you to this forest where you can experience the indigenous culture, customs and unique Australian cuisine. An incomparable evening of event theatre which brings to light & life the stories and secrets of this ancient place.
More info....
Esplanade

Backpackers having fun on the Cairns Esplanade
On the Cairns Esplanade there is a saltwater lagoon to cool down and lots of grassed areas hugely popular with travellers to soak up the sun and play games. The local council has put a "no wiggle" rule on this area; topless sunbathing is allowed but no wiggling is allowed, no playing with balls and frisbees etc. only stationairy sunbathing. There are also free gas barbeques in this area.
Fishing
Book on a fishing charter and catch one of those big Queensland fish!
Phone Justin on 0414 185534 for more information.
Flying Doctors
Visit the Flying Doctors Base and learn about this uniquely Australian service. Location: Junction Street, Cairns, near the Botanic Gardens, only a 10 minute drive from Cairns central business district. Phone: (07) 4053 5687 Cost of Entry: $5.50 adults, $2.75 children, $16.50 family Opening Hours: 8.30 am to 5.00pm Monday to Saturday. Closed Sundays and Public Holidays . All proceeds from the Visitors Centre help to keep the Flying Doctor flying.
Green Island
Green Island is a very popular coral cay 27 km offshore from Cairns located within the Great Barrier Reef Marine Park World Heritage Area. The island is surrounded by coral reef and protected in the Green Island National Park.
Most visitors come for the day. A luxury resort with 46 rooms is situated on the island.
Cassius, a 100 year olf saltwater crocodile, has lived at Marineland Melanesia on Green Island, 27km off the coast of Cairns, for close to 24 years, but in August the whopper of a croc has finall entered the Guinness Book of Records as the largest croc in the world in captivity.
Cassius was captured south of Darwin in 1984, after he attacked yet another boat, and was taken to far north Queensland in 1987. He bears the scars from his battles with other crocodiles during his younger days, and has also lost his left arm.
Great Barrier Reef
A visit to north Queensland would just not be complete without at least one day at the Great Barrier Reef. When a survey was held in the UK in 2003 on people's top 'five things to do before you die' , snorkeling or diving on the Great Barrier Reef was high on the list! Many day trips and overnight 'liveaboard' boats operate out of Cairns; here is a selection of them;
Daycruises;

Green Island
© Big Cat Green Island Cruises
The Big Cat : Green Island is a beautiful coral cay which enjoys world acclaim as a tropical paradise on Australia's Great Barrier Reef. The island is a protected Marine National Park, readily identified by its emerald rainforest surrounded by white sandy beaches and magnificent coral reefs. The marine life includes endless varieties of colorful fish, turtles, giant clams, shells, starfish, sea anemones and much more. More info...

Wavedancer
© Quicksilver
Wavedancer : Quicksilver's 30 meter luxury sailing catamaran, 'Wavedancer', offers the excitement of big ship sailing combined with the ultimate in comfort. Let the crew pamper you in the luxurious air-conditioned lounge with its fully licensed bar, or soak up the sun and sea air under the sails on our expansive deck. 'Wavedancer' is a memorable experience from the moment you step aboard. They will take you to Low Isles which is situated 15 kilometers north-east of Port Douglas. Low Isles is a 4 acre coral cay surrounded by 55 acres of reef. The corals are very close to the island, which makes snorkeling an enjoyable experience. The two small islands are separate with one common reef. The larger of the two, Woody Island, is uninhabited except for a large bird population. The smaller of the Low Isles is a coral cay with a lighthouse that has been operating since 1878. More info....

© Ocean Spirit Cruises
Ocean Spirit Upolu Cay Reef Cruise : Set sail aboard a luxury catamaran with Ocean Spirit Cruises for Upolu Cay, an uninhabited coral cay lying about 18 nautical miles from Cairns, an ideal reef destination for a range of different age groups. The surrounding coral gardens play host to a myriad of marine life. Dugongs are often seen raising their calves throughout the year in the protected waters around the cay. You also have the opportunity to visit either Arlington Reef or Oyster Reef as you sail out to beautiful Upolu Cay, both of which are teeming with marine life and offer some of the best coral viewing on the Great Barrier Reef. For those interested in exploring the coral reef by diving on their day out to the Great Barrier Reef, Ocean Spirit also offers introductory dives for the novice and certified dives for experienced divers.
More info....
Overnight/liveaboard dive trips:

Diving
© Quicksilver
Cod hole - Two days/two nights. Day One - is making our way North along the Agincourt and Ribbon Reef systems. Enjoy 3 day dives and a night dive. The night dive you choose may be included as part of the optional advanced diving course.
Day Two - Thursdays include diving at the famous Cod Hole and the Northern Ribbons, as well as another night dive. Awake to breakfast on Friday morning moored in the calm waters of Snapper Island. It is then a short journey back to the Marina at Port Douglas. Enjoy a minimum of 8 dives, including 2 night dives during your Cod Hole Diving Adventure. Snorkelers are welcome to join and have the opportunity to enjoy a FREE Introductory dive. More info....
Helicopter scenic flights

Scenic flights over Cairns and the Great Barrier Reef
Kuranda train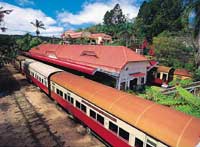 The Kuranda railway was a great achievement at the time, long before many modern day machinery was invented thousands of labourers built this railway, including several tunnels, through the mountainous terrain. Up in the rainforest village Kuranda you can browse the markets for crafts and souvenirs and then return on the Skyrail. Buses will take you from the Skyrail base station back to the city again. More info....
Minjin Jungle Swing

The mighty Minjin
© AJ Hackett Bungy Cairns
Not for the faint hearted.. The Minjin Jungle Swing is guaranteed to get your adrenaline pumping! More info....
Nightmarkets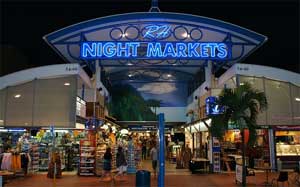 The Cairns night markets in a central location on the Esplanade offers everything from a foodcourt to souvenirs, clothing, jewellery, and Chinese massage to iron out those muscles after your days of adventure.
Nightlife
Cairns has a thriving nightlife scene, and a few places cater specifically for the backpackers with party nights and games.
Outback

Undara Lava Tube
© Australian Pacific Touring
From Cairns it is only a couple of hours travel until you get to dry outback country where you will find the Undara lava tubes. They are the oldest standing and best preserved system anywhere in the world. The lava flow is the longest from one single Volcano, stretching over 160 kilometers. Over time, some of the roof collapsed exposing the tunnels in places and allowing the preservation of rainforest plants which were once part of Gondwana some 300 million years ago. Within the tubes themselves are unique ecosystems supporting a variety of unusual animals and insects. How to see this amazing place; A half day sky-safari , a full day sky-safari , or a full day trip which can be extended to an overnight trip.
Paronella Park
This amazing attraction lies a bit south of Cairns, a Spanish immigrant early in the 1930's built a Spanish castle almost single handedly!
Reef Teach
For an interesting and educating experience in the evening visit Reefteach on 14 Spence St. in the city, Tel/Fax: (07) 4031 7794 . Reef Teach presents a highly informative and entertaining presentation about the Great Barrier Reef. Presented by a Marine Biologist, Dive Instructor & Educationalist, it is the best way to learn about this complex ecosystem.
Seakayaking

© Palm Cove Watersports
The Double Island Sea Kayaking tour departs twice daily circumnavigating Double Island. There is time on the island for snorkeling and relaxing before kayaking back to beautiful Palm Cove Beach. The single and double kayaks are designed for the open water and are highly stable. The half-day tour is suitable for all abilities from total beginners to experienced kayakers. More info...

Skyrail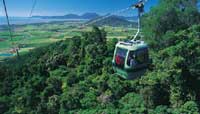 Kuranda Skyrail and Rail Tour encompasses the two most spectacular way to see Queensland's Far North. Firstly, glide over one of the worlds most beautiful rainforest aboard the Skyrail enroute to Kuranda; a picturesque mountain-top village. Here, you will enjoy taking time to explore and enjoy the village and its people. To return to Cairns, board the Kuranda Scenic Rail; winding around curves, across bridges, and through hand hewn tunnels. More info…
Tablelands, Spanish castles and waterfalls
Spanish castles etc.

Your day begins with a scenic drive up the Gillies Range, overlooking the breathtaking beauty of the Mulgrave Valley. Enjoy a delicious Devonshire Tea at Lake Barrine Teahouse with the option of enjoying a Wildlife Cruise or a swim in the now extinct volcano crater lake.
The infamous Giant Curtain Fig Tree will inspire a photo or two, then on to the Malanda Hotel to enjoy a two course hot lunch (vegetarians catered for).
After lunch, visit the picturesque Millaa Millaa Falls for a fantastic photo opportunity, before continuing down the Platypus Highway, onto inspiring Paronella Park for a guided tour of the Spanish Castle ruins. Continuing on for the last stop of the day, you will be taken to Babinda Boulders for another fantastic photo opportunity before journeying towards Cairns, arriving back at approx. 6.00pm. Hotel drop offs will then commence.
More info....
White water rafting

Rafting on the Barron River
© RnR White Water Rafting
BARRON RIVER TRIP (3 1/2 hours duration)
The Barron River Gorge is located just 20 minutes drive north of Cairns and lies along a traditional pathway used by the original indigenous Djabugay people. The spectacular Barron Falls, further upstream, are considered a sacred site. The famous Kuranda Railway and Skyrail Cableway also traverse sections of the gorge.
This heart thumping ride spears through The Barron Gorge National Park and the World Heritage-listed Wet Tropics. In the calmer sections you will get to enjoy the ethereal beauty of the worlds oldest rainforest and waterfalls from a unique waterline perspective. During the day you will also discover why the Barron's rapids have names such as 'Rooster Tail', 'Cheese Churn' and 'Hells Gate'.
TULLY RIVER TRIP (12 hours duration)
The drive to Tully, 140 kilometers south of Cairns, is a scenic journey through cloud-covered coastal mountains, clear rivers and streams, fields of sugar cane and exotic fruits.
Rapids include the unforgettable 'Alarm Clock', 'Wet & Moisty', 'Stair Case' and the dramatic 'Theatre' - all before a riverside BBQ lunch opposite 'Ponytail Falls' where time is made to replenish your batteries before the afternoon's remaining rapids.
More info and bookings for these awesome rafting trips...