MASON'S CAFE, Cape Tribulation
The takeaway is attached to the Cape Tribulation shop/tourist information, and just next to this cafe is the crystal clear 'croc-free' swimming hole in Myall Creek. After your refreshing dip in the swimming hole stop here for a great hot coffee.
WHET, Cape Tribulation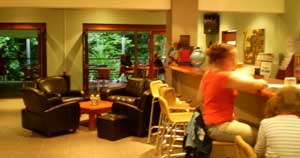 Cape Tribulation's newest restaurant, open all day till late. Tasty tequila prawns for lunch, tapas in the afternoon, the coldest beers in town on tap, and sensational dinners until 22.00
Easy to find on the main road between the Cape Trib shop and PK's Jungle Village
CAPE TRIB BEACH HOUSE - Cape Tribulation
You'll be tempted each day by a variety of delicious, excellent value and good quality meals. The menu for breakfast, lunch and dinner offers a healthy vegetarian option. Only 20m from the bar, bistro and pool deck is the pristine Cape Tribulation beach.
CAFE ON SEA, Thornton Beach
Enjoy casual beachfront dining at Thornton Beach with views of the Coral Sea and surrounding rainforest ranges, where the rainforest meets the reef. 20 Minutes north of the Daintree River Ferry and 1 hour north of Port Douglas. Open for Breakfast, Lunch and early Dinner. Good wholesome food with flavour at a great price.Fresh baked cakes, muffins and biscuits for morning and afternoon tea. Lavazza Espresso coffee. Coldest Beer, quality wines by the glass.
PK'S JUNGLE VILLAGE, Cape Tribulation
Breakfast is served from 7am to 10.30am. Lunch is from 11am to 2.00pm and costs $5-$9 for burgers, soups, sandwiches, salads & specials. Dinner is from 6.30 - 8pm from a blackboard menu to suit all tastes, including a vegetarian option and priced from $10-$15. Some serious drinking and party games go on here some nights, including the famous cane toad races.
CASSOWARY CAFE, Cape Tribulation
Ferntree Rainforest Resort Restaurant consists of 2 dining huts built into the rainforest along with the Main Building and outside deck area overlooking the pool. The food is typically suited to the tropics utilising seafood and tropical fruits. The bar is situated in the main restaurant, and is just the right spot to enjoy a pre-dinner drink.
WILDERNESS LODGE, Cooper Creek
This is a restaurant in a small lodge so book in advance to avoid disappointment, excellent food in a rainforest setting surrounded by fan palms.
HERITAGE LODGE RESTAURANT, Cooper Creek
Heritage Lodge boasts a fully licensed restaurant and bar whose fine food and fine wines were recognised by Gourmet Traveller in the Annual Guide for 1999. The a la carte licensed restaurant and bar overlook the resort pool and Cooper Creek, offering fine dining in a dense rainforest atmosphere. If you are lucky, extra guests may also visit you at night, such as bandicoots and wallabies.
CROCODYLUS VILLAGE RESTAURANT, Cow Bay
The restaurant serves tasty, home style meals. Start the day with either a continental or fully cooked breakfast, a healthy lunch menu and the dinner menu varies daily with vegetarians catered for.

COWBAY HOTEL MOTEL, COW BAY
Provides breakfast, lunch and dinner in the bistro.


About Cape Tribulation - Accommodation - Tours & what to do - Transport & car hire - Photos - Map