Amazing Australian Pubs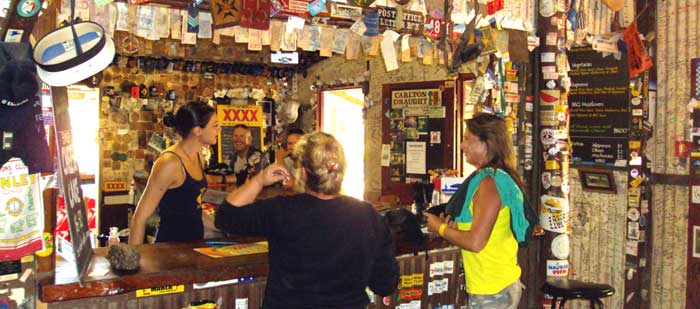 The word "Pub" is used in Australia to indicate a bar, also known as "the local". They are often called "Hotel", the reason for this dates back to the days that licenses only allowed pubs to provide alcohol to traveling public, the presence of a few rooms ( who might never be used) then gave some impression that the rules being followed.

All over Australia you can find some very interesting and colorful pubs, some very old and with interesting histories, this provides a great way to include some history on your travel itinerary without actually having to spend time hanging around in boring museums. While in other parts of the world drinking establishments usually need to be in a town to provide a base of customers this is not the case in Australia. If you do some outback traveling you will come across pubs that can be hundreds of kilometres from the nearest town or population. The expression "build it and they will come" definitely applies here, no matter where you will build a pub, people will materialize to start drinking.
Queensland
Animal Bar in Karumba

Photo by Katrin Holmsten
The animal bar in Karumba can be a nice place for a quiet drink on some days, but when the fishing trawlers hit town andoverworked and cashed up fishermen stream ashore to let off some steam then you will see why this bar is called "The Animal Bar".
Australian Hotel in Boulia

Photo by Katrin Holmsten
Boulia is a fairly remote stump, once you go past the pub you'll get to this warning sign

Photo by Katrin Holmsten
Birdsville

Photo by Alysse Gavlik
Most famous for its horse race held in September. People fly and drive in from all over Australia to this remote town 1600 km west of Brisbane situated on the edge of the Simpson Desert . The Birdsville Hotel, built in 1884, does a roaring trade during this event. More info....
Burketown Pub
Burketown is a very remote community in the Gulf of Carpenteria of about 200 residents. They regulary get cut off in the wet season and sometimes make the news for running out of grog, as they drink about a roadtrain per month here.

Photo by Katrin Holmsten
Commercial Hotel in Clermont

Photo by Katrin Holmsten
Cooktown Hotel

Photo by Rob Lapaer of Rainforest Hideaway B&B, Cape Tribulation, N.Qld.
If you're visiting Cooktown the Cooktown Hotel is the place to have a drink and spend a night in the rooms upstairs. From the balcony you can see the kangaroos hopping through the main street at night on their way to some nice green grass in the park. If you came to Australia expecting kangaroos to hop through the main streets everywhere and were so far disappointed then this is the place.
Day care centre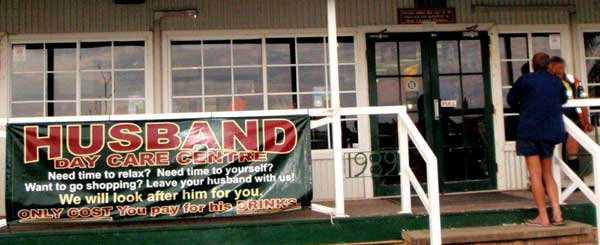 No idea where this is but someone had a good idea......
Einasleigh Hotel

Photo by Katrin Holmsten
If you find yourself in North Queensland go and check out this pub, it is about a 400km. drive inland from Cairns in the middle of f*%#!ing nowhere, on the west side of the Atherton Tablelands, unless the road has dramatically improved lately you will need a four wheel drive. Like Pisa with its leaning tower Einasleigh used to be famous for its leaning town hall, next door to the pub. However one day when the locals were enjoying a few beers after a long hot day of chasing cows and mining gold they heard an almighty crash and when they went to investigate the town hall had spontaneously fallen over! The pub survived as the town hall had narrowly missed it which was lucky as the pub itself was a bit old and maybe not so structurally sound either. A few years later the pub was bought by, appropriately an antique dealer, who set about slowly restoring it to its former glory. As Einasleigh only has 40 residents it relies on the odd few tourists to pass through in the dry season and the Savannahlander train that calls in once a week. Just across the road there is a beautiful gorge where you can swim safely as the only crocodiles here are the freshwater ones. There might still be some real estate bargains to be found here, last time I was there in 1999 a 1000m2 house block in town with power and water was for sale for $500.-
Espanol Hotel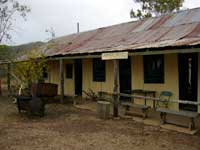 The pub with no beer! On our visit to Chillagoe, a few hours west of Cairns, we spotted the sign "Historic hotel on left" so of course hit the brakes! We were very disappointed to find an abandoned pub, with no publican, and even worse; no beer!
Ettamogah Pub

Exchange Hotel in Muttaburra

Photo by Katrin Holmsten
Goldfields Hotel in Forsayth

Photo by Katrin Holmsten
Lions Den

The Lions Den Hotel in north Queensland
Photo by Rob Lapaer of Rainforest Hideaway B&B, Cape Tribulation
The Lion's Den Hotel is situated on the coastal road from Cairns to Cooktown, about four km. south of where the coast road joins the inland road. You simply can not drive past this one, a stop here is an absolute must to admire the collection of memorabilia and of course to have a cold beer to wash down the dust inhaled on the road. It has been known to happen that one beer led to another, and another, and a few more. Not to worry, they also have some safari tent style accommodation here nestled between the trees if you do get stuck here. More photos of this pub...
Mount Carbine Hotel

Mount Carbine Hotel
(Click to enlarge)
Mount Carbine is one of those middle of nowhere places on the inland road from Cairns to Cooktown in north Queensland, and if you're traveling along this long hot road you just have to stop for a beer at this pub and admire the collection of funny signs and artwork. More photos of this pub...
Post Office Hotel in Chillagoe

Photo by Katrin Holmsten
Purple Pub
Situated in Normanton, western Queensland, on the Gulf of Carpenteria. Very famous and a visit to Normanton would not be complete without a beer in this pub.
Railway Hotel in Ravenswood

Photo by David Guy
Tully Falls Hotel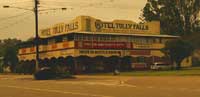 The Tully Falls Hotel, in the town of Ravenshoe in the Atherton Tablelands west of Cairns, is Queensland's highest pub, at an elevation of 916 metres.
Walkabout Creek Hotel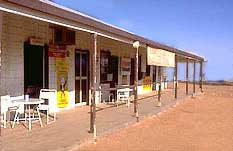 In the tiny outback town of McKinlay, located 104 km south east of Cloncurry you will find the famous Crocodile Dundee pub where part of the movie was shot. It was sold for $290 000 after the movie had been made, renamed from the Federal McKinlay Hotel to the Walkabout Creek Hotel and the current owners maintain the rough and tumble feel of the original, promoting it as the town's premier tourist attraction.

New South Wales
Birdsville

Photo by Alysse Gavlik
Victoria
Come on Victorians, send us some pics of your pubs!
Northern Territory
Daly Waters

Publican Bruce keeps an eye on the fire during a cold winters day.
The Daly Waters pub is a little bit off the Stuart Highway but well worth the short detour. The pub is filled with memorabilia left behind by people from all over the world and is a very pleasant place to rest from the long driving hours and enjoy a few coldies and some food. There is a camping area attached to the pub and just around the corner there is an airstrip, it does not get much traffic nowadays but once it used to be an overnight stop on the London-Sydney flights. More info and pics of this pub....
Grove Hill

Photo by Rob Lapaer of Rainforest Hideaway B&B, Cape Tribulation, N.Qld.
This pub near Pine Creek is well worth a visit but it is not on the Stuart Highway and you need to make a bit of a detour. It has been restored to its previous glory of the 1930s, with added bonuses like electricity and hot running water.
Heartbreak Hotel
Located at Cape Crawford, the only cape in the world over a 100 kms from the ocean. It sits in the middle of absolute nowhere and is located a bit over 100km. from Borroloola, the nearest town. Usually publicans are the ones that break up fights between customers but on one of my visits to this pub in 1999 the publican and his two sons belted the crap out of a miner that had been rooting the publican's missus.
Larrimah

Photo by Rob Lapaer of Rainforest Hideaway B&B, Cape Tribulation, N.Qld.
This pub in the town of Larrimah, Northern Territory, about 700km. south of Darwin, was reportedly built in one weekend. Larrimah that nowadays has only 16 residents was a bit livelier in World War Two when many soldiers were based here. The pub used to stand fifty kms away from its current location but as it was hard to access in the wet season during flooding so the army swung into action and moved the pub to a more convenient spot. It is a good place to call in for a drink and admire the decorated walls full of memorabilia, the Larrimah museum is acrosss the street. Pictured in the photo are Rob Lapaer who submitted this pic and story and now runs Rainforest Hideaway B&B in Cape Tribulation, N.Qld and the pub's dog and the publican in the background.
Nightcliff Hotel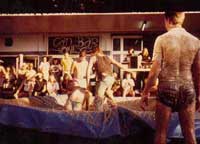 Unfortunately no longer in operation, used to draw in the hungover crowds on Sunday morning with the 'strip and prawn' mornings, followed by a bit of mudwrestling, though when the mud became boring substances were changed weekly like baked beans, pavlova etc.
Also popular were the sunday morning gong shows, someone would get on stage to do an act, sing, play music, whatever and the public could show its level of appreciation by throwing their empty beercans and bottles which were stopped by a large fishing net that was hung in front of the stage. One day though some enterprising individual picked up a rubbish bin and threw all the empties in one go, unfortunately for the people on stage there was also quite a bit of pretty foul liquid in the bottom of the bin that of course went through the net and showered the people on stage. The manager grabbed the microphone and made the announcement that whoever the F#*!ing clown was that F#*!ing did that he that better not F#*!ing do it again as then by the time they would be F#*!ing finished with him he wouldn't have any F#*! arms left to F#*!ing do that again.....
Between the mudwrestling and that incident the floors of the Nightcliff Hotel probably got pretty nasty. Not even a NY cleaning service would have wanted to tackle that floor cleaning job.
Stuart's Well Roadhouse
Stuart's Well Roadhouse, also known as Jim's Place, is located about 100 km south of Alice Springs on the Stuart Highway. This pub is home to Dinky, the singing and piano playing dingo. Whenever the piano is played at Jim's place, Dinkie jumps up on the piano, plays some four pawed notes and howls along with the tune.

Dinky in action
Tasmania
Come on Tasmaniacs, send us some pics of your pubs!
Western Australia

This is about the only W.A. pub pic we have received so far, and you hardly see it because it has a car in front of it! Mind you, the guys in the pub do seem to be enjoying themselves....
Come on sandgropers, send us some more pics of your pubs!
Coolgardie Hotel
The majestic style of the Coolgardie Hotel shows the wealth created in the gold rush days.

Photo by Katrin Holmsten
South Australia
Maree Hotel

Photo by Rob Lapaer of Rainforest Hideaway B&B, Cape Tribulation, N.Qld.
The large square building in the background is the local pub in the town of Maree, a town of around 250 people about 650 km. north of Adelaide.

Photo by Alysse Gavlik
William Creek hotel

Photo by Rob Lapaer of Rainforest Hideaway B&B, Cape Tribulation, N.Qld.
When you travel the backway from the Flinders Ranges to Coober Pedy you come across the metropolis of William Creek which, at the time this photo was taken, boasted a population of two people. Lucky for the publican many tourists stop here for a drink too otherwise his pub might have a hard time surviving. Visit their website....

Photo by Rob Lapaer of Rainforest Hideaway B&B, Cape Tribulation, N.Qld.
Canberra

Parliament House in Canberra
Although Parliament House is not officially a pub, a hell of a lot of drinking goes on in there, and from time to time the media treats us to entertaining reports of misbehaving politicians....
Come on Canberrans, send us some more pics of your pubs!
You know of, (or own) an amazing Australian pub? Then contact us!