Amazing Australian Weather

Australian weather can vary from torrential downpours to sand storms...
Australia is a pretty big country and has some very varied extremes of climates, and this can result in some pretty amazing weather.
At the end of 2010 two thirds of Queensland was covered by floods, while the Perth area was getting scorched by 40 degrees and wildfires and Tasmania had snowfalls! Not much later a third of Victoria was getting swept away by floods too while they are normally in drought that time of year!
The year 2005 was Australia's hottest year on record.
According to the Bureau of Meteorology annual climate summary, 2005 was more than one degree warmer than the average temperature between 1961 and 1990, the world standard used to track temperature change..
These figures have forced the Federal Government to defend its action on climate change and global warming.
Australia and the US were at the time the only developed nations to have refused to sign the Kyoto Protocol, which calls on countries to cut greenhouse emissions by 5.2 per cent below 1990 levels by 2012.
A few years later Kevin Rudd signed it when he became Prime Minister.
This is the current weather around Australia.....
Some national Australian weather facts
Coldest place: Charlotte's Pass in the Snowy Mountains in New South Wales has recorded temperatures as low as minus 22 degrees.
Coldest capital city: Canberra
Wettest capital city: Hobart with 159 rainy days a year, Melbourne in second place with 147 (this only gives the number of rainy days, actual rainfall figures put the cities in different order).
Wettest town: Tully in North Queensland.
Wettest place: Some of the mountains in North Queensland like Thornton's Peak in the Daintree receive up to 11 metres (11000 mm ) a year in rainfall! A city like Darwin which can have phenomenal downpours in the wet season but has long dry seasons too still manages to receive only 1714 mm annually and Sydney 1223 mm.
Australia has its own version of the mad twister chasers in the U.S. ; the Severe Weather Association.
A chilly day in the Northern Territory

In the outback on the border of Northern Territory and Queensland
Normally the Northern Territory is known for its hot weather but one time in June 1999 on a trip from Darwin to Cairns it was so overcast that the sun hardly got through the clouds and the temperature dropped that much that people started joking about a 'nuclear winter'. When we got to the Daly Waters pub for our lunchstop at noon people were crowding around the open fireplace for a bit of warmth! The next day near the border on the most remote stretch of our Darwin to Cairns trip ( see above) it was still that cold that we had lunch inside the bus at midday and I brought the gasburner inside to make coffee. But then it also started raining! No real rain but little spits that just wetted the top of the red dust which would then stick to the tyres and be thrown up into the wheel guards where it stuck like superglue. After a while I had to shift down a gear, then another and finally I started losing the steering as well. I had already noticed that the wheels on the trailer were no longer turning as the mud had filled the wheel arches that were now packed solid with mud holding the tyres firmly in place so we were just dragging the trailer but then the wheel arches on the bus filled up as well stopping the wheels from turning. We stopped and then spent an hour digging the solid sticky clay out of the wheel arches but after we got on the road again it only took ten minutes for them to fill up again! After we had gone through this scenario a few times luckily we got back on a gravel road again.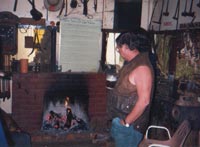 Daly Waters Pub owner Bruce keeps warm by the fire
Photos and story by Rob Lapaer of Rainforest Hideaway B&B, Cape Tribulation
A warm day in Birdsville
THE tiny south-western Queensland town of Birdsville has recorded its hottest January day on record when the temperature hit 49 degrees Celsius on 5 january 2004, but for the locals a few degrees either way doesn't really matter. The weather bureau has tipped more of the same for the following days.
That still does not make this the hottest town in Australia, that honour goes to Marble Bar in the Pilbara region on the west coast, it became famous for its hot weather when in 1923-24, it experienced a world-record 161 consecutive days when the temperature was at least 37.8C
Alice Springs lays claim to being the hottest town by having the highest year round average temperature.
Cape Tribulation rains
In Cape Tribulation, North Queensland, it is not unusual to get as much rain in an hour as a lot of other places get in a year, there have been a few occasions where a metre a day was recorded and up to seven metres a year, and some reports indicate that 2011 dumped a phenomenal eight metres on Cape Tribulation!
In 1996 about 1.5 metre fell in 36 hours causing the Daintree river to rise and flow to the point that the ferrycables broke and the ferry ended up sitting high and dry on the riverbank after the waters went down again.
It is also usual for a dozen or so cars to go down the creeks when people try to drive through the water running over the causeways, the two pics below shows the first one for 2004, this happened in February. (Photos courtesy of Mason's Tours, Cape Tribulation )
| | |
| --- | --- |
| | |
| And this one happened in April 2004: | This one is a few years older and shows the local bus being rescued from Cooper Creek just south of Cape Tribulation: |

In January 2006 the road to Cape Tribulation was damaged by a landslide caused by heavy rains
Photo by Rob Lapaer of Rainforest Hideaway B&B, Cape Tribulation
During March 2004 another phenomenal amount of rain came down causing widespread landslides all along the coast, the highway between Cairns and Port Douglas was cut off and north of the Daintree river there were landslides too numerous to count, the photo below shows one of them on the infamous Bloomfield Track ;

Photo courtesy of Mason's Tours, Cape Tribulation
And in March 2010 the infamous Cooper Creek crossing claimed another victim as you can see on the video below.
The last car to get lost at Cooper Creek was in January 2011, which was vry ironic as a day later the new bridge opened up so this hazard is a thing of the past now, Cape Tribulation finally has year round all-weather access.
Cyclones
Cyclones are a seasonal hazard in northern Australia. They form over the ocean during the summer time/wet season and can build up to phenomenal strength, weather bureaus watch them carefully and a system of warnings is in place to keep residents up to date and give them as much warning as possible. Most towns and cities have offical cyclone shelters for residents who think their house may not be up to strength, even though tough building regulations exist in these areas. Once cyclones hit land they quickly lose strength so are mainly a problem for coastal communities.
Cyclone Ingrid
Cyclone Ingrid formed in the Coral Sea in February 2005 and slowly headed for the north Queensland coast. Wind gusts of up to 290 km/h were reported near the centre and at first it was headed for the Cape Tribulation area but later hit the coast much further north and passed over the sparsely populated top part of the Cape York peninsula without doing too much damage.
But once it had crossed and hit water again on the west side it intensified again and started heading for Darwin. On the way there it ripped through a pearling fleet of six vessels causing more than $1 million damage at Gove, in north east Arnhem Land but instead of hitting Darwin, which had already been wiped out once by cyclone Tracy ( see below), it hit the Tiwi islands north of Darwin with winds of up to 235km/h and torrential rain where it ripped off roofs, knocked out electricity and communications, flung huge trees around, damaged and sunk boats, but remarkably nobody was killed or injured.
Cyclone Larry
Cyclone Tracy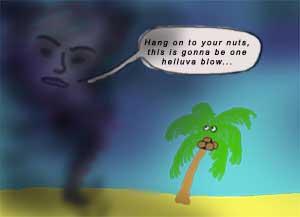 On Christmas Day 1974 the city of Darwin was hit by cyclone Tracy. Normally people are given warnings a long time before a cyclone hits and people get prepared for it but most of the Darwin residents were too busy celebrating Christmas ( with the usual alcohol that Darwin was infamous for) so when the full force of Tracy hit most people were taken by surprise. Countless houses were totally destroyed, numerous ships sunk in the harbour and all communications were cut so the rest of the country didn't even know until a radio-amateur dug some gear out of his cellar and contacted someone in Sydney after which the rescue operation swung into action. As many people as possible were immediately evacuated on some record breaking flights to Adelaide,( planes do not usually have passengers sitting in the aisles). The death toll was not as high as one would expect considering the devastation though there are people that claim lots of bodies were dumped in massgraves and not counted. In the Darwin Museum in the suburb of Fannie Bay there is a big display on Tracy where you can get some idea of the impact of this event, there are photographs of the damage like steel powerpoles twisted like cork screws and someone found his fridge a mile down the road embedded in a watertank several metres off the ground. There is also a sound room where you can get to experience what a cyclone sounds like, a strong warning is posted on the door for people that have actually been through the cyclone to think twice about going in there.
Click here for some chilling eye-witness accounts of cyclone Tracy.
Darwin lightning
In the wet season Darwin receives some incredible lightning storms and photographers have traveled a long way specially to photograph this spectacular phenomena. It is also great for office workers as often after a lightning strike electricity will drop out giving a great excuse to have a coffee and a cigarette and wait for the computers to start working again.
Fish rain
In March 2010 this freak phenomena occurred in Lajamanu, about 550km southwest of Katherine in The Northern Territory.
A local resident who took photos of the fish said that hundreds of small white fish, probably spangles perch, had fallen from the sky and they were still alive when they hit the ground. Lajamanu sits on the edge of the Tanami Desert and is many miles away from the nearest bodies of water, but still it is not the first time this remote community has been bombarded with fish, it has happened before in 2004. The weather bureau said that in a tornado fish and watercan get sucked up very high - up to 60,000 or 70,000 feet.
Floods
Gold Coast hail storm
Most people only picture golden beaches and sunshine when they think of the Gold Coast but in October 2005 a massive hail storm struck the Gold Coast. The area was pounded by a furious storm that dumped hailstones the size of tennis balls which caused a $50 million damage bill.
Learn about the weather


If you want to learn more about weather, forecasts and meteorology visit this education page at www.bom.gov.au
Morning Glory
The tiny Queensland outback town of Burketown is home to a phenomenon only found in one other place in the world ( the Gulf of Mexico); the Morning Glory. Towards the end of the dry season this strange cloud formation will form and like a giant tube will roll over the town.
Sandstorms
In the outback there are sometimes sandstorms so huge that the entire east coast of Australia disappears in to a mist, in 2009 places such as Sydney turned red and even New Zealand got a dusting!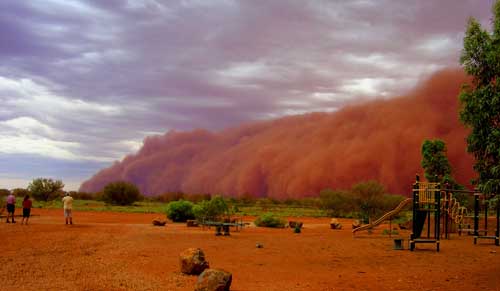 Sydney hailstorm
On 14 April 1999 the eastern suburbs of Sydney were struck by an unprecedented severe hailstorm causing extensive damage estimated of the order of $1Billion, making it possibly Australia's costliest ever natural disaster. The storm was also highly unusual in meteorological terms, it produced some of the largest hail ever recorded in Sydney and occurred at a time of year when severe thunderstorms are normally rare. Hail stones of 9cm in diameter hammered down on the eastern suburbs for five and a half hours. Chaos reigned, roofs of houses had been smashed and there were not enough tarpaulins in Sydney to cover them all up. Some home owners had to wait up to a year to get their roof fixed as there were just not that many roof tiles in Australia to replace all the smashed roofs, tradesmen had to be flown in from all over the country. Car owners faced a long wait for new windscreens as they had to be manufactured or imported as demand far exceeded the stocks held in Australia. If the car was worth fixing that was, many cars were just written off alltogether.
Willy willy
If you do some traveling through the outback you are bound to see at least one of those; a dust-gathering, spiralling wind that occurs from time to time in Australian deserts and the outback, basically a mini-tornado but small enough to be harmless.

Have you experienced some amazing Australian weather? Then contact us and send us your pics!!