About Broome - Accommodation - Tours and what to do - Transport and car hire - Photos - Map
Tours and what to do in Broome
Famous Cable Beach stretching for miles around Broome
Photo by Katrin Holmsten
Broome offers a few things to do and a number of interesting tours, such as four wheel drive tours to Windjana Gorge and sunset camel rides, walk the Heritage Trail, see some crocodiles or watch the Staircase to the moon if you happen to be in Broome at the right time.
The town has some very interesting things to explore thanks to its very colorful history which is still evident in its historical buildings.
A night at the movies
The Sun Pictures building in Carnarvon Street was built in 1916 and is considered to be the oldest open-air cinema in the world. It still screens movies and is a very pleasant and interesting way to spend an evening in Broome.
Afternoon tour & sunset camel ride on Cable Beach
Camel ride


Cable Beach
Photo by Katrin Holmsten

A great afternoon tour taking in the highlights of Broome providing an insight into the heritage of this charming town and the colorful lifestyle locals enjoy. The first highlight is Chinatown where you will hear fascinating stories of this colorful precinct. You will call into a pearl jewelry shop and enjoy a historical sound show at the famous Sun Pictures, the world's oldest operating open-air picture garden. Then a drive through Old Broome will show you the typical Broome architecture and old Pearling Masters homes, then continue on to view the aqua waters of Roebuck Bay at Town Beach and learn of Broome's 'One Day War'. Afterwards, visit the Japanese Cemetery, and travel on to the Port, the base for many of today's Pearling vessels. Travelling by Riddell Beach and the Broome Race Course, take an easy paced walk at Gantheaume Point. Here you will discover Broome's significance as an archaeological site for dinosaur research and hear the story of Anastasia's Pool. You will then join a 4WD and be driven down onto Cable Beach to view a magical sunset from the back of a camel as you experience the famous Cable Beach Sunset Camel Ride.
More info....
Beaches
One of the most favorite pastimes in Broome is to head for the beach!
Sunbathe on Cable Beach or go for endless walks, and then in the evening watch the magical sunsets over the ocean with a cool drink, or go for a sunset camel ride!
The northern end of the beach is accessable by fourwheeldrive, and has a small nudist section.
At the end of Cable Beach there is a lovely rock pool called Anastasia's Pool, some spectacular looking cliffs at Gantheaume Point, and also some dinosaur footprints set in the cliffs.
On a full moonnight go to Town Beach where at a low tide you will see Broome's 'Staircase to the Moon' Roebuck Bay is another popular beach, a very important rest stop for migratory wading birds.
Eighty Mile Beach is a beautiful long white sand beach located about 50 km south of Sandfire Roadhouse.
It is well worth a visit and you can stay here too at the caravan park. It is a nice clean beach now but in 1887 it looked a bit different, a cyclone had struck the Broome pearling fleet and the beach was littered with 140 dead pearl divers and debris of the battered ships.
Broome Bird Observatory
The Broome Bird Observator is located near Roebuck Bay, there are various observatory trails around the area, you could spot any of 49 species of waders and 22 species of birds of prey on your walk here.
Broome Heritage Trail
A great way to learn about Broome's fascinating history is the Broome Heritage Trail. Don't forget to visit Chinatown, which is the old part of Broome, located around Carnarvon Street.
Broome Historical Museum
If you're interested in the colorful history of this town visit the Broome Historical Museum in Saville Street. It has an interesting collection of memorabilia from the town's early pearling days.
They also have an interesting publication called The Broome Heritage Trail brochure, a guide to some of Broome's more unusual historical attractions.
Crocodiles and other animals
The Crocodile Park and Pearl Coast Zoo are located on Cable Beach Road near the Cable Beach Resort.
The crocodile park is both a research station and a place where the public can learn about crocodiles. The crocs in this park are mainly 'problem' animals which have been captured in other places in northern W.A.
The Pearl Coast Zoo is a well designed environment with emphasis on animals of the local Kimberley region.
Four wheel drive safaris

Geikie Gorge
© WA Tourism Commission
Considered one of the great marvels of the Kimberley, Geikie Gorge has long been one of the most visited icons of the region. This journey is brought to life with a memorable Aboriginal cultural tour that will leave you with a great respect for the people and the prehistoric geology surrounding this treasured gorge. More info on this tour....

Cape Leveque
© Australian Pinnacle Tours
Experience a 4WD adventure to the remote wilderness area of Cape Leveque. Visit the Beagle Bay and Lombadina Aboriginal communities to met the locals and perhaps purchase their arts and crafts. The days highlight is the unspoilt beach haven of Cape Leveque, where you have free time to swim, relax and explore its tranquil beauty. More info on this tour....
You can also combine this tour with a flight to appreciate the ruggedness of this landscape from the air, more info...
10 Day Gibb River Road Loop from Broome - Experience incredible scenery, Aboriginal Art, and Kimberley Wildlife. For those with limited time this tour will sample the unique Kimberley. Explore the Kimberley's ancient mountain ranges, gorges and rivers as you travel the heart of the Kimberley. Highlights include; Windjana Gorge, El Questro, Tunnel Creek, Bells Gorge & Geike Gorge. More info and reservations....
11 Day Broome to Darwin - Departs from Broome and travels via Kununurra, Bungle Bungles, Fitzroy Crossing, Gibb River Road, Halls Creek, El Questro Station, Edith Falls and Katherine Gorge. More info and reservations....
9 Day Broome to Perth - Departs from Broome and travels south along the Great Northern Highway through vast desert landscapes to Perth via Shark Bay, Exmouth, Karijini, Monkey Mia, Pinnacles Desert, Kalbarri, Coral Bay, Denham, Geraldton, Cervantes, Ningaloo Reef and Carnarvon. More info and reservations....
Windjana Gorge

A day experiencing inland Kimberley. Three of the Kimberley's well known icons, The Prison Boab Tree, Windjana Gorge and Tunnel Creek leave you with a great insight into this fascinating part of outback Australia.
Your journey begins by heading north to Willare Bridge, crossing the mighty Fitzroy River and on to one of the Kimberley's most famous landmarks, the Prison Boab Tree, once used to house convicts. Whilst here you will get to view Myall's Bore, a 120 meter long trough built in the early 1900's used to water up to 1,000 head of cattle at one time. Leaving the coast, you will travel inland along the famous 'Gibb River Road', once used as the main stock route for the region, before turning off to the pre-historic Windjana Gorge, regarded as one of the classic features of world geology and a great freshwater crocodile spotting site. Departing the gorge, you will head to Tunnel Creek, an amazing 750 metro long flooded tube tunnel. Take an exciting walk through the tunnel wading through knee to thigh high water (in some sections) and hear the story of Jandamarra .
More info....
Japanese Cemetery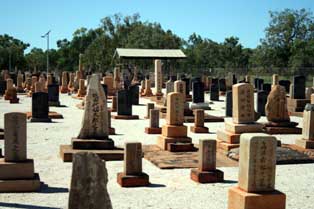 The Japanese Cemetery at Broome was established in the very early pearling days around 1896. Hundreds of young Japanese divers died from the bends, drowning, or shark attack. A monument in the cemetery stands to remember those who drowned at sea in a major cyclone in 1908 . There were more cyclones in 1887 and 1935 in which at least 140 men died in each of them. The cemetery counts over 700 graves adorned with interesting headstones of coloured beach rock. You will find the cemetery on Port Drive on the way to Cable Beach.
Staircase to the moon
This is a monthly event where during low tide the rising moon's light gets reflected off the wet mud and pools of water off Broome's Town Beach, giving the appearance of a staircase.
About Broome - Accommodation - Tours and what to do - Transport and car hire - Photos - Map