Search for a specific Australian tour or location on Viator.com, they are an international online tour booking service with a huge range of tours inMelbourne and all Australia that you can browse and securely book online, avoid the queues!

Tours To Go is an Australian online tour specialist with a huge range of thousands of Australian tours, attractions, experiences and things to do from a wide range of tour operators and it puts them all at your finger tips in one user friendly website!

Search, compare and book online and enjoy instant confirmation! You can ask questions directly to the tour operators, create itineraries and generally build your holiday touring experience by selecting from Australia's best touring and experience options.
Annual events in Melbourne
South Australia uses to call itself the Festival State but Melbourne has an impressive number of festivals too. If you're there at the right time try to catch some of these events;
Australian Open - if you're a tennis fan catch this one in January at the Melbourne Tennis Centre.
Chinese Newyear - you haven't seen Newyears celebrations until you've been to Chinatown to see how the Chinese do it.
Formula One Grand Prix - held early March at the Albert Park circuit.
Grand Final - on the last Saturday in September the Australian Football League (AFL) comes to an end with the Grand Final,
International Comedy Festival - held every April.
International Film Festival - stars in July.
Lygon St. Festa - an Italian festival held in November in Carlton, lots of food and music and a waiters race.
Melbourne Cup - first Tuesday in November, this is a major event, see further down this page for more info.
Melbourne Food and Wine Festival - lots of Eating & drinking to be done the last two weeks in March.
Melbourne International Festival - this kicks off in October and actually includes several festivals with the cream of arts, music and a big streetparty on Brunswick Street.
Melbourne Music Festival - loads of music every February.
Midsumma Festival - gay and lesbian festival from late January to early February, not a bad party but no match for Sydney's Mardi Gras.
Moomba - a ten day festival in early March, very big and lively.
Jazz Festival - held every January, a must for jazz music fans.
Queer Film and Video Festival - films and videos produced by gay artists.
Royal Melbourne Show - held in September at the showgrounds in Flemington.
St. Kilda Festival - a whole week of arts, culture and food every february.
St. Kilda FIlm Festival - Australian made films and videos, held every May.
Beer Brewery Tours
Victoria offers many unique beers produced by independent microbreweries. Unfortunately these beers can be difficult to source and the microbreweries themselves are open irregular hours if open to the public at all!
Scruffy Bunch gives you a VIP pass into the wonderful world of Victorian microbreweries and access to tasting many award winning craft beers and meeting the people who brew them!
Some of the Microbreweries visited include: 3 Ravens, Buckley's Beer, Hargreaves Hill and Coldstream Brewery.
Scruffy Bunch Microbrewery Tours include tastings with red nosed master brewers, a big lunch, private minibus transport and a knowledgeable guide for the day!
Scruffy Bunch Microbrewery Tours run every Saturday and leave Melbourne between 9:30 and 10 AM and return by approx 5 PM. Pick up and drop off can be arranged from the CBD. More info and reservations....
Bruno's Art Sculpture Garden in Marysville
Marysville is located north east of Melbourne and is easily reached with a hirecar in a couple of hours, which is a pleasant drive combined with the Dandenongs.
Bruno Torfs was born in South America but moved to Europe and then on to Australia where he set up home in Marysville.
He found the luscious sub-alpine forests here the perfect place to build a sculpture garden, originally it opened with only 15 sculptures but it expanded in to more than 200 and Bruno is still making regular additions.
The unique experience of the garden and its wondrous inhabitants attract many visitors each year. Bruno and the family still live there and always take great pleasure in being able to share their magnificent art treasure with all that come.
Unfortunately in the 2009 Black Saturday bushfires the forest and many sculptures were destroyed but many of Bruno's friends got together to help restore the gardens and the gardens have been re-opened. More info on his website.
Captain Cooks' cottage

Cook's Cottage
Inside the historic more than 150 years old Fitzroy Gardens sits Cooks' Cottage.This is the original house in which James Cook was brought up. The house was taken apart in England and, brick by brick, reassembled in Melbourne and refurnished as it would have looked in 1750.
Here you can learn all about Captain James Cooks' life, his amazing voyages and his tragic death in Hawaii.
You can get a taste of what life was like in the eighteenth century as you walk through this double-storey cottage and the traditional English cottage garden. This park also includes the 1930 Conservatory displaying magnificent indoor flora.
This attraction is included in the Smartvisit Card.
City tours around Melbourne
Discover Melbourne's many highlights on a guided city tour. See such famous landmarks as the Queen Victoria Market, Melbourne Arts Center, Parliament House, the MCG and much more. Discover the world class shopping and acres of parks and gardens!
Another way to see all the sights around Melbourne in an affordable way is to buy the Smartvisit Card !
Valid for two, three or seven consecutive days, the See Melbourne Card includes entry to over 35 attractions as well as transport on Melbourne's buses, trams or trains for the selected period.
Alternatively, you may choose the Melbourne Five in One Attraction Pass. With the Five in One Attraction Pass, you can visit five of Melbourne's top attractions within a 3 month period. There are 20 attractions to choose from including the Melbourne Aquarium, Eureka Skydeck and the Royal Melbourne Zoo. Please note: The Five in One Pass does not include any transportation.
Your card comes with a free full color 128-page Melbourne Guide. This guide includes helpful information about each attraction, opening/closing times, as well as some insider tips!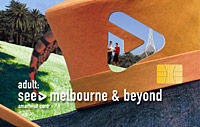 Attractions covered by the See Melbourne and Beyond Smartvisit Card include*:
* Arthur's Seat Maze
* Ashcombe Maze & Water Gardens
* Ballarat Aboriginal Cultural Experience
* Ballarat Fine Art Gallery
* Ballarat Wildlife & Reptile Park
* Brambuk Aboriginal Cultural Centre
* Burrinja Gallery
* Cape Otway Centre For Conservation Ecology
* Cape Schanck Lightstation
* Carlton Brewhouse and Brewery Tour
* Champions: Australian Racing Museum and Hall of Fame
* Churchill Island
* Como Historic House & Garden
* Cooks Cottage
* Eureka Skydeck 88
* Federation Square Tour
* Flagstaff Hill
* Ford Discovery Centre
* Gold Treasury Museum
* Grayline City Tour
* Gulf Station
* Gum San Chinese Heritage Centre
* Healesville Sanctuary
* Immigration Museum
* Koala Conservation Centre


*Little River Earth Sanctuary
*MCG Tours
* Melbourne Aquarium
* Melbourne Museum
* Melbourne River Cruises
* Melbourne Zoo
* Moonlit Sanctuary
* Moonraker Cruises
* National Wool Museum
* Old Melbourne Gaol
* Penguin Parade and Visitor Centre
* Point Nepean Mornington Peninsula National Park
* Rippon Lea Estate
* Royal Exhibition Building
* Scienceworks & The Melbourne Planetarium
* Sovereign Hill & The Gold Museum
* Shipwrecked - Sound and Laser Show
* The Arts Centre
* The Briars Park
* The Eureka Centre
* Tower Hill State Game Reserve
* Werribee Open Range Zoo and Park
* Werribee Park Shuttle
* William Ricketts Sanctuary
Discount tours in Melbourne
Eating and drinking in Melbourne
A lot of eating and drinking happens in the cafes in the lanes of Melbourne's city centre
Melbourne with its multicultural population offers a sensational variety of food and drinks.
Your choices range from world class restaurants to $5.- curries in Indian takeaways.
Some of the most popular areas to eat include the lanes in the Melbourne city centre (pictured above), Chinatown for Asian food, Lygon Street for Italian food, and some of the special themed eating choices shown below.
Here are some suggestions on where to eat and drink in Melbourne, and a couple of suggestions that are just a little bit different:
Federation Square
The Cultural Precinct of Federation Square
Federation Square is Melbourne's cultural precinct and a popular meeting place for Melburnians.
It is centrally located only steps away from Flinders Street Station and here you will find the tourist information, bicycle hire, cafes, galleries, cultural events, etc. Check out their website to see what's going on now.
Flinders Street Railway Station

Flinders Street Railway Station
Flinders Street Railway Station is the oldest railway station in Australia, it was built in 1910 , but another railway station consisting of a group of weatherboard sheds known as the Melbourne Terminus opened on this site in 1854.
You will find this historic landmark at the corner of Flinders and Swanston Streets
Flinders street is the busiest suburban railway station in the southern hemisphere and in 1927 was the busiest in the world, also its 700 metre main platform is the longest in the country.
The station is also a popular meeting place for Melbournians, they will say to you; "meet me under the clocks", referring to the clocks above the main entrance.
Gardens

One of Melbourne's many gardens
Victoria was not called the Garden State for no reason, you will find gardens and parks eveywhere!
The 180 hectare Royal Park is the biggest inner city park covering over of land, located only a short tram ride away from the city centre. Many sporting event are held here and the park offers great views of Melbourne's city skyline.
Princes Park on Royal Parade Road is another famous park, thanks to the Melbourne Univesity being nearby you will see lots of students here. The Big Day Out music festival is held here every year and major tennis and cricket games are held here.

Melbourne Botanic Gardens
The Melbourne Botanic Gardens are considered to be the best in Australia so this is a must do on your list!
The picturesque setting in South Yarra of the Royal Botanic Gardens of Melbourne extends over 36 hectares and displays more than 50,000 plants. Diverse plant collections, year-round events, unique tours, and a reputation as one of the world's finest gardens has made the Royal Botanic Gardens one of Melbourne's most popular tourist attractions.
Free entry and free guided tours are another bonus! More details here...
Go to jail!
Just for the day, that is. The Old Melbourne Gaol is an impressive yet gruesome building built of bluestone in 1841.
This is where legendary bushranger Ned Kelly was hanged and you can still see some relics of this, though his head was stolen a few years ago. This attraction is open daily and included in the Smartvisit Card.
Goldrush tour

Sovereign Hill
© Tourism Victoria
GOLD… GOLD… GOLD! The goldrush played an important role in shaping Melbourne into what it is today. Experience the heady days of Australia's goldrush era on a private tour. Travel to Ballarat and Sovereign Hill, a replica of an old-gold mining town, where you can pan for gold, explore an underground mine, watch a gold ingot being poured and much more. Also visit the Ballarat Wildlife Park to see some of Australia's native animals. More info....
Grampians National Park

Grampians National Park
© Australian Pacific Touring
Renowned for rugged mountain ranges and stunning wildflower displays, the Grampians National Park is one of Victoria's most popular visitor destinations. See kangaroos and emus in their natural environment. View spectacular waterfalls cascading down cliff faces. More info…
Great Ocean Road

A tour from Melbourne along the Great Ocean Road is a must do
The Great Ocean Road is without a doubt one of the world's greatest coastal drives with its dramatic scenery of striking contrasts. The region boasts powerful seas, golden beaches, peaceful townships, giant cliffs and lush forests. A visit to Melbourne is not complete without a drive along this coast. While you can drive your own car along this coast the advantage of a tour is that you can enjoy the scenery and do not have to keep your eyes on the road. Your tourguide will tell you the the legends of the 'Shipwreck Coast' and treat you to traditional Aussie billy tea. More info on this tour...
Hot air ballooning
Immigration Museum
Nowadays international travel is pretty comfortable and on the internet you can research everything before you get there, but the Melbourne Immigration Museum shows you what immigrating was like in the early days of Australia.
There was not even the option to get a visa before you left home, you simply jumped on the ship and if you survived the perilous journey of several months you could still get refused after landing in Melbourne and sent back!
The museum is located on 400 Flinders Street , a five minute walk from Flinders Station and the free City Cirlce Tram stops here too. This attraction is open daily and included in the Smartvisit Card.
Markets in Melbourne

Queen Victoria Markets
The Queen Victoria Market has been running since 1878 and includes several historic buildings, needless to say it is high on the agenda for most visitors to Melbourne.
Wander around the seven hectares of cosmopolitan shopping with a thousand traders by yourself or go on one of the tours that are run here for a more in-depth look at things.
There is an amazing variety ot things for sale, and when you have seen enough vegetables, clothing, etc. then head to the wine market for some sampling...
This attraction is included in the Smartvisit Card or you can get here on the free City Circle Tram.
From November to February there are also night markets. Note that opening hours vary from day to day, and the market is closed on Monday, for up to date opening hours check their website.

Other markets in Melbourne:
The Esplanade Arts and Crafts Markets are held on Sundays.
The Camberwell Sunday Market is also very popular for browsing through the trash and treasure.


Queen Victoria Markets
Melbourne Aquarium
See the Barrier Reef without even leaving the city! Inside the Melbourne Aquarium there is a floor to ceiling coral tank. Take a journey through four amazing worlds: Antarctica, Weird & Wonderful, River to Reef and Sharks Alive at the must-see Melbourne Aquarium. Experience Australia's only sub-Antarctic penguins as they swim and play on the ice. Plus discover thousands of other aquatic animals including ghost-like jellies, massive rays, enchanting seahorses and fearsome sharks. With daily animal feeds and diver presentations adding to the adventure, the award-winning Melbourne Aquarium is an aquatic wonderland for all ages to enjoy.
Melbourne Cricket Ground and other sporting places
If you're a sports fanatic this is a must do on your itinerary. Better known as the MCG or simply the G it is a great sporting venue and has hosted many great events since the first cricket test match was played here in 1877. It played a central role in the 1956 Olympics. Every year on Boxing Day tens of thousands of people head for the MCG for the first day of the international cricket test match. Plenty of other Aussie Rules Football games throughout the year also pull in crowds of up to 80,000 people.
Melbourne Cup
Visiting in November? Great timing! On the first Tuesday of November the entire country grinds to a halt when at 15.20 in the afternoon the whole of Australia focuses on Melbourne when a group of horses thunder down a 3200 metre stretch at the Flemington race track in an effort to win the Melbourne Cup and billions of dollars in gambling money changes hands around the country. Most Aussies will take at least half the day off to place their bets, have plenty to drink and just enjoy the excuse to stop work for the day because of this event that actually only runs for about three and a half minutes. A ticket will set you back about $100.-
A very popular and easy way of betting on the Cup is the office sweep where everyone just puts in five dollars and gets allocated a horse at random with the money being divided between the winner and the two place getters, this way it does not matter if you don't know anything about horses or the way the betting works and you still get the adrenaline rush of hoping to win and have a great excuse to take time off work to follow the race (with a few drinks of course).

If you are a tourist traveling in Australia do not expect any mechanic to fix your car this afternoon, a huge array of services normally available in a western country will disappear during this day so it is best to plan ahead, stay put and join in the fun.
The Melbourne Cup is a long time tradition, the inaugural running of the Melbourne Cup was held in 1861. There were 17 starters and a crowd of around 4000 watching the race for the coveted prize - not a cup, but a hand - beaten gold watch and 170 pounds. The eventual winner, Archer, had been walked to the track from his stable in New South Wales, a distance of 500 miles (800km). Archer raced again to win his second successive Melbourne Cup the following year, and cement the first place in Melbourne Cup lore.
A horse still remembered today is Carbine who ( with a "huge" 66 kg. jockey) ran the distance in a record 3 minutes and 28 seconds in 1890.
Still his fame is nothing compared to Phar Lap who, out of 51 races in his career, won 37, one of them the 1931 Melbourne Cup. This horse gained so much fame that after dying in Mexico his heart was preserved and is now held at the National Museum in Canberra, his skeleton in a museum in New Zealand and his stuffed skin in the museum of Victoria in Melbourne.
Melbourne Museum
A huge collection of Australian animals in the Melbourne Museum
Things to see in the southern hemisphere's largest museum include the preserved body of legendary racehorse Phar Lap, an Aboriginal Centre, a living forest gallery and the Australian gallery. There is also a cafe and an IMAX Theatre in this building.
This attraction is included in the Smartvisit Card.
Melbourne Observation Deck

View from the top
© Melbourne Observation Deck
The Rialto Towers in Melbourne is the tallest office building in the southern hemisphere and from the 232 metre high observation deck you get an awesome 360 degree view of Melbourne.
The deck also has a licenced bar and restaurant for lunch and dinner.
Melbourne Zoo

Baby elephant born at Melbourne Zoo
The Zoo in Melbourne was the first to be established in Australia and is one of the oldest in the world.
With more than 320 species on display, Melbourne Zoo offers a window into the diversity of the world's wildlife.
Visiting the Zoo is an opportunity to get back in touch with the wonders of nature – only 4km from the city centre.
Every animal at Melbourne Zoo is an ambassador for its wild cousins, and there are many education, research, and conservation projects underway. The botanic garden setting provides a relaxing atmosphere with a variety of landscapes, from the Victorian-era formality of the main drive to the lush jungles of the African and Asian rainforest areas.
More info on the Melbourne Zoo...
One way tours out of Melbourne
18 Day Melbourne to Darwin Safari - Departs from Melbourne and travels via Ayers Rock (Uluru), Alice Springs, Adelaide, Great Ocean Road, Flinders Ranges, Kata Tjuta (The Olgas), Otway Ranges, Coober Pedy, Kings Canyon, Wilpena Pound, Grampians, Bells Beach, Kakadu National Park, Katherine Gorge, Litchfield National Park, Clare Valley, Mary River Wetlands, Ubirr, Jim Jim Falls, Tennent Creek, Halls Gap, Port Augusta, Lorne, Apollo Bay, Yourambulla Caves and Quorn, MacKenzie Falls, Warren Gorge and arrives in Darwin. More info and reservations....
6 Day Melbourne to Sydney - Take a walk on the wild side with this 6 day adventure trip along the coastal stretch between Sydney and Melbourne to encounter glorious scenery and wildlife, picturesque countryside and heritage villages.
It's an unspoiled area of pristine beaches and headlands, coastal lakes and estuaries, small settlements and fishing villages, historic reminders of gold mining and whaling days, shipwrecks and maritime museums, mountains that seem ready to fall into the sea, and Aboriginal cultural sites that attest to strong continuing traditions.
It was the first part of the Australian mainland sighted and charted by Captain Cook in 1769-1770 as he turned north towards Botany Bay. Much of it has been included in a series of marine reserves and national parks and has some of the best opportunities in Australia for sighting a variety of marine life, birds and animals.
The area is rich in natural and cultural heritage, and is inhabited by laid-back, friendly locals who are only too keen to share their good fortune with visitors.
Highlights of your journey through this landscape include:
Grand Pacific Drive and Sea Cliff Bridge - Jervis Bay (world's whitest sand) – whale and dolphin watch cruise – national parks of the South Coast – Montague Island cruise (seal colony and whale watching) – historic Eden – Twofold Bay whaling heritage – Eden Killer Whale Museum – lighthouse tours – Bataluk Culture Trail – mouth of the Snowy River – Krowathunkooloong Aboriginal Cultural Museum – headland walks in Victoria's eastern coastal parks – Gippsland Lakes cruise – Ninety Mile Beach – Phillip Island Penguin Parade. More info and reservations....
Penguin Parade on Philip Island
One of the most popular things to do in Melbourne is to go and see the penguins on Philip Island. You can drive there yourself but you can also go on a guided tour to Phillip Island Nature Park to see the little fairy penguins coming home from the sea, koalas high in the treetops and the spectacle of thousands of Australian fur seals swimming and lazing in Seal Rocks.
Puffing Billy

Puffing Billy Steam Train
© Australian Pacific Touring
Journey into the properous heart of picturesque wine country, to the Yarra Valley. En-route ride aboard Australia's oldest steam train, the Puffing Billy. Meander through the scenic mountains and valleys, arriving at Fergusson's Winery. Enjoy lunch and the company of local winemakers. More info....
Snow sports
Yes, just in case you thought all of Australia was warm and tropical, you can actually ski in Victoria!
St. Kilda

The Esplanade Hotel in St. Kilda
The Esplanade of St. Kilda is a great place for a stroll, bike ride, roller bladeing, you name it.
The Esplanade Hotel, locally known as The Espy, is always a great place for a drink or a meal, and to see live music.
You can take a boat cruise from here to go and see a fairy penguin colony or go on a sunset cruise with barbeque and drinks. The rest of St. Kilda has gone through a few changes over the years, from fashionable seaside resort to seedy junkie, hookers and drugs scene, to the current situation where the seedy side and the more affluent side mixes. A colorful area but not always the safest place to walk around by yourself at night.
Yarra river
The Yarra has a nickname as ' the river that flows upside down' , this refers to the water being not too clear but it is just mud rather than pollution. You can enjoy this river by walking along it, hire a bike and go for a ride on the many bike paths or get on a boat cruise. In the upper parts of the river there is some rapids for some good canoeing.
William Rickett's Sanctuary

Amazing sculputures in a mossy rainforest setting in the Dandenongs
Situated in the Dandenongs in a ferny glade, William Ricketts Sanctuary is a place of beauty and tranquillity, due both to the natural setting and the mystical sculptures half hidden among ferns along the pathways. It is a place for quiet reflection and for contemplation of the essence of the vision of William Ricketts. Many travel across the world to visit this place time and time again.
In the 1930s, William Rickets bought a four-acre bush block on Mount Dandenong and called it Potter's Sanctuary.
Word spread about the extraordinary sculptures that began to adorn the property. In time, the Victorian Government heard about his work and, in the early 1960s, the land and adjoining blocks were bought for the people. William Ricketts lived on at the Sanctuary into his nineties and continued to create his sculptures until his death in 1993.
Access is via Mount Dandenong Tourist Road, Mount Dandenong (Melway ref: 66 G1). A bus runs from Croydon Station.
The Sanctuary is open from 10:00 AM to 4:30 PM daily (except Christmas Day). The sanctuary can also be closed to the public due to dangerous weather conditions, high fire risk or for major works.
To get here you can either rent a car, or use the Smartvisit Card
Wine tasting
The Yarra valley is not far from Melbourne and has many good wineries producing excellent wines. Touring the wineries and sampling the wines is great fun but unfortunately drinking and driving don't make a good combination, fortunately there are tours that can chauffeur you around all the best wineries and get you home safely.