The first European people to explore the Mission Beach area were Edmund Kennedy and his party, they landed just south of Mission Beach in 1848. This was where they started their ill fated journey up to Cape York, Kennedy was speared to death by Aborigines later on this journey. They were followed by settlers who established crops such as coconuts, coffee, mangoes, bananas and a timber mill. In 1914 the Queensland government set up an Aboriginal mission at South Mission Beach to house the remainder of the local indigenous population. A powerful cyclone hammered the area in 1918 in which this mission was destroyed but its name remains till today and this is where the area nowadays owes its name to. In the 1980s the area started changing from a sleepy beachside settlement to a popular holiday destination.
Mission Beach's most spectacular animal would have to be the cassowary, up to two metres tall, covered in coarse black double stranded feathers, and with brilliant colors of red and blue on its neck and head. This elusive flightless bird is highly endangered and lives only in the Wet Tropics area of North Queensland, another patch of remote rainforest high up on the Cape York peninsula, and New Guinea.
The cassowary (Casuarius casuarius johnsonii) has been wandering around this planet since before the super continent Gondwana broke up in to several continents, and they have relatives in several distant continents. They belong to a family of birds called ratites and are related to the Emu, the Ostrich, the Kiwi (though there is a dramatic difference in size) and the South American Rhea - a little known bird that resembles a small emu and runs around plains in Patagonia. They are also related to the now extinct Moas of New Zealand and the Elephant Bird of Madagascar. In New Guinea there are two other species of cassowary too but in Australia the only species is the Southern Cassowary. More about the cassowary...
Cassowaries like to chase people so if you come face to face with one do not turn your back and run, this will encourage him to chase you and you can run for miles, the bird can do 50km/h so you are not going to outrun him anyway. Back off slowly, hold something in front of you, go behind a tree or raise your arms up to look taller. Most people that report cassowary attacks have simple been chased for some distance, if the bird did not catch up with you it means he was not even trying to catch up! More on cassowary attacks...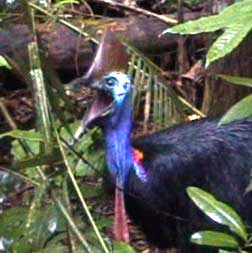 Annual events
Mudfest - usually held in June, a music and dance festival with various arts and crafts stalls.
Accommodation in Mission Beach
Mission Beach Bed and Breakfast
Hibiscus Lodge Bed and Breakfast, - Hibiscus Lodge is a colonial Queenslander set on 2.5 acres of tropical gardens surrounded by rainforest with the beautiful Mission Beach just a five minute walk away.
Tropical Escape Bed & Breakfast - Luxury B&B on 1.5 acres of rainforest and tropical garden. Walk 8 mins to pristine beach via shady beach access track. Pool, BBQ, 2 lounge areas with pool table & bar. Walk to shopping village, pub and restaurants. Not suitable for children
Licuala Lodge

Licuala Lodge is an award winning timber pole house set in the peaceful and tranquil township of Mission Beach. They have a great swimming pool, guest accommodation is separate to the main house, and they serve a famous 'All you can eat Breakfast', and included in the tariff are complimentary drinks - tea, coffee, soft drinks and BEER - how good is that !! More info....
Mission Beach backpackers accommodation
Scotty's Beach House

Scotty's Beach House is the only hostel on the beach with a bar and grill. Relaxing hammocks in a garden setting with the largest pool in town, great music playing in the open yard makes it easy to meet new people. For the people that like to party, our adjascent bar and grill offers excellent meals at discount prices and happy hour that offers $4.50 jugs of beer and $1 glasses of wine. For people that wish to have a quiet one, our 24 hour kitchen and 24 hour television room are ready for you. No matter who you are, how old you are or what you want to do, Scotty's Beach House is the place for everything.
More info and online reservations....
Mission Beach camping
Hideaway Holiday Village - Porters Prom
Beachcomber Coconut Village - Kennedy Esp South Mission Beach
Dunk Island View Caravan Park - 175 Reid Rd

Mission Beach Eco Lodges
Sanctuary at Mission Beach

Sanctuary at Mission Beach is an affordable accredited rainforest eco-lodge at Mission Beach, North Queensland, Australia, half way between Townsville and Cairns. Set on 18 hectares of lush tropical rainforest overlooking the Coral Sea, Sanctuary is as much a refuge for travellers as it is for wildlife. Blessed with an abundance of nature, there is much to see and do in Mission Beach. The closest mainland point to the Great Barrier Reef means that travel times are shorter and with only two reef boats, your experience of this amazing natural wonder is shared by only a select few. Just offshore are many deserted islands to sail or sea-kayak to and explore, most of which are protected National Parks.


Mission Beach

Visit website for more info....

Phone 07 - 4088 6064
Transport to Mission Beach

You can get to Mission Beach by bus, Adventure Tours Australia includes Mission Beach on its stops between Cairns and Sydney on the 14 day bus pass.
Unless you live in north Queensland you will have to fly to the nearest international airport Cairns first, or to Townsville airport.
If you are already in Australia then go to our page Cheap Domestic Flights in Australia for a good choice in cheap domestic airfares to Cairns and Townsville.
If you are still in your home country then you will need to get an international flight to Cairns, but be aware that although Cairns is an international airport, not too many airlines go straight in to Cairns, you will usually have to fly via Brisbane or Sydney.
ZUJI is an online travel agent with offices throughout the Asia Pacific region, offering you a choice of more than 400 airlines and 60,000 hotels, as well as car hire and travel insurance.
Feel more comfortable to book your airfares to Cairns online with a travel business from your own country that you know and trust?
Then choose your home country here:





Transport around Mission Beach
Getting around the Mission Beach area is easy, the Mission Beach Bus Service does a regular run around the area and there are bicylces for hire. You can reach Mission Beach from Cairns with Coral Reef Coaches, and other companies like Greyhound stop here on their route along the east coast.
There is a wide choice of car rental companies where you can book your car or campervan online to be assured of a car on your arrival in Mission Beach or at Cairns airport, and most offer one way rentals between major cities. Nothing beats the freedom of having your own car to explore and stop when and where you want.
Budget Car Hire needs little introduction, the name says it all: car hire at Budget Prices with a car hire company with an international reputation, and this sites makes it even easier to find yourself a cheap hire car, or anything else with wheels: trucks,buses, campervans, utes, four wheel drives etc.
When you drive to Mission Beach in your rental car make sure you keep your speed down, cassowaries sometimes cross the road and a collision with a big bird like this would hurt both the bird and your wallet!

Mission Beach tours and things to do
Bedarra Island
The resort on Bedarra Island was damaged in cyclone Yasi and currently undergoing repairs.
Dunk Island
Dunk Island is only just off the coast of Mission Beach. You can go to Dunk Island on a day trip and hang out at the resort or do the walking track around the island, or make it an overnight stay,
Scuba diving
Tour operators! Put your business in this spot!
Skydiving / parachuting
Jump the Beach ! Skydiving at Mission Beach with Jump the Beach is an exhilarating, adrenalin pumping adventure that leaves you feeling high, 10'000ft or 14'000ft high! Our professional and qulaified Tandem Skydive Masters will guide you out of our plane above one of the most beautiful scenes in the world. You will have views of 14kms of golden beaches, lush rainforest, the Great Barrier Reef and Tropical Islands. More info and bookings...
Skydive Australia offers the highest tandem skydive available in Australia, has been operating since 1981, and, now boasts 4 fantastic drop zones along the eastern seaboard of Australia. Simply book your jump for your preferred date and then give us a call 48hrs prior to your jump to confirm the location you'd like to jump. More info and bookings...
Walking
The Visitors Information Centre has a Walking Track Guide showing you some great walking tracks around the Mission Beach rainforest, varying in length from half an hour to several hours. They include Bicton Hill Lookout, Edmund Kennedy Walking Track, Lacey's Creek and Licuala Walking Track, this is the one to do if you like the majestic fampalms. If you want to learn more about this ancient ecosystem you can also join a guided tour.
Mission Beach Adventure Tours offer a walking trek led by members of the Girramay tribe, who provide bush tucker, boomerang and spear-throwing demonstrations, as well as a barbecue lunch, tel: (07) 4068 7877. They also offer horseriding through the rainforest to a swimming hole.
Mission Beach Rainforest Treks are another organisation who provide guided walks and camping treks, tel: (07) 4068 7122.
White water rafting
R 'n' R Rafting has a good choice of rafting trips, ranging from 1 to 4 days, and on different rivers. More info...
More rainforest
If you enjoyed staying in the rainforest here and would like to repeat the experience then book some accommodation in Cape Tribulation before heading further north.
Standby rates - Mission Beach backpacker / budget accommodation - Mission Beach B&B -
Mission Beach eco lodges - Mission Beach camping - Tours and things to do - Transport - Street map