About Magnetic Island - Accommodation - Tours & what to do - Transport & car hire - Photos - Map
Magnetic Island
Magnetic Island is probably the only island on the north Queensland coast with such a great blend of untouched National Park, a small resident population and a variety of holiday resorts.
It has a relaxed tropical lifestyle, quiet secluded bays with pristine white sand beaches and abundant wildlife, located only 8 kilometres off the coast in Cleveland Bay and only a 20 minute ferry ride from Townsville.


Click here for the best accommodation deals in Magnetic Island
Although it is near the Wet Tropics, the Townsville area is in a rain shadow which makes it the sunniest city on the Queensland coast (Magnetic Island counts an average of more than 320 days of sunshine per year, with an average maximum temperature of 28.7 C and a minimum of 19.5C).
More than half of the island's 52 km² is National Park, with the 497 metre high Mt.Cook rising in the centre. At its widest point it is 11 km across and there is about 40 km of coastline filled with big granite boulders, hoop pines, eucalypt forest, pristine beaches in small bays and small areas of rainforest.
To really appreciate the Island you need to stay at least a few days.
Magnetic Island has over 24 kms. of walking tracks through the National Park, which you also need to get to some of the little bay beaches, quite a few beaches have no road access and the only way in is to walk. There are also some spectacular lookouts, and you can spot animals like koalas, rock wallabies, possums, and all kinds of birds including bush stone curlews - a bird with a eerie cry which is mainly active at night.
The small settlement of Picnic Bay has shops and take-aways along the waterfront and here you will also find the police station and the golf course. Ferries used to land here but now they arrive in Nelly Bay where a rather monstrous apartment building has been built, , the passenger ferry does up to 14 return trips a day, and a car ferry does up to 7 return trips a day. There are two more settlements on the island; Arcadia and Horseshoe Bay, which is now the island's major residential area.
Like most of the east coast the island received its name from Captain Cook, while he passed the island on 6 June 1770 his compass went a bit wild and James thought it was because of the island's strong magnetic field coming from the big boulders that make up a lot of the shoreline, this was later found not to be the case, there are no magnetic properties found in those boulders. A hundred years later Europeans started arriving on the island, mainly for leisure rather than economic development, and a few years later the first guesthouse was built. In the 1920s the island became popular as a tourism destination for a short while but it was only when a ferry service started in more recent times that the tourism industry really kicked off. Despite recent developments the island still only has a population of 2500 residents and has a laid back unspoilt feel to it, and thanks to half the island being National Park not being allowed to be touched this is likely to remain so.
The island has quite a bit of wildlife that you may be lucky to spot:
What to do on Magnetic Island
Beaches
Magnetic Island has lots of spectacular little beaches hidden away in bays and coves. Many can only be accessed along walking tracks.
Walking
The island has 24km. of walking tracks to explore the National Park and to reach some of the more remote little bays. Keep an eye out for wildlife on your walks, Magnetic Island has a population of koalas that hang out in the trees, this is about as far north as they live.
Nelly Bay to Arcadia - a 6 km long track that starts at the end of Mandalay Avenue and passes through a small area of rainforest. The track then continues through the gully of Gustav Creek and further along offers excellent views across both Nelly and Horseshoe Bay. The track then continues to Arcadia. Birdwatchers like this section of open woodland that is often filled with birds. Above Arcadia there is another great lookout at Sphinx Lookout.
The Hawkins Point Trail offers great views of Townsville, the track starts from Picnic Street in Picnic Bay.
The trail to the top of Mount Cook starts behind Nellie Bay, a bonus on this walk is the refreshing pool 100 metres from the top.
The Forts near Arthur Bay is a series of concrete gun emplacements and observation posts built during the second World War to protect Townsville in case of a Japanese invasion attempt. The 1.4 km long walk starts at the Radical Bay turnoff but if you're energetic you can also walk further to Arthur Bay, Florence Bay and Radical Bay.
Picnic Bay to West Point - an 8 km walk from Picnic Bay that travels up the south west coast of the island and rewards the walker with sensational views of Cockle Bay, Nobby Head, Bolger Bay and Young Bay. The track starts near the Picnic Bay Golf Course,and is basically a bush road that runs along the coast.
Horseshoe Bay Lagoon - a short 700 metre track starting from Horseshoe Bay Beach to the Lagoon Environmental Park where you can spot a wide variety of birds including the brolga, the jabiru and the Nankeen Night-heron.
Balding Bay - an unofficial nudist beach. It can not be official as under the Queensland Vagrants, Gaming and Other Offences Act of 1931, public nudity is an offence in Queensland and a person charged with wilful exposure faces a penalty of $100 or six months imprisonment!
Miscellaneous things to do
Watch the sunset with a drink at the pub at Horseshoe Bay
Art - visit Vonnie Van Bemmel's Fine Art Studio & Gallery.
Four wheel drive tour - Tropicana Tours guarantees to show you more in one day than you'd see in a week with your own 4WD.
Get married - An ideal location with 300+ days of sunshine per year, 23 beaches and bays and a local resident celebrant.
Horse riding - beach and bush rides from Horseshoe Bay. Contact via email
Seakayaking - explore Maggie's coastline in a sea kayak.
Scuba diving - see the Great Barrier Reef in all its splendour.
Snorkeling - Discover Magnetic Island's best reefs with marine biologist Dr. Andy Lewis

Getting married with David Crusty Herron:
David Crusty Herron

Magnetic Island Wedding Celebrant, David Crusty Herron has the experience of over 1500 Weddings & Ceremonies on Amazing Magnetic Island & around Australia to make your island wedding day just perfect. Your marriage ceremony and marriage vows will be written just for you. After all; It's your Magnetic Island Wedding. Do it your way with David Crusty Herron.

David Crusty Herron
Unit 1/55 Barbarra Street
Magnetic Island Q4819
AUSTRALIA
Magnetic Island accommodation
There is a wide choice of accommodation on Magnetic Island, from budget to luxury accommodation. Families are well catered for with a lot of holiday houses being available to rent.
Click this banner to compare prices of a wide range of Magnetic Island accommodation from holiday homes to motels:

Budget accommodation on Magnetic Island
We took this photo of Base Backpackers from the ferry, an unbeatable location right on the waterfront!
Hotels and resorts
Where to eat:
Tell us if you found some good place worth recommending on this site.
If you have a bar or restaurant on Magnetic Island you might like to advertise here.
How to get around:
Magnetic Island 4 Wheel Drive Hire- 34 Picnic St. Picnic Bay.
Magnetic Island Bus Service - 3 hour guided tours around the island and free transport after tour.
Or drive yourself, nearly everyone that comes to the island seems to hire a Mini-Moke at least once.
But watch out for wildlife on the roads, curlews and koalas can cross at night.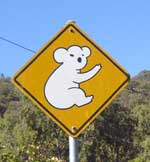 How to get to Magnetic Island:
Sun Ferries can get you there in only 25 minutes from Townsville.
Riverside Marine runs a car ferry for those who want to take their own wheels to the island.
Flights to Magnetic Island:
Magnetic Island has no airport so you will need to fly to a city on the mainland first, the nearest airports are Townsville and Cairns..
If you are already in Australia then go to our page Cheap Domestic Flights in Australia for a good choice in cheap airfares to Townsville, which is the nearest airport to Magnetic Island.
If you are still in your home country then you will need to get an international flight, Cairns is the nearest international airport, and Townsville is the nearest domestic airport.
You can visit our Cheap Flights to Australia page for an overview of what is available in budget airfares to Townsville.
Feel more comfortable to book your airfares to Townsville or Cairns online with a travel business from your own country that you know and trust?
Then choose your home country here:





A last look at Magnetic Island from the ferry on the way back to Townsville
Townsville accommodation
Before and after your Magnetic Island holiday you are likely to spend at least one night in Townsville;
Globetrotters Townsville

Globetrotters is a small, clean, friendly family operated hostel next to the bus station on Palmer Street. The staff are very helpful and all have extensive knowledge of the local area. Nothing is too much trouble! The hostel is bright and airy with back friendly beds, tropical gardens and a nice inviting salt water pool. The kitchen is well equipped and is always clean. The tour desk offers free dorm nights with diving courses and $10 discount on diving day trips. All trips and tours can be booked by the obliging staff. Globetrotters is a very nice place to relax. Visitors to Palmer Street have a choice of, historic pubs, the Maritime Museum, restaurants and cafés that provide French, Italian, Mexican and Australian cuisines in indoor and outdoor settings overlooking Ross Creek.
A free pick up service in their courtesy bus is provided.More info....
Base Townsville

WHY STAY AT BASE TOWNSVILLE?
To quote the Lonely Planet guidebook… "Townsville has a lively scene and is close to Magnetic Island and Great Barrier Reef."
Spend some time staying with us and you will understand why Townsville is the place where the coolest and funkiest people hang out. Base is situated in the heart of Townsville, minutes walk from bars, cafes, entertainment and activities and 20 minutes by ferry from Magnetic Island. More info....
When you stay in Townsville make sure you climb Castle Hill for an awesome view over Townsville and Magnetic Island!
Heaps of Townsvillains make the journey up there every day, by car, on mountain bikes and on foot, a great way to get fit!
| | |
| --- | --- |
| Castle Rock in Townsville, seen from the harbour | Sunset view from Townsville out to Magnetic Island |
Feel free to add something to our Magnetic Island page
About Magnetic Island - Accommodation - Tours & what to do - Transport & car hire - Photos - Map
Ardent Cleaning Services Townsville - for all your industrial, commercial and domestic cleaning around Townsville.
Townsville water blasting - We provide water blasting and high pressure cleaning services in Townsville and around north Queensland
Townsville cleaners - Commercial and industrial cleaners, house cleaners, high pressure water blasting, graffiti removal and handyman services, we do it all!
Townsville carpet cleaning - professional carpet cleaning in Townsville, steam cleaning, dry cleaning and other cleaning services.