About Fraser Island - Accommodation - Tours & what to do - Transport & car hire - Photos - Map
Fraser Island
One of the many stunning pristine freshwater lakes on Fraser Island
Fraser Island is the largest sand island in the world and is located approximately three and a half hours drive north of Brisbane, ferries leave from Rainbow Beach and Hervey Bay.
The island is of breath taking unspoilt beauty and inscribed by UNESCO on the World Heritage List.
Natural features include magnificent rainforest, crystal clear blue lakes, prolific wildlife, the Maheno shipwreck, towering sand dunes and the Colored Sands.
North to south Fraser Island stretches for about 130 km, is between 7 and 21 km. wide. Most of its coastline is spectacular beach on the east side and mangrove on the west side
It covers an area of about 170,000 hectares and has an abundance of native wildlife, including Australia's purest strain of dingoes.

Dingoes on the road
Dingoes have been a problem at times on Fraser Island, though the problem was mainly created by irresponsible people. Everywhere there are signs telling people not to feed the dingoes and there are penalties for doing so but still people continued to do it. This leads to dingoes associating people's presence with food and if they get hungry they will demand it and become aggresssive.
It is extremely important that you do not feed them and that includes locking away any food that they may help themselves to, don't leave it in your closed tent, they will rip your tent to bits within seconds.
The wreck of the Maheno, this cruise ship was being towed to Japan to be dismantled as scrap metal when it hit a storm and washed up on the beach in 1935. Another 70 years of salt water and waves have taken their toll.
The island was created a long time ago over a period of 800 000 years when winds and currents transported vast quantities of sand from New South Wales. It is very popular with Australians who come fishing and camping here, and international visitors on tours, school holidays can get a little crowded on this island, try to visit outside peak times. This is considered to be the only place in the world where lush rainforests grow on sand. Every year humpback whales come to mate in the protected waters between Fraser Island and the mainland, whale watching is a popular activity in Hervey Bay.
Fraser Island is just about the only place in the world where lush rainforest grows on sand;

Colored Sands
Brief history of Fraser Island;
Aborigines have lived on Fraser Island for at least 5000 years and their name for this island was K'gari, which means 'paradise' in their language. The last ones left the island around 1904.
Europeans have been around for about 500 years or so, Portuges and Dutch sailors are believed to have visited, and James Cook passed by in 1770, not even realizing the coast he saw was an island. Explorer Matthew Flinders also called in in 1802 and in 1836 the ship Sterling Castle ran aground. The survivors spent six weeks here before rescue arrived, not getting on very well with Aborigines who were not impressed with these early tourists. The captains wife Eliza Fraser was one of this group and the reason for the island now being known as Fraser Island. In 1870 the first permanent European settlement on the islandstarted with the construction of a lighthouse at Sandy Cape as ships kept on getting wrecked on the island.
From 1863 till 1991 trees were being logged on the island, some went all the way to Egypt to be used in the construction of the Suez Canal. Sandmining occurred from 1950 till 1977.
In 1992 Fraser Island was placed under World Heritage listing by UNESCO, less than 400 places worldwide are on this list, and at least 15 of them in Australia!

Lake McKenzie, one of the hundred or so stunning clear lakes
Accommodation on Fraser Island


Click here for the best accommodation deals in Fraser Island
Guided tours on Fraser Island

4WD adventure on Fraser Island
© Australian Day Tours
Rainforest and sand don't usually go together but the World Heritage listed Fraser Island is an enigma. Fraser Island is a giant sand island famous for its dingos, wildlife, native birds, rainforests, creeks, lakes, fishing, and scenery. It attained its World Heritage Listing in December 1992 in recognition of the island's exceptional sand dune systems, its rainforests on sand and its beautiful freshwater lakes.Its natural beauty and purity will touch you like few other places can. Stroll along sandy beaches and through unique rainforest. Swim in incredible freshwater lakes. See wild dingos in their natural habitat. This is an amazing day in an amazing place! More info...

You can also spend a few days exploring this magnificent natural wonderland by 4WD and overnight at the famous eco-resort, Kingfisher Bay. More info....
How to get to and around Fraser Island
Unless you live in Queensland you will probably have to fly to the nearest airport Brisbane or Noosa first.
Cheap flights are readily available on the internet now as competition along the east coast is tough, try the site below or see more cheap flights to Brisbane and Noosa here.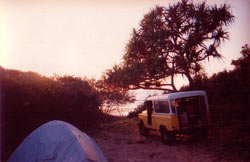 Fraser Island is the perfect place to travel with a 4WD camper van! Wide open beaches, countless beautiful spots to pull over and camp, the freedom to go where and when you want.
Nothing beats finding your own camping spot in the wild, having a cold beer admiring a wildly coloured outback sunset and a dinner cooked on the campfire under the magnificent starry skies.
There is a wide choice of car rental companies where you can book your car or campervan online to be assured of a car on your arrival in Sydney , and most offer one way rentals between major cities. Nothing beats the freedom of having your own car to explore and stop when and where you want.
Budget Car Hire needs little introduction, the name says it all: car hire at Budget Prices with a car hire company with an international reputation, and this sites makes it even easier to find yourself a cheap hire car, or anything else with wheels: trucks,buses, campervans, utes, four wheel drives etc.
Barge / ferry info:
Barges or ferries run between Inskip Point and Hook Point , (the southern point of the island to Rainbow Beach) and from the west side of the island to River Heads / Hervey Bay.

River Heads to Kingfisher Bay Resort and vice versa phone 1800 072 555

River Heads to Wanggoolba Creek and Wanggoolba Creek to River Head phone 07 4125 4444

Rainbow Beach runs continuously between Inskip Point and Hook Point between 0600 and 1730.
phone 1800 227 437

Urangan Boat Harbour to Moon Point and vice versa phone 07 4125 4444

Kingfisher Fast Catamaran Passenger Service:

Urangan Boat Harbour to Kingfisher Bay Resort and vice versa phone 1800 072 555
More info and tips on driving on Fraser Island;

Wide open beaches on Fraser Island, the beaches are the roads!
Fraser Island is strictly four wheel drive country, inland there are sandy tracks and along the coast the beach is the highway, but take care as the beach is also the airport and planes land on it.
There are also washouts, places along thebeach where streams run out to the sea and wash the sand away, creating ditches that at times can be quite deep and steep, these could really ruin your day if you hit them at high speed. Lower the pressure in your tyres when driving on loose sand, you'll be amazed at the difference, a bogged car can often drive out after being stuck simply by lowering tyre pressure! Keep away form the water's edge on rising tides, if you get stuck you want to have some time to get your car out before the water rises, countless expensive four wheel drives have been swallowed by the rising tide being stuck in loose sand!

OOPS....
Though you may not be on the road there are still rules; speed limits are 35km/h on inland roads and 80km/h on the Seventy-Five Mile Beach. Normal road rules apply. Make sure you carry the normal essential spares as well as a towrope, spade, water and first aid kit.
Some places are only passable at low tide, which is also the best time to drive anywhere on the beach as hard sand is a lot easier to drive on. On the inland tracks give way to buses and downhill traffic and stay on existing tracks. You will need to get a vehicle access permit and camping permit that you can get from Queensland National Parks and Wildlife Service offices including Brisbane, Hervey Bay, Maryborough, Bundaberg and Rainbow Beach, and also at River Head Barge landing and Kingfisher Bay Resort reception.
Some other common sense rules;
- Do not use soaps, detergents, toothpaste or sunscreens in lakes and streams as this will contaminate these water ways.
- Apply sunscreen AFTER swimming in the lakes. The lakes do not get flushed regularly - they are a closed environment and therefore concentrations of pollutants can build up over a period of time.
- Use the firewood provided at campsites. Gathering timber from the park is prohibited.
- Observe fire bans and extinguish all embers of your campsite upon leaving your site.
Accommodation on your way there and back:
You'll probably find that before and after your Fraser Island adventure you will need to stay in one of the two ferry departure points for at least a night, either Hervey Bay or Rainbow Beach. Here are a couple of accommodation choices;
Bay View Motel

Bay View Motel in Hervey Bay. The first and only theme motel on the Queensland coast! Right on the beach in Torquay with great pubs, shops, cafes, take aways, post office, ATM, beach hire and all you can think of within an easy walking distance. Be amazed by our specially designed rooms! Airy and spacious singles, doubles, twin share and one and two bedroom units all with private bathrooms, tv, fridge and free tea/coffee. We have common lounge areas with heaps of atmosphere and sea views. Relax in our shady tropical garden with hammocks and seating areas, all great for daydreaming. Just 20 meters and you can soak up the great weather on Hervey Bay's beautiful sandy beaches.
More info....
Beaches Backpackers

Our friendly hostel caters perfectly to the independent traveller offering a range of budget style accommodation including shared dorm, twin and double rooms with ensuite and shared facilities available. All rooms are cleaned daily by our fantastic housekeeping team. Beaches famous Party Bar runs a range of activities and theme parties each week for those who want to let their hair down and party into the early hours! More info....
Billabong Beach Houses

We are located right on the beach and we are the only hostel in Hervey Bay that enjoys ocean views and breeze. We have 1 bedroom units which are ideal for couples who want their privacy. We have twin rooms and two bedroom units for small groups who are travelling together and dorm beds are also available. All rooms are fully self contained with own bathroom, kitchen and TV. Most rooms have a full size bath. There is also a salt water pool, spa & BBQ. There are shops and one of the best pubs within a 5 minute walk of the hostel. More info....
Frasers on Rainbow Beach

10 minutes to the magnificent, World Heritage Listed Fraser Island
World Famous Coloured Sands
1 minute to shops, cafes, restaurants and local Pub.
Access to a range of Queensland's finest adventure based activities, eco-tours and packages.
Island style accommodation with swimming pool surrounded by tropical gardens. Licensed bar. More info....