Amazing Australian Stupidity
How do staff at Mossman Post Office find their way to work in the morning to 24 Front Street if they do not know where 64 Front Street is?
Australia has a lot of smart and ingenious people but, like every other country in the world, also some pretty stupid ones.
Here is an entertaining selection of some amazing Australian stupidity;
Address unknown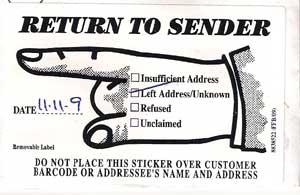 On 21 September I posted a letter with some documents and a cheque at the post office in Mossman, Queensland.
The post office is located on 24 Front Street and the letter was addressed to the council office on 64 Front Street.
Although the distance from post office to council office is only a few hundred metres the letter never ever made it there.
An enquiry was lodged with Australia Post where my missing letter with cheque was but they were not interested in investigating the matter.
I decided to do my own investigation and mailed another test letter to the council office, this time with my return address on the back of the envelope. And what do you know, several days later the letter was returned to me, with a sticker stating; "Address unknown"!!
Would you believe it, even though the post office is on the same street as the council office, and the post office is staffed by long time locals who know perfectly well where the council office is, they sent my letter back to me saying the address was unknown!!!!!
So I phoned the Mossman post office for an explanation of this unbelievable stupidity, and spoke to the manager. She did admit that she knew where the council office was (so the address unknown sticker was a lie) but then came up with the excuse that the council office did not have a mailbox at their building so the postie could not deliver the mail there.
I informed her that the building does have doors, and that they even open automatically, so it is extremely easy to walk up to the counter and place the mail there. Oh no, she replied, then the postie would have to get off his bike!!!
Yes, would you believe it, the world has come to the point now that even though I have paid Australia Post to send my letter I can not expect their staff to get off their backside to deliver my letter!
What a great level of service, one letter disappeared and another returned to sender as address unknown, even though they know perfectly well where the address is!
Australia's biggest tree killed
Australia's biggest, most robust hardwood - 350 years old - has died in december 2003.
At 79m and with a girth of 20m, El Grande stood alone in a patch of cleared forest in the Tasmanian wilderness. Forestry Tasmania, finally admitted to responsibility for its death through an "accidental burning". Conservationists who have campaigned tirelessly to protect the hardwood forests of this region are outraged, they had already issued a death certificate in May - claiming the tree had been "cooked" in the regeneration burn - while Forestry Tasmania was waiting until spring to see if the tree would regenerate.
Baby tied to car door
A Perth mother faces a charge of dangerous driving after tying a baby carrier with a baby in it to the faulty rear door of her car to stop it swinging open as she drove. She was spotted on 23 december 2003 by two traffic policemen who saw the car negotiate a roundabout before the left rear door of the car swung open. They stopped the woman driver and discovered the door did not shut properly and that she had tied a baby carrier, with the 20-month-old infant sitting in it, to the door in an effort to stop it swinging open. When interviewed, she told police she had driven several kilometres along the freeway, during which time the wind blowing from the right direction had kept the door closed.
Beer in court
19 Year old Dean Ramse, from Walloon west of Brisbane, appeared in Ipswich Magistrate's Court charged with riding the train without a ticket and drinking in a railway station. He arrived in court carrying a plastic bag full of beer bottles and a hamburger, and also his mobile phone started ringing in the middle of court proceedings. He was fined $600 with one month to pay and a conviction was recorded.
Bit short of funds
It is a scenario that is familiar to most of us and would have happened to just about anyone at least once. You go to the bank to withdraw some cash but there is a bit less in the account than you thought, especially with the steep fees Aussie banks charge and take out of your account this can happen easily.
And so it happened that 23 year old Peter Gray walked into his bank in Brisbane in November 2003 and tried to withdraw $80,000.- When the teller told him his account was a little bit short of funds as there was only thirty cents in there he busted through security, punched the bank manager and broke his nose, then fled but was arrested by police after getting two blasts of capsicum spray and biting two police officers in the arm and finger, earning himself nine months in prison.
Bomb hoax
On December 13, 2002 Troy Albert Outhwaite made a bomb hoax call to the 000 emergency number reporting he had seen a metal box, with a timer and wires sticking out of it, in the toilets at a hotel in Wynnum, Brisbane.
Police found no bomb but it did not take them long to find the caller as he had used his own mobile phone! The number was quickly traced and Troy arrested and sentenced to 240 hours community service and two years probation.
Breatharian till the end
In 1988 Lani Marcia Roslyn Morris, 53, was not feeling too well so she thought it a good idea to travel from Melbourne to Brisbane for some "spiritual cleansing". Jim Vadim Pesnak claimed to be able to cure her if she became a 'breatharian'. Breatharians belive they can survive by breathing air and living on light and she was to undertake a 21-day initiation process into breatharianism which involved seven days without any nourishment at all including water, and then a further 14 days on limited liquids.. Unfortunately for Ms Morris her condition deteriorated more and she became paralysed down one side, could not talk, and was vomiting a black tar-like substance while she lay in Mr. Pesnak's caravan in the backgarden on Beck Street, Ormiston, in bayside Brisbane. Mr. Pesnak did not call a doctor as he believed Ms Morris was only undergoing a spiritual blockage and would solve this by just breathing more. End of the story was that Ms. Morris died and Mr. Pesnak, 63, went to jail for 6 years and his wife Eugenia, 60, went to jail for 3 years on charges of manslaughter.
The website breatharian.com says;
The Breatharian needs air and Sunlight only, and nothing more to sustain his body. The world is flooded with books on food and eating. No one seems to realize that eating is not natural, but an acquired habit, like smoking and drinking, and that FRESH CLEAN AIR is the Cosmic Reservoir of all things, including the substance that builds and sustains the human body.
Blowup doll rafting
Whitewater rafting might be a popular activity in north Queensland but a 19 year old Melbourne couple thought they'd do it a bit different...
It was January 2011 and there were floods everywhere and the Yarra river was pumping when the couple inflated two dolls, and hopped into the raging river for a bit of a thrill.
All went well for a while but just after they passed Pound Bend Tunnel at Warrandyte North the water became more turbulent and the girl lost her grip on the inflatable doll and clung on to a tree.
Someone witnessed the stunt gone wrong and called the SES, who were not amused having to attend to a stunt while half the state was under water already and they were being called out everywhere.
Builder shoots nail through head
In March 2004 Brad Shorten, 33, of Melbourne, was having a few beers with his mates and picked up a nail gun and pointed it at his head. He thought it was empty as he had removed the nail cartridge and turned off the compressor. But there was still pressure in the hose and it shot a 3.2cm nail through his skull into his brain, just behind his temple. It left a small red dot and at first he did not realize the nail had been counter-sunk into his skull. He felt minimal pain but started to feel a bit light headed so his son insisted on calling an ambulance. At Royal Melbourne Hospital doctors took four hours to take a part of his skull off and pull the nail out of his brain again and said that he could have been dead or paralysed had the nail gone a centimetre deeper.
Chat to George W.Bush
Sydney man Wenhao Zhao, aged 33, was on holidays in the US and thought he'd like to meet the American president to have a chat about the weather etc. A nice thought, but most people would probably realize that a president probably has more important things to do than chat to tourists.
Wenhao did not see it that way so he just parked himself outside the Capitol building in Washington DC in April 2004 with two suitcases by his side and demanded to speak to Mr Bush.
Security guards feared his suitcases to contain explosives so the entire centre of Washington was shut down and paralyzed, until a heavily armed SWAT team sneaked up on Wenhao from behind and slammed him into the ground, carried him away and blew up his suitcases. They were found to contain nothing more than normal personal belongings and after several days of questioning Wenhao was released and put on a flight back to Oz.
He was accompanied by an Aussie diplomat and arrived back in Sydney with his exploded suitcases sticky-taped together but was not charged with anything.
Christmas in jail
You would think it is dumb enough as it is to park in a no-stopping zone outside a police station but two blokes who did this were also in possession of a loaded revolver and ammunition so they spent Christmas Day 2003 behind bars in Sydney waiting to face court on 15 offences between them, including possessing an unregistered and unauthorised firearm, carrying a loaded gun in a public place, and goods in custody.
Crash in to the police station
If you have a drink before you drive it is a good idea to take it easy and take a back road to keep a low profile to not get noticed by the cops. In February 2006 a Port Lincoln man did not follow this rule when had a few too many drinks and crashed his car into the town's cop shop, causing at least $5000 damage to the building.
Crocodile Belgee
Don't think only Aussies do stupid things, tourists in Australia do some stupid things too.
24 year old Belgian tourist Stefaan Van Turnhout, now world famous as Stupid Stefaan, was on holidays in Cape Tribulation and went for a walk on Myall Beach. At the north end of the beach he arrived at Mason Creek where 2 metre long saltwater crocodile Allan lives, well known with the locals.
There were plenty of warning signs at the creek to make people aware of the presence of the croc but SS decided that he was going to get a great photo and waded into the creek, camera in one hand, and in the other hand a stick that he hit the water surface with, to try to attract the crocodile closer.
This tempting technique proved extremely succesful, and the crocodile came closer very quick, and very close.
While a group of about six others watched the crocodile lunged forward and bit SS on the left knee.
One person in the crowd that witnessed the attack ran to the Cape Trib pharmacy and raised the alarm, prompting Dr.Kelly Lash to phone the ambulance. When the injured Belgian finally made his way in to the pharmacy it became clear that the bite was not really all that serious and there was no electric wheelchair required, but the whole ambulance and police circus still made their way up to Cape Tribulation, a 1.5 hour trip from the nearest town Mossman.
Cape Tribulation locals are pissed off with the stupid behaviour of the Belgian that invaded the croc's territory and annoyed it with slapping the stick on the water, as now Queensland Park and Wildlife officers will catch their local croc Allan and sell him to a crocodile farm where eventually he will be killed.
The girfriend of the Belgian master of disaster thought it quite funny as he had already been bitten by a monkey earlier on in his travels. Crocodile Belgee himself forgot the click the shutter on his camera when it all happened too quick so he never even got his close up photo.

The knee of Crocodile Belgee.
Photo by Dr. Kelly Lash
of Cape Trib pharmacy


Mason Creek where the attack happened.
Photo by Rob Lapaer of
Rainforest Hideaway B&B


One of thecrocodile warning signs.
Photo by Rob Lapaer of
Rainforest Hideaway B&B
Daintree river ferry contract gap

Ferry across the Daintree river
Cape Tribulation, in the heart of the Daintree rainforest, is one of Australia's top tourism destinations and people from all around the world come to see this amazing place where ancient rainforests run right down to pristine beaches and the Great Barrier Reef.
Unless you do a very very long four wheel drive trip around Cooktown, the only direct access to this area is by cable ferry.
The local Douglas Shire Council under leadership of Mike Berwick has a contract with a ferry owner to run this service. And even though they had known for the past ten years that the ferry contract would expire on 21 March 2006, they signed a new contract with another ferry company that would start on 1 July 2006 !!!
Around mid January the council tried to calm their constituents and hotel operators with the news that they were making arrangements to ensure this MASSIVE BLUNDER would not cut off people's acccess to the outside world for over two months, and cost tourism businesses in the area millions of dollars in lost earnings. However, in early March with less than two weeks to go, still nothing was finalized, by now it had been announced that council would buy the old ferry from the operator for $540 000.- (it was estimated to be worth about $240 000.-) but by 9 March still nothing had happened, causing great concern amongst residents and resorts.
The council blamed this ginormous blunder on "an administrative oversight", but current ferry owner Colin Andreassen said he had notified council well in advance that tenders should be called for the contract.
When 21 March arrived the ferry kept running, to the relief of business owners, thanks to the council having spent a big amount of ratepayers dollars buying the ferry for a good deal more than it is worth a few days before the cutoff date.

7 July update: the cost of this huge blunder is gradually becoming evident, the local newspaper reported that council has started advertising their $540 000.- ferry as they expect the new one to take over soon. Their ad brought in one offer; Foreshore Marine offered $10 000.- !!!
No word yet on whether the person responsible for this costly blunder will be sacked or not.
The new ferry was finally delivered and put in service in November and has since proven a reliable service across the Daintree River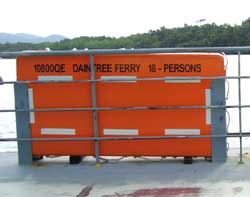 When you're on the ferry you may wonder what the above resque equipment is all about. The orange block pictured above is rated for 18 persons, obviously they can not sit on this block but the way this resque equipment is supposed to save people is that they swim next to it while holding on to the ropes on the side. This makes some real good sense on a river where a dozen tour operators make a living out of crocodile spotting tours. It appears even the Titanic was better equipped for an emergency than this ferry.
Beside the one-off stupidity described above there is also a permanent continuing amazing stupidity with this ferry;
Council regulations say that trucks carrying fuel have to travel on the ferry alone, with no other vehicles or passengers, even if it is peak time and queues are built up on both sides of the river. This while the fuel truck sits in the normal queue before it reaches the ferry with people walking around the truck smoking cigarettes, but then on the ferry where smoking is not allowed the fuel truck has to travel alone! What sounds safer to you? Walking around a fuel truck on the road with a cigarette, or sitting next to a fuel truck on the ferry in your car while you are not smoking?
DIY bomber
On January 10, 2004, electrician Mark Avery from Blacktown detonated a huge 97kg fertiliser bomb in a suburban Sydney paddock. At first there were fears of a terrorist link but it turned out to be just a hobbyist. The explosion was heard 20km away, destroyed an old car, ripped a crater in the ground 5m wide and 2m deep and scattered debris for 350m. The ingredients of the bomb, which were later bought by reporters of a newspaper in a matter of 20 minutes around Sydney, were the same used in the 1995 Oklahoma City bombing. He actually set off the bomb with a sparkler and was very lucky he didn't blow himself up.
DIY vasectomy
In February 2004 a 25-year old master of disaster decided to jump from the balcony of the Pakenham Football Club in Melbourne's east around 1am and landed on a tree. One of the tree's branches impaled him through the groin and speared in up to his abdomen. The local fire brigade cut the branch and he was taken to the Dandenong Hospital where he underwent surgery to have the branch removed.
Dragracing mum
In December 2004 a Queensland woman was caught drag racing along a busy suburban road at 144km/h in a 60 zone with three young children aged one, five and seven in the back seat. She was competing with a friend who had his fiance and 18-month-old child in his car. Later in court, when she was fined $850 and disqualified from driving for six month,s she said her only regret was getting caught.
Dumb and dumber
19 Year old Aussie boys Luke Carroll and Anthony Prince from Byron Bay were in the US on a snowboarding holiday when they came up with the brilliant idea to rob a bank and then fly to Mexico with the cash, like you always see in the (cheap) movies.
Armed with BB guns that appeared to be pistols they went to the local bank in Vail, Colorado, and managed to get the amount of $US132,000 from the tellers.
Unfortunately they left such a wealth of clues that police had established their identities in less than ten minutes and they were arrested in no time at all and made the news headlines as the Dumb And Dumber couple, relating to Jim Carey's movie of two idiots on a road trip.
Blunders included choosing a bank where they were known, not disguising their Aussie accents, buying a fancy Rolex watch with a mountain of $5 notes in a nearby shop just after the robbery, giving a taxi driver a 20 grand tip, forgetting to take off their work name tags, etc.
They served five years in a US prison before making it home to Oz again..
Folded Ferrari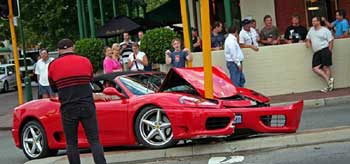 One of our readers sent us this pic of a Ferrari folded around a pole in Fremantle, looks like the driver took the turn a little bit too wide, at least the blokes in the pub behind it appear to be enjoying their afternoon...
And while we're on the subject of cars going a bit fast and getting scratched, check out the pics below that another reader sent us, a bloke in a ute cruised through Kalgoorlie and by the looks of it he must have been going a bit faster than the legal 50k/h, because after he hit a tree he ended up with two utes!
Fuel truck must travel alone

Ferry across the Daintree river
On the Daintree river ferry in north Queensland the local council regulations say that trucks carrying fuel have to travel on the ferry alone, with no other vehicles or passengers, even if it is peak time and queues are built up on both sides of the river.
This while the fuel truck sits in the normal queue before it reaches the ferry with people walking around the truck smoking cigarettes, but then on the ferry where smoking is not allowed the fuel truck has to travel alone!
What sounds safer to you? Walking around a fuel truck on the road with a cigarette in your hand, or sitting next to a fuel truck on the ferry in your car while you are not smoking?
Illegal immigrant goes to work at detention centre.
In January 2004 an illegal immigrant was caught by authorities when he went to work as a sub-contractor at the Maribyrnong Immigration detention centre, a facility to hold illegal immigrants. But on arrival he was regognized by a visiting immigration compliance officer who remembered the man's case so he never left the detention centre again.
In to the lions' den
In March 1989 32 year old Mr. Ellie Quo decided to go to the Melbourne Zoo. Lots of people do, but usually they wait for the gates to open in the morning and the buy a ticket. Ellie decided to do things a bit different and went in the middle of the night and climbed in to the lions enclosure to test his skills in martial arts and take on the lions. Once inside his karate skills proved to be of not much help and the lions feasted on this midnight snack and Mr. Quo was no more.
Later that same year a 27 year old Tasmaniac from Devonport heard voices in his head to attack gorillas. There were no gorillas in Tasmania so he jumped on a plane, flew to Melbourne and went straight to the zoo where he attacked two gorillas. He was lucky that the gorillas were in a good mood that day and showed their gentle side and fled, police were called in to arrest the man. The zoo continues to attract weirdos and in September 2004 a 21 year old man from Blackburn climbed the 6 metre fence of the lion enclosure and, carrying a yellow bible above his head, and asked horrified zoo visitors if they wanted him to pat the lions. He was surrounded by four lions but zoo staff arrived in time to remove him from the enclosure and police took him to the psychiatric unit at the Royal Melbourne Hospital.
Miner cuts arm off
In June 2003 Australian miner Colin Jones, 43, was working alone underground and overturned his tractor. He was trapped underneath and, probably having fresh memories of the American rock climber that made international headlines two months earlier by cutting his own arm off, immdediately got his knife out and cut his arm off!
Though the American might have had good reason to as he was a long way into the bush and had run out of water many people asked about this one why he didn't just wait till he would be missed at the end of his shift by his colleagues and they'd come looking for him.
Pain in the ass
If something or someone is a bit of a nuisance it is a common to use the expression "it's a pain in the ass".
But next time you use this expression just think that it could be worse;
A couple of Tasmaniacs were on a night out and after quite a few drinks ended up playing a game of pool in the Village Green Tavern near Hobart. At some point during the game the sight of one bloke bending over to get a good shot got another so excited that he decided to ram his pool cue up his mates arse. And we are not talking about a little friendly poke, in his drunken enthusiasm he rammed it with such force that the cue broke off and no less than 31 cm. was stuck up his mates arse. His mate went home and pulled the cue out this but took three days to go to hospital for treatment, the poker went to court and received a suspended six month sentence and 140 hours community service.
Short cut over the train tracks
Darren Harper and his mate Paul Altair went fishing in November 2003 at Bosstock Reservoir in Victoria. But at some point they ran out of grog and, since fishing and drinking go together hand in hand for most Aussies it was decided that Darren would go and buy some more cans of bourbon and coke. On his way back from the bottle shop Darren thought he had a good idea and would be able to return to his fishing a bit quicker if he took a shortcut across the railway tracks.
This turned out to be not quite such a brilliant idea as his ute got stuck on the train tracks , and not much later a Ballarat bound train with 69 passengers aboard came thundering down the track at 130 km/h. The master of disaster managed to get out of the ute before it was hit but the train derailed, 30 people were injured of which six serious, and the damage bill ran up to $3 million. Darren was sentenced to 2 1/2 years in prison and Paul to two months but both sentences were immediately suspended.
Sleeping on the train tracks
In October 2004 a 14 year old boy from Bundaberg, Queensland, for some reason decided to take a nap on the train tracks one evening. He got a rude awakening when the next train came past but still managed to roll to the middle of the track when the train went over him, ambulance officers pulled the boy from underneath the second carriage and he was taken to the Bundaberg hospital to be treated for a broken pelvis and head injuries.
Stolen drugs
A man flew from Adelaide to Brisbane on VIrgin Blue to deliver a load of cannabis, about $90,000.- worth.
You'd think it would not be too smart to transport your drugs on a plane and through airports as snifferdogs might pick it up, but this man's suitcase was that smelly that the human baggage handlers at Adelaide airport already smelled it!
They opened the suitcase and kept the drugs for themselves.
You'd think the baggage handlers had drug dependency problems or are planning to sell the drugs themselves, but as it turned out, they had something else in mind.
The courier was quite upset when he opened his suitcase in Brisbane and found the drugs missing, so he flew back to Adelaide and made death threats to the baggage handlers to return the drugs. The baggage handlers then contacted police who arrested the drug dealer!
The burning cyclist

Assisted by his son, Sydney man Brian Concannon, 39, set himself alight before climbing on his mountain bike and cycling off the roof of a public toilet block on october 27 2003.
After the son had poured petrol over his father and set him on fire, he watched his enterprising dad ride across a plank leaning on two milk crates and launch himself off the end of the toilet block . Two mattresses had been placed on the ground that he missed, hitting his head on the ground and breaking his wrist and nose, still burning as he had not organized any helpers to douse the flames at the end of the stunt. Fortunately the police had arrived at the same time as he did his stunt and one of the officers tipped the wheeliebin full of water over him and saved him. Later (after the doctors were finished with the surgery) the master of disaster appeared in the media saying he felt a bit stupid but his son disagreed and thought it was all very cool.
Return to the party
On november 16 2003 a 20-year-old man was thrown out of Panthers World of Entertainment in Sydney around 1am for drunken behaviour but tried to get back inside by climbing onto the roof and making his way down through the air conditioning system. He got stuck and then used his mobile phone to call a friend who raised the alarm. Rescue crews managed to finally free him six hours later, by this time he had to be treated in hospital for dehydration.
Rabbit's revenge
Few years ago a couple of blokes were somewhere out in the South Australian desert playing a game that was a bit on the cruel and politically incorrect side. They caught rabbits, tied a stick of gelignite to them and then set them free. The rabbits would then run into their burrows after which a huge explosion would rock the ground. However, after the game had continued for a while one rabbit decided to do something different, he ran the other way and hid under the new Toyota Landcruiser!
Snail eating
A Sydney student ate two slugs from a suburban backyard for a $20 dare but got more than he bargained for when he contracted a potentially deadly form of meningitis. The young man was diagnosed with swelling of the brain membranes and needed to have fluid drained from his brain and spent 17 days in hospital. It was five months before he returned to full time studies. His friend also ate slugs but vomited them up, losing the $20 but saving himself a potential case of meningitis.There have been numerous similar cases recorded since 1971 and the University of Sydney reports that the meningitis was caused by a worm found in rat lungs, but carried as larvae in slugs and snails.
Solar power in the rainforest

Pollution of exhaust fumes, oil and old lead-acid batteries in the rainforest.
Solar panels in the rainforest...out of all the stupidity in Australia this one would have to be the in the top three.
Various Queensland governments over the decades have denied the residents north of the Daintree river connection to electricity grid, and when residents pointed out that it is just not acceptable to make people in a developed country in the 21st century live without electricity the government "solved the issue" by handing out solar power subsidies.
Many residents took up the offer as it was the only bit of help available, but they soon found that in a rainforest with an average 265 days a year of clouds and a rainfall of up to eight metres a year solar power is like hydro power in the desert, it'll work for about one week a year and what do you do the rest of the time?
Run generators! Although the residents hate both the expense, the noise and the pollution they create they have no other option for electricity as the Queensland government has laws in place to block any grid power in this area!

Spelling mistakes

Photo by Rob Lapaer of Rainforest Hideaway B&B, Cape Tribulation, N.Qld.
Australians are shocking at spelling, just about everywhere you can see the evidence of this and not just in your everyday social life but in printed media, road signs and writing by people you previously considered as intelligent. Numerous restaurants have deserts on the menu( who would order a million tonnes of sand after a filling meal?) and near Cape Tribulation there is a sign Cappucino's. So? Cappucino is what? In the Northern Territory near Pine Creek there is a sign as big as a house warning drivers that there is 'NO PETREL' for 260 kilometres.Then again I suppose this is correct, the petrel is a sea bird and does not live in the outback.
| | |
| --- | --- |
| 90 year old Alan Waddell, who has walked more than 2000 kms through every street of 143 Sydney suburbs, found this beauty on the right, we borrowed this picture from his website Walksydneystreets.net | |
Paul Harbers sent us this beauty on the left, he shot the pic at the Loganlea Toll Plaza on the Logan Motorway near Brisbane. Main Roads stuffed up not once but twice as the one on the other side of the road is the same.
Paul has already reported this to the Motorway Staff in May 2006 and was assured that it would be fixed. A year later the signs still remain with the misspelling. I wonder what their partol cars run on, pertol or deisel?

Stupid Santa
In december 2003 Tasmaniac Gregory John Hartland-White dressed up as Santa Claus and armed himself with a fake gun and robbed a Tasmanian branch of Westpac of $13,451 . He purchased a Santa suit from a nearby store, found two pieces of pipe, which he bound together to make the ends look like a double-barrelled shotgun and only one hour and 20 minutes after coming up with the idea he held up the bank dressed as Santa Claus. After the hold up he changed his clothes in a horse-float for hire at a nearby service station in full view of witnesses before pedalling away on a bicycle and he was still wearing red Santa pants under his trousers when later apprehended by police. He was sentenced to four years.
Swim across the Daintree
The Daintree is a river in North Queensland well known for lots of ginormous crocodiles, but around 1994 a local character thinking he was a real life version of the movie hero Crocodile Dundee and decided he was going to swim across the river. The stunt was announced well in advance to allow plenty of media attention and funds raised were to be given to the local school. He actually did the swim, survived, but did not rise to international fame like Dundee and was quickly forgotten and the school refused the money as it did not want to be associated in any way with this stunt that set an extremely bad example of irresponsible behaviour to the children.
Wave at the cops
A police highway patrol unit at Box Hill in Melbourne were surprised to see a man drive by honking his horn and waving at them, so they decided to stop him and do a breath test.
The blow gadget nearly exploded as this man recorded more than five times the legal blood/alcohol limit.
When the man was spoken to by the police he said that he was not even aware that he was driving a car.
Drunk drivers get caught everyday in Australia but the reason that this one qualified to be listed on our Amazing Australian Stupidity page is that the police said that they were busy with other things and would not even have stopped this car, if it wasn't for the fact that the driver was honking and waving at them!
Westpac Worries
Paolo from the Northern Territory went on holidays to Thailand. On his arrival he used his credit card to get a cash advance from the ATM which worked smoothly. But the next time he went to the ATM his card got refused by the ATM, he tried others but the same story everywhere. He emailed his bank, Westpac, but only got the auto reply that his email will be answered within a couple of business days. Great help if you are in Asia with no money. Several days later he finally managed to find out what had happened; his bank thought an ATM withdrawal in Thailand was an "unusual transaction" for this account so they rang his home phone to verify this transaction. When their call was not answered they decide to block this account so no more money could be taken out. DUH!
1. Why would you try to ring someone on his Darwin home phone number to ask him if he had just made a withdrawal in Thailand today?
2. If the home phone is not answered would it not be bleedin' obvious that this person is on holidays in the place where the withdrawal was just made?
Paolo was lucky he was on holidays with a mate that had a credit card with a bank other than Westpac that lent him some money to cover the rest of the holidays and get him home again.
You know of ( or committed ) any amazing Australian stupidity? Then contact us!