Amazing Australian Achievements
It took 24 years and $102 million to achieve the project above; the Sydney Opera House.
Aussies are pretty ingenious people, and over the years they have achieved quite a bit, below are only a few of their achievements, but this page will get a lot longer...
America's Cup
A yacht race which was always won by the Americans. Until Australian entrepeneur and millionaire Alan Bond decided it was time the cup ended up in Australian hands and put big sums of money into building a superboat named Australia II which under skipper John Bertrand in 1983 wrestled the cup out of American hands much to the delight of ecstatic Australians.
Prime Minister at the time Bob Hawke told Australian workers to take a holiday to celebrate this sensational win. "I tell you what, any boss who sacks anyone for not turning up today is a bum!"
Around the world non-stop
16 year old Jessica Watson set off in her sailingboat from Sydney in October 2009 and, at an age where a lot of girls are not even allowed to spend a night away from home without supervision, she sailed around the world non-stop and unassisted.
She had a rough start when on her way to the starting point Sydney she ran into a Chinese freight ship in the night and many people tried to stop her from going. However, she continued and became the youngest person to sail solo around the world, until 16 year olf Dutch girl Laura Dekker finished her solo circumnavigation in January 2012 and took over the record.
Cape Tribulation road
This one is more of a non-achievement really; it took the local council no less than TEN years to surface the 36 kilometres of road from the Daintree river ferry to Cape Tribulation. When you consider the 6700 km. long Great Wall of China was also built in ten years, at the rate of a mile a day, that does make you wonder about the productivity of council workers a bit.....
Dingo fence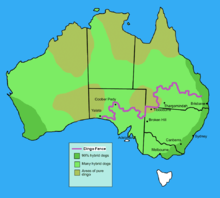 The dingo fence was constructed from 1880 to 1885 and stretches 5614 km across several states of Australia, the 1.8 metre high dingo fence was erected to prevent dingoes entering South Australia from the north and eating their sheep and is still being maintained today, and the increasing population of wild camels increase the workload of the maintenance crews.
East to west rail link
In 1917 the railway linking Perth to Sydney was completed.
135 Sydney suburbs walked

90 year old Alan Waddell has walked 2000 kms through every street of 135 Sydney suburbs, and you can read all about it on his website www.walksydneystreets.net
Fastest London to Sydney flight
Aviators Ross and Keith Smith were rewarded with a prize by the Australian government for making the fastest London to Sydney flight ever in 1920, it took them only 720 hours or 28 days!
( This record has been broken since then).
First flight
Australian Lawrence Hargrave is credited with discovering that a curved wing gives more lift than a flat one and having made the first flight.
On November 12, 1894, he flew his box kite off the cliffs at Stanwell Park in Sydney, a decade before the Wright brothers made their first flight in the US in 1903.
Larrimah pub

Photo by Rob Lapaer of Rainforest Hideaway B&B, Cape Tribulation, N.Qld.
This pub in the town of Larrimah, Northern Territory, about 700km. south of Darwin, was reportedly built in only one weekend! Larrimah that nowadays has only 16 residents was a bit livelier in World War Two when many soldiers were based here. The pub used to stand fifty kms away from its current location but as it was hard to access in the wet season during flooding the army swung into action and moved the pub to a more convenient spot.
Northern Territory railway
After more than a hundred years of talking about it the 1420 km. N.T. railway has finally been built and was completed in october 2003 at a cost of $ 1.3 billion. Workers had to battle the desert heat and at times worked under big lights in the night and slept in the day, had to negotiate with Aborigines to avoid sacred sites. By november 2003 already five million dollars in bookings was made for the first passenger service planned to start around february 2004, the first freight train, measuring 1200 metres in length and carrying 4000 tonnes, left Adelaide on 15 january 2004 for the 43 hour and 2979 km. journey. Mainly a freight line, the railway is also expected to bring an extra 30,000 tourists to Darwin each year. Territorians wanting to celebrate the arrival of the first train were shocked to hear that alcohol was banned at the arrival party (even for the 600 VIPs) , this was a major break with tradition for a city that for many years held the record of having the highest per capita consumption of beer in the world and has an annual beercan regatta with boats made of empty beercans. A crowd of 10 000 people welcomed the train on its arrival around lunchtime on saturday 17 january. Northern Territory Chief Minister Clare Martin said the first journey along the 3000km railway was ``a dream for Australia come true'' , Prime Minister John Howard said; "this is a great moment is the history of Australia, this is a reminder of Australia at its best." Chris Corrigan, a man who has made his fortune in the transport industry said; they've spent $2 billion building a railway for five trains a week and a few cartons of beer and I expect the financial returns on that to be smaller than ticks' testicles. But for the first year of operations they carried more freight than had been anticipated. It certainly provides a great way for travellers to see the Northern Territory outback in comfort.
Rabbit Proof Fence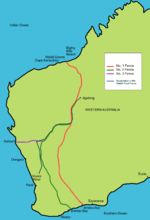 The rabbit proof fence was constructed from 1901 to 1907 with the purpose of keeping rabbits from the east out of Western Australian farms, at a cost of £337,841.
Inspectors on bicycles and camels continuously inspected the fence and maintenance crews kept it rabbit proof, and another team took care of rabbit colonies that had established themselves on the west side after breaching the fence.
In the 1950's the fence became less important after myxomatosis drastically reduced Australia's rabbit population.
The fence has also inspired several books and a movie about Aboriginal children who found their way home by following the fence through the desert for an epic distance.
Rubyk Cube
Lina Estevao, of Sydney, NSW, at the age of 75 years can resolve the Rubyk cube (3x3) from any scrambled position in less than 3 minutes! Her husband Jorge is very proud of his wife and believes that she is the only senior citizen, the oldest australian and the fastest adult capable of this amazing personal achievement.
Snowy Mountains Scheme
A project covering an area the size of Switzerland to divert water to the Murray and Murrumbidgee river systems and to produce electricity for the southeast of Australia - Sydney, Melbourne, Canberra and South Australia.
Construction ran from 1949 until the official opening in 1972 by the Governor General, Sir Paul Hasluck.
Under the supervision of engineer Sir William Hudson over a 100,000 workers from 30 nations built 16 major dams, including the largest dam in the southern hemisphere at Talbingo, 7 power stations, 145km of interconnected tunnels and 80km of aqueducts at a cost of over $1billion (over $5billion in today's terms).
The scheme helped transform Australia's economy from one based on agriculture to one including heavy industry. Environmentalists were less happy about the once Mighty Snowy River drying up into a pathetic trickle and efforts were made in the late 1990s to restore some of the flow again.

Sydney Harbour Bridge
Also locally known as the Coathanger, Sydney's Harbour Bridge is one of the main land marks of the city. End of the 1990s it became the venue for the biggest ever Sydney fireworks, to be followed by even bigger the next year etc. and it probably still sticks in many peoples minds around the world as it was watched by billions at the time of the Sydney2000 Olympics. Construction on this feature started in 1922 when it was planned to be the world's longest single span bridge but just before completion in 1932 the Americans, known to do everything a bit bigger than others, built a bridge in New York that was just a fraction longer than the 503 metres this bridge measures. Sixteen people died during its construction. The bridge is still continuously being painted, when they finish at one end it is time to start at the other end, it takes 10 years and 30,000 litres of paint for every coat. One of the painters, Paul Hogan, got that tired of this never ending job that he went into showbiz as a TV comedian and then made a few Crocodile Dundee movies. Nowadays you can go on a guided tour to climb the bridge which gives you some spectacular views over Sydney.
Sydney Olympics
The Sydney Olympics in 2000 proved very succesful, the Olympics President Juan Antonio Sancharez even declared them the best ever, much to the surprise of many who had become very sceptical when one delay and stuff-up after the other was reported during the building process and even the chief organizer quit. But the combined efforts of no less than 110,000 people saw the Games officially opened on time on September 14. Transport coped well with nearly six million people moving around Sydney to see the games, 11000 athletes from 200 countries competed and Aussie athletes managed to keep 16 gold medals in the country. The games were planned to be the Green Games with all building designs being the ultimate in energy efficient design, solar powered etc. but this was scaled back a little when the costs were realized.
A whole range of (some a bit outdated) Aussie singers was pulled on stage to sing to the world in a huge opening ceremony where Aboriginal runner Cathy Freeman lit the Olympic Flame.
Sydney managed to obtain the Olympics just after the Americans had made a good profit out of their Olympic Games but just because Americans make a profit out of something does not necessarilyy mean that Aussies can do that too, it still remains to be seen if the $7 billion spent on the Olympics returned a profit or not.
Nowadays you can visit Olympic Park where the athletes were housed during the games, after the games the houses were sold and have now become residential areas.
Sydney Opera House
A design competition in 1955 produced 233 entries but it was Danish architect Joern Utzon who won the job though he never finished it as he quit in 1966. He had run into huge arguments with the builders who had considerable trouble to convert this idea from a design on paper in to the real thing, and he was pushed out by Sir Davis Hughes who downgraded his role in the project and with held payment of his fees. Construction took far more time and money than expected and ran from 1959 till 1973 when it was officially opened by Queen Elizabeth II . The original $7 million budget blew out to a whopping $102 million and a team of Aussie architects were left to finish the interior design after Utzon quit, by then it was realized that though it looks nice from the outside it is a bit cramped inside.
In June 2007 the Opera House gained World Heritage Listing, joining more than 800 other sites including the Taj Mahal, the Statue of Liberty, the Great Wall of China and Egypt's pyramids. Book your guided walk here.
Do you know of any amazing Australian achievements? Then contact us!