Photo gallery of Australia
Dead kangaroo on the highway to Cooktown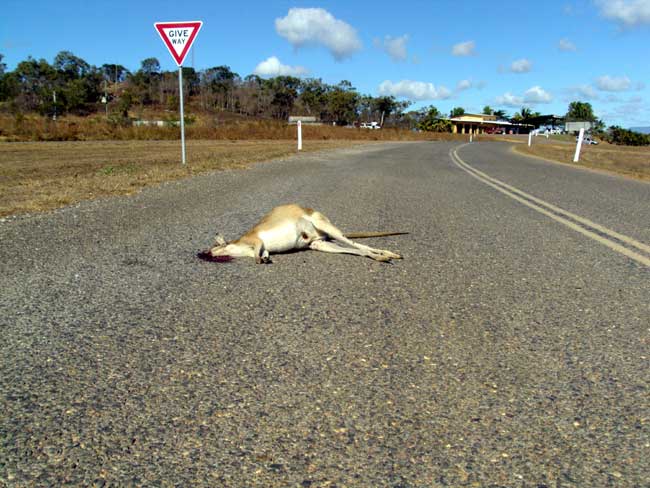 Previous photo | Next photo

| Photo index | Add your photo | Contact photo owner
Kangaroos have good eyesight but and excellent hearing but this does not help them avoid traffic. In outback areas, and sometimes even in and around cities, kangaroos can be a major hazard to traffic, or the traffic to them, depending on which side you choose to look at the problem. Many Australian vehicles, especially those that do a lot of driving in remote areas, are fitted with roo bars to minimise damage caused by collision with kangaroos. You do need a solid bar on your car to get through a collision, many roo bars on cars are not designed to take the full impact of a decent size roo, and even then they may still hit your windscreen. Most importantly your radiator has a higher chance of surviving the impact so at least in a remote area you are not stuck and can keep driving to the nearest town. In the outback it is usually better to avoid driving at night, besides roos there are also cows that wander around freely.
Buy photos, prints and posters of Australia at :
Want to show off or sell your photo? Add it to our photo gallery !
1. - If you send us a photo you must have the copyright to this material, please do not get us in trouble by posting material that is owned by others. If you send in photographs it is understood that you give us permission to publish the photograph on this website for an indefinite period of time.
2. - The "Contact photo owner " link can be linked to your email address so an interested buyer can contact you direct.
3. - Photos published will be acknowledged with name, email or link to the sender. (Only if you wish, not everyone wants this, let us know when you send things, for privacy reasons we don't publish your contact details unless you ask for it).

4. - If you send us photos please note that placement can not be guaranteed and is subject to approval and suitability.

5. - Add a bit of extra info on location etc. to your photo in your email to make it more interesting.